HTML Scrolling Menu Css3Menu.com
Magnum Opus Hermetic Sourceworks Series
This series of limited edition hand-bound books by Adam McLean were initially produced between 1979 and 1986. They were never sold through book dealers, but only by direct mail order. Consequently, these books became collectors items, often fetching high prices on the second-hand market. Only a few copies remain of some of the older titles in this series and a number are now entirely sold out. Since 1997 over thirty new titles have been issued with more in preparation.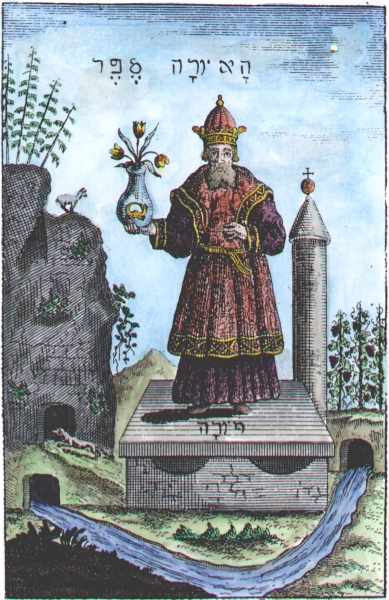 No. 55. The Book of Abraham The Jew
By Rabbi Abraham Eleazar
Translation from the German edited by Adam McLean and revised by Ruud Muschter

Limited edition of 100 signed and numbered hardbound copies. A5. 103 pages. 8 coloured engravings.

In 1735 this book appeared, announcing itself to be the ancient alchemical work of Rabbi Abraham Eleazar. It contained seven chapters each with an illustration derived from the manuscript with golden leaves which Nicolas Flamel had supposedly discovered back in the late 14th century, however, here it had an extensive text commenting on the images and explaining the alchemical process in depth. The structure of the book is rather interesting. The alchemical material in each chapter is sandwiched between opening and closing sections which present a fervent Jewish religio-nationalistic message, couched in messianic, end of days, terms.
The alchemical material filling this sandwich is a familiar set of ideas. Thus we have the wet and the dry ways, the progression of the alchemical process through colour changes to end in the production of two transmuting tinctures, one for gold and another for silver. Much of the process outlined deals with cycling though sublimations and distillations, making substances rise in the flask through heating, collecting the sublimate or distillate and then repeating this many times.
A translation of this book was made available back in the early 1980s through the enthusiast for alchemical texts, Hans Nintzel, and this is now widely circulated on the Internet, however the translation was far less than adequate, and this present book is an attempt to remedy this and make the work readable again. With the assistance of Ruud Muschter who revised the German translation, Adam McLean has edited the text, teased out the alchemical meaning and made it understandable.


USA and Worldwide
Pay in US Dollars through
your Credit Card or Paypal system
Europe
Pay in Euros through
your Credit Card or Paypal system
UK
Pay in UK Pounds through
your Credit Card or Paypal system
$125
Price includes postage and packing.
€95
Price includes postage and packing.
£70
Price includes postage and packing.