HTML Scrolling Menu Css3Menu.com
Magnum Opus Hermetic Sourceworks Series
This series of limited edition hand-bound books by Adam McLean were initially produced between 1979 and 1986. They were never sold through book dealers, but only by direct mail order. Consequently, these books became collectors items, often fetching high prices on the second-hand market. Only a few copies remain of some of the older titles in this series and a number are now entirely sold out. Since 1997 ten new titles have been issued with more in preparation.


---
No. 33. The alchemical manuscript of the Seven Keys of Honoratus Marinier
Translated by Vincent Matley with an Introduction by Adam McLean.

Sorry, the edition is now sold out. Some copies may be available from Adam McLean's personal collection. Email adam@alchemywebsite.com for information on availability and price.

This late Eighteenth Century work is preserved in two manuscripts. It is almost completely unknown. It consists of a series of seven 'keys' presenting the alchemical work in a sequence of twenty two emblematic figures. These are provided with explanatory texts, providing practical explanations of the allegorical imagery. The allegorical images present a kind of alchemical drama featuring as its main characters Vulcan, Apollo, Diana, Mercury, Saturn, and the alchemical adept. It follows the conventional alchemical idea of the sequence of colour changes - black, through white, to red. It uses the idea of the hermaphrodite and bird symbols. This work could well be the last alchemical emblematic sequence ever to have been created.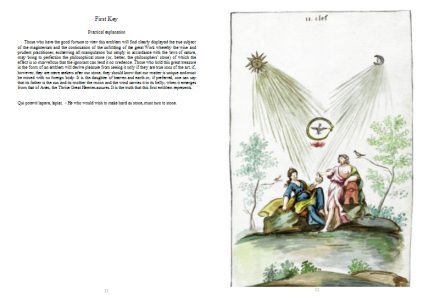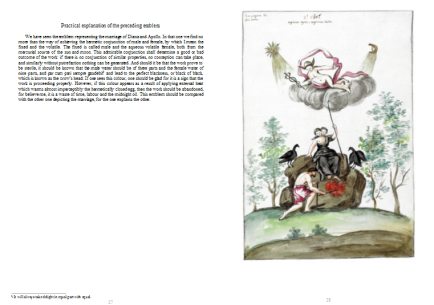 Limited edition of 100 copies, signed and numbered. 50 pages. 24 full page coloured illustrations. A4 large format hardbound.

Sold out.