HTML Scrolling Menu Css3Menu.com
Hermetic Studies series
No. 7. The 'Azoth' series of Basil Valentine
A coloured version by Adam McLean.
---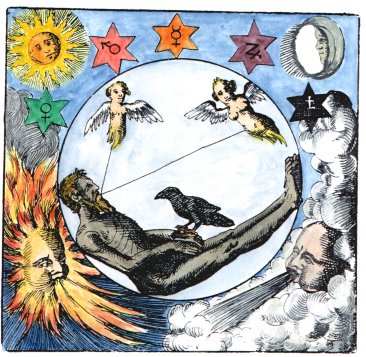 The name of Basil Valentine is most often associated with the Twelve Keys and the Triumphal Chariot of Antimony. The identity of the writer of the works coming under this authorship has not been positively established, but these writings draw on the developments in alchemy during the late 16th and early 17th centuries, particularly Paracelsian ideas and the use of allegorical imagery. One work ascribed to Basil Valentine which has so far escaped attention is entitled Azoth. Some of the images which illustrate this work are now so well known, often used in modern books on alchemy and esotericism in general. Though these images have often appeared in print recently they are not presented in context, and the work in which they originally appeared is almost totally unknown. Indeed, the whole sequence of fourteen emblematic images is rarely shown in its entirety in modern books. Because of this it has been almost impossible for people to make a true assessment of this triumph of symbolism.
In this present book I have shown the entire series in its context with my translation of the relevant part of the text which clearly links to the images. I have chosen to present my coloured version of the engraved version of the images, but have included one of the sets of original woodcuts, as well as a reworking of the symbolism from the Mylius Philosophia reformata of 1622.

93 pages. 14 coloured illustrations. A5 hardback.
300 copies only signed and numbered.
USA and Worldwide
Pay in US Dollars through
your Credit Card or Paypal system
UK and Europe
Pay in UK Pounds through
your Credit Card or Paypal system
$70 + $20 postage
£40 + £3 postage