Atalanta fugiens by Michael Maier was first published in 1617 at Frankfurt at the press of Johann Theodor de Bry. This alchemical emblem book included 50 engraved emblems with an associated 'fugue' or musical canon. In a sense this book with its integration of image, text and sound was one of the first attempts at multimedia.
This CD-Rom provides a modern multimedia approach to the Atalanta fugiens. To make the emblematic images more accessible to the modern eye, Adam McLean has hand-coloured the images, and has also re-created the music and made it more approachable to contemporary ears by programming it for a modern synthesiser. The music was originally devised as Latin verses sung in three parts.

This new version (November 2009) is extremely easy to use as everything is compiled into a single exe file.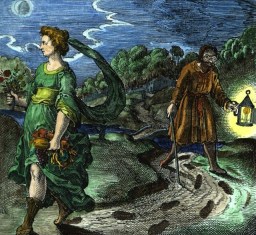 The images
I have hand-coloured each image using watercolours taking a relatively conservative approach, using as far as possible naturalistic colouring, but with a care to incorporate the symbolic use of colours in alchemical illustrations. I have drawn on my experience of the watercoloured illustrations found in many alchemical manuscripts and the style of colouring follows the conventions of such manuscripts.

The music
For this CD-Rom I have orchestrated the music and played it through a multi-timbral synthesiser (Yamaha SY77) which incorporates sampled instruments. I have used a wide palette of instruments to provide variety, a number of horns (french horn, flugel horn, trumpets), woodwind (oboe, clarinet, bassoon, flute), harp, harpsichord, and some strings, organs and orchestral sounds. I have avoided any modern entirely synthetic sounds as well as the piano. The general sound can be likened to an early music group, but of course with no pretentions to authenticity. Purists will of course deplore my approach, but I hope it might make some of the music much more accessible. In working with these 'fugues' I have found many of them to be enjoyable and memorable pieces of music.
The 50 musical pieces are two-part canons over a cantus firmus base. The first voice, which always appears on the right stereo channel, is the fleeing Atalanta. She is pursued by the second voice, Hippomenes, following a short interval later, which I have mapped to the left channel. The three golden apples, the base, is in the centre of the stereo space. I have used no particular system for choosing the instruments to play each 'fugue', and this entirely reflects my own taste and judgement. The output from the synthesiser has been 'fattened' or enriched by using stereo chorus, and is further run through the effects processor to provide a simulation of the reverberation experienced in a preformance space. People with a trained musical ear probably detest this, but I find it does enrich the sound of the three instruments.
USA and Worldwide
Pay in US Dollars through
your Credit Card or Paypal system
UK and Europe
Pay in UK Pounds through
your Credit Card or Paypal system
$15 + $5 postage
£10 + £2 postage