Adam's Tarot Weblog
Archive 3
Entries from from 2nd November 2007 to 30th November 2008.
Go to current entries entries, December 2008 to present.
Go to Archive 1 - entries from 21st November 2006 to 30th April 2007.
Go to Archive 2 - entries from 1st May 2007 to 1st November 2007.
Go to Archive 4 - entries from 12th December 2008 to 29th June 2010.

To contact Adam, email adam@alchemywebsite.com
Click here to join the Art Tarots emailing list. Click here to see the Tarots Collectors Forum.

---

30 November 2008 Today I received information that the first issue of Tarosophy International, a new quarterly 40-page tarot magazine, is now available.
This new magazine is free to all members of Tarot Professionals (www.tarotprofessionals.com) and available at cost through LULU for non-members as a download or B&W printed version with colour cover.
Articles in the first issue include Tarot and Initiation, Tarot as a Dialogue Tool, Tarot in the Mysteries, Tarot and the Law in England, poetry, and reviews of the Transparent Tarot deck and the art of Beth Seilonen.
To purchase a print or download copy of the magazine as a non-member, go to stores.lulu.com/farawaycentre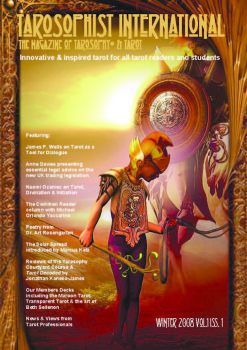 29 November 2008 The Taiwanese Eastern Tarot issued this year, created by Ru Sakurano, is a rather conventional manga tarot, obviously aimed at a young age group. The imagery is cute and designed to be attractive to children, with no great surprises except the inclusion of an additional card 'The Clonk', of which I have no idea as to its significance. It is no doubt explained in detail in Chinese in the enclosed book. It is quite strange that the cover of the book incorporates a diagram of the kabbalistic tree of life from Athanasius Kircher's Oedipus Aegypticus of 1652. The back cover has a magical sigil, and magical diagrams are included in the page layouts. It seems odd that children in Taiwan are being exposed to this material, in parallel with the simple manga images of the cards.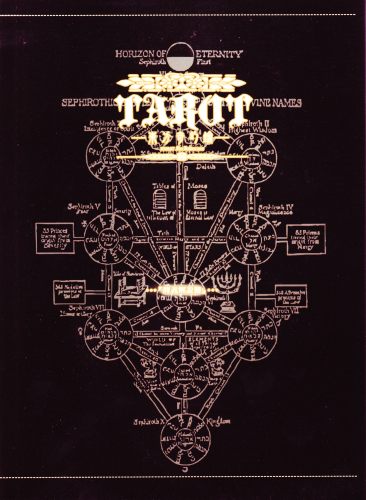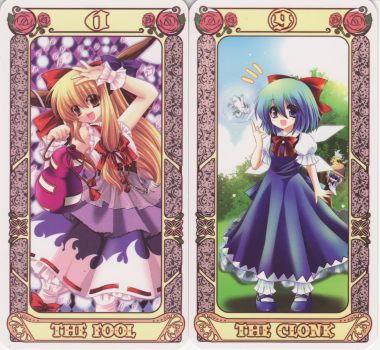 28 November 2008 The Chinese Magic Star Tarot is a 78 card Rider Waite clone made for children. The artwork in pen line and coloured pencil, is soft and gentle and delightfully harmonised with smooth gradations of tone. It comes with a book in Chinese and packed in a strong cardboard box with a cut out space for the cards, which seems to be the way a number of Chinese tarot publishers have decided to package their products.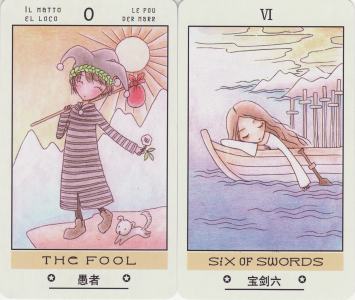 27 November 2008 Today my collection of tarot has passed the 1800 mark. It seems that this year the number of new decks being issued is somewhat reduced and there are not so many of the legacy decks coming on to the secondhand market, so I expect growth of my collection will be much slower during the coming year.

27 November 2008 A few years ago the Taiwanese artist Angus produced a Magical Tarot. He has now shifted his focus from magic to love, with the issue of his Love Tarot. This 22 card deck comes as a set of cards in plastic sleeves in the back of a book. The images are nicely drawn using a fine line and appear to have been coloured using a computer graphics program. The figures are in manga style, with tall thin figures with the familiar large doe-like eyes and triangular faces. The imagery is romantic and gentle, with no edge to it, even the purple Devil is quite a charmer.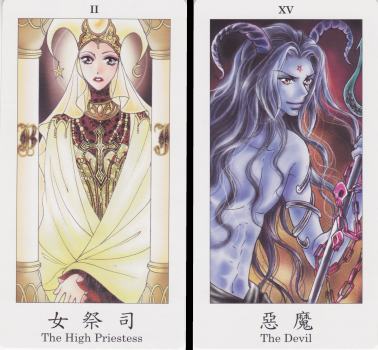 24 November 2008 K-Books are a large Japanese publisher of comic books. They recently issued a tarot deck as a promotional item to showcase their artists' work. This deck was, of course, not for sale, but I have managed to obtain a copy through one of my Far Eastern contacts.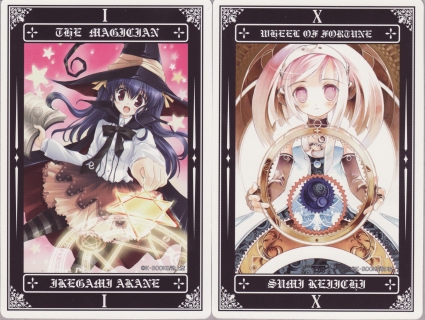 23 November 2008 'Bleach' might seem an unlikely name for a tarot, but it seems to me an equally unlikely name for a Japanese manga and anime. Anyway it is one of those anime series with a complex story line centred around some hero who has, for some inexplicable reason, to battle with evil spirits and guide souls to the afterlife. I now have bought a fan art (Doujinshi) set of tarot based on the Bleach characters and style.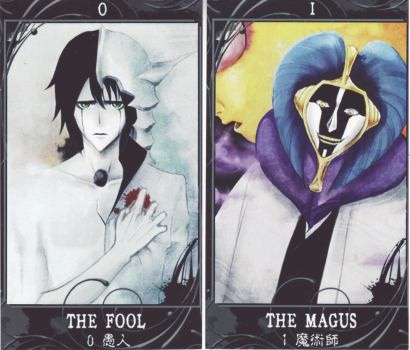 11 November 2008 Due to the vigilance of a fellow tarot collector and the assistance of a Polish friend, I am now the possessor of the Tarot Aniolow (Tarot of Angels) created by Mayron in 2007. This is a set of 24 cards - the 22 Tarot Majors plus a card 0-22 and an unnumbered card. The cards have no titles. The artwork is ethereal and impressionistic, based on original paintings which are printed within a diffused filter which makes the periphery of the cards soft and out of focus while the centre remains sharp. These appear to be in oils, as impasto is used on many of the paintings. Each depicts an elongated angelic form which reflects the tarot imagery. Some of these associations are merely hinted at, while others immediately strike one. The Lovers is obvious and the Fool a little more enigmatic.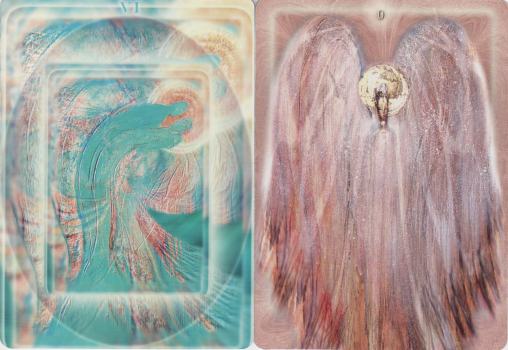 10 November 2008 The Museo dei Tarocchi in Italy has just issued some new tarots. Among these is the rather finely drawn and painted Tarocchi della Luna Nuova by Maria Teresa Monti. The figures seem quite detached, almost world weary. They are beautifully drawn and set against a black background which makes the subtle colouring a little more intense. This is a limited edition of 300 copies, and though there is no rush to buy, the publications of the Museo dei Tarocchi tend to sell out quite quickly. I suppose they have quite a following in Italy, the home of art tarot.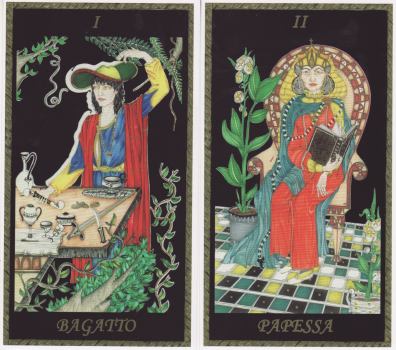 7 November 2008 What do snails have to do with tarot ? And golf tees and balls also? Beth Seilonen dared to ask that question and after much thought she came up with the Tarot of Isabel Snail. Are snails such an unlikely candidate for the honour of a tarot deck? There are many cat tarots, and I doubt that cats have any connection with tarot, neither do Angels, Celts, Mayans, Mona Lisas, Knitting, Pirates, Hedgehogs or even alchemy - so I can easily accept a snail tarot. This is in Beth Seilonen's best humorous style - her snail eyes are wonderfully expressive, and they all have a delicious look of puzzlement, even bewilderment, as they are placed in the various tarot scenarios. Now, I wonder if all the golf courses in Maine are colonised by snails. This is a limited edition of only 24 decks.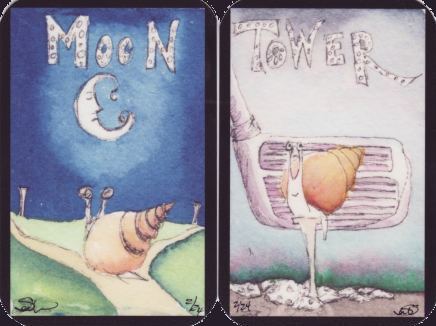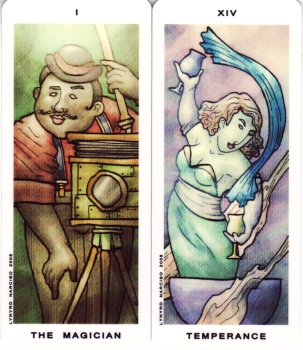 4 November 2008 Lynyrd Narciso's latest self published tarot has now arrived. He calls it the Moody Lane Tarot as a humourous reference to the early 20th century artist, Modigliani, from whom he took inspiration for the style of his designs for this deck. Lynyrd Narciso is a very talented artist and he can absorb the essence of a style and rework it in a fresh and original way. Here he captures the atmosphere of the early 20th century. I especially like the image of the Magician as photographer, and the art nouveau flowing forms in the Temperance card.

3 November 2008 The Australian Chester Harris produced his Tarot Chesta in 2002. The line work was created in Lino block overprinted on a number of silk screened colour print layers, some cards having gold and silver ink screen printed. There are 78 cards plus one blank and a face card. The cards are large, measuring 100 by 150 mm, and are printed on quality archival stock. An edition of 61 decks were printed. I had thought that the edition had been entirely sold, but I was recently in touch with the artist and it turned out that he still had a small number of copies for sale. Needless to say I bought one. They are relatively expensive, but they are a unique artwork. The designs are very expressive with a subtle humour and the strong bold woodcut like outlines (lino blocks) give them a solidity and strength. Chester Harris conceived the designs in 2000 while on a journey of personal exploration travelling around the North and East of Australia. These are definitely an art tarot, involving thousands of hours of work by the artist, and will be hightly valued in the years to come.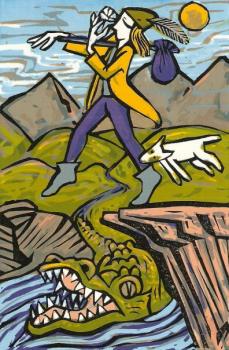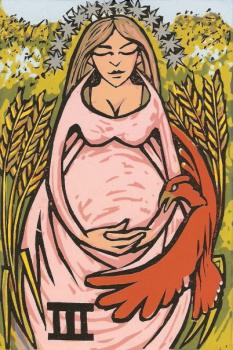 30 October 2008 Sorry, I have not had much time over the last few days to update this weblog despite having received a number of interesting decks. Put it down to too much bookbinding.
There are not many Hungarian tarots. I only have four, well five now, as a few days ago the artist Vivien Kabar kindly sent me her recently published tarot based on her paintings. The cards are large in order to allow space for the images which vary in size. The imagery is deliciously dark. Some of the cards are based on paintings created as tributes to the British painter Francis Bacon. Here is Judge (XX Judgment) and The Juistice (XI Justice).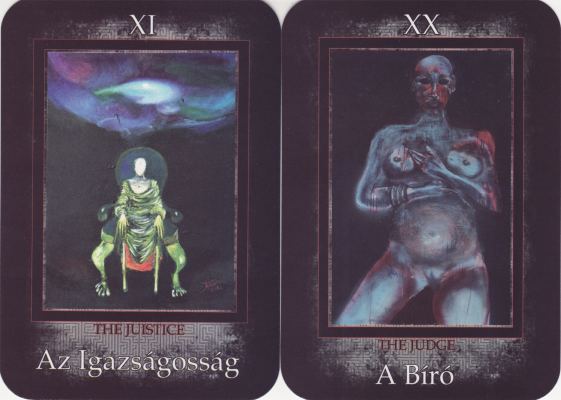 You can see more of her powerful art on www.vivienkabar.hu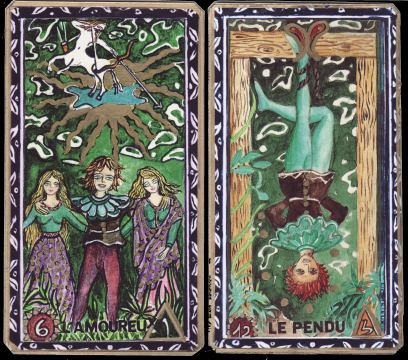 24 October 2008 At the beginning of last year I came across a some images of a tarot on the Internet. It seemed to be called the tarot of Doumée Durieux and I understood it had been issued in book form in 1994 and possibly also as an actual deck. I found it rather engaging, but any attempt to locate a copy failed and I eventually came to accept that I would probably never manage to get a copy of this. Imagine my great delight when a fellow collector alerted me to the original artist who created this deck, who was living in the French West Indies and willing to sell a copy of the deck. So a day or so ago it arrived in the post in a large wooden box. The images are printed on paper and then mounted onto thick card and then outlined in gold. It is a fine production which I am very pleased to have for my collection.

23 October 2008 Beth Seilonen must be the most prolific tarot artist working today. But she is not only prolific, she is also very inventive. She always seems to find a new take on the tarot. Her latest is called Both sides and must have arisen from an observation that many of the majors seem to form pairs. Thus she designed this deck so that these pairs are shown as if the complementary sides of the one image. It is a neat idea and she executes it in simple pen drawings. I am also always on the lookout for new ways for envisaging the Tower, one of the most difficult cards to rework. Here she captures the idea of the Tower just by means of four falling childrens alphabet bricks - I cannot recall seeing that before.





22 October 2008 I now have yet another South American tarot, this time from Argentina. This is the SOL Tarot, a 78 card deck which appears to have been produced by a Doctor Hector Russo (he is a Doctor of Parapsychology not Medicine). I cannot find a date on the item but it seems quite recent. The Majors are renamed and renumbered, but for the most part easily recognisable. Rather than having a little white book, the publisher has added descriptive information on a series of 16 cards.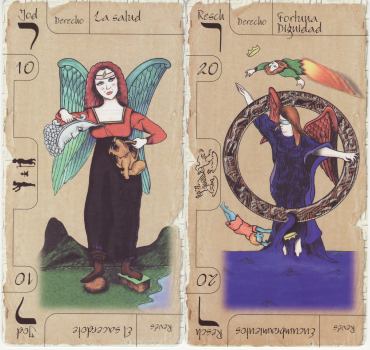 20 October 2008 There are a number of tarots issued in South American countries. Often it is difficult to discover these. A few days ago I found a Brasilian version Tarô dos Boêmios of the well known Papus Tarot of the Bohemians. This Brasilian version was printed with a book in 1992. The artist credited is Novaes - I am not sure if this is Heloisa Novaes. In any case the artwork is excellent.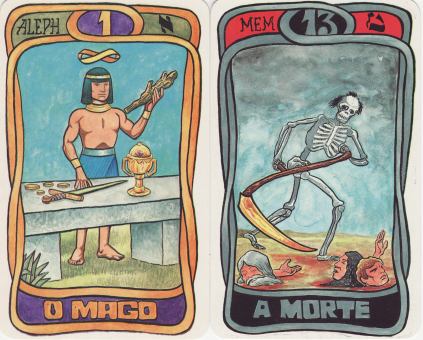 17 October 2008 This morning I obtained another South American Tarot, the Tarot de las Siete Llaves (Tarot of the Seven Keys) printed in Argentina in 2000. This is a Tarot de Marseilles but entirely redrawn in a modern abstract style. The artwork is by Alejandra Correas Vazquez. I am glad to be able to add another item to the South American section of my collection.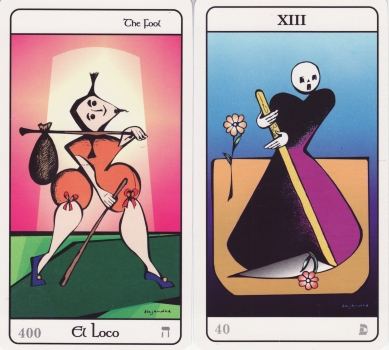 16 October 2008 This evening I managed to finish making up a small batch of the Corneal Edema tarot and have put these up for sale.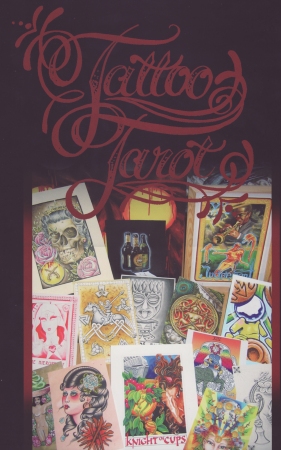 14 October 2008 Today a large square heavy package arrived in the post. I thought it was an art book I had ordered some weeks ago, but instead I found the Tattoo Tarot from Germany. Inside was square box containing a heavy book and a set of large cards. The cards are so large that they should defeat even the most experienced shuffler. These are not intended for telling fortunes but as a showcase for the art of various tattooers, chosen by the editor Astrid Köpfler. When I bought the deck I wondered if it was not a little expensive, but when I saw the quality of the cards and the excellent large format book, which has images of all the cards with a little commentary, I realised why it was priced so. It is a rather fine production, and must have required a great deal of work on the part of the editor chasing up 72 contributors. The box will fit on my shelf neatly between the Fendi and the Vertigo. Those who collect tarot will know what I mean.

12 October 2008 I have begun making up a small batch of the remaining copies of the Corneal Edema tarot, the amazing Goth deck, and hopefully should have these ready early next week. When I issued this deck I only printed up half the edition, and it has not been available for some months. There are only forty copies left to sell, and I am making up some more of those. Hopefully I should sell some of these quite quickly in order to justify the time I will have to spend printing, laminating, cutting to cards and making up into the boxes.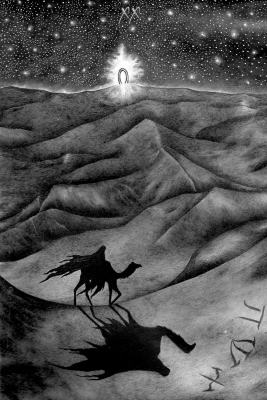 2 October 2008 This morning I completed the production of the latest tarot, the eighteenth, in my Art Tarot series. This is the astounding Diary of a Broken Soul created by Ash in exquisite pencil drawings. I first saw this on the Tarot Deck Creation section of the Aeclectic Tarot Forum, and watched with amazement as it evolved and grew into a tarot deck. I am very happy to have been able to publish the Majors as a part of my growing series. As the artwork is so very detailed, I spent a great deal of time making sure that it was printed at the highest possible quality. This deck is now available through my Art Tarot website where you can also see some sample cards.

29 September 2008 This weekend I began the production of the latest in my Art Tarot series. If I am not interrupted by other work, I should be able to complete this on Wednesday or Thursday. I takes about a week to print, laminate, cut, prepare the boxes, and make up the sets of cards. Following my normal practice, I will not make an announcement until I have the decks ready to ship.

27 September 2008 The Tarot de Jeebee is a black and white Majors deck published, I am led to believe, in 2002. The deck is subtitled "Domination -Soumission", and is an erotic deck, though only mildly porongraphic by today's standards. The artwork, pen drawings, was by the Belgian comic book artist Denauw Renaud, especially known for the adult comic book series Jessica Blandy. I was amused by the Fool where instead of a dog, Renaud depicts a woman biting the Fool's leg. The Devil is shown as a transexual, with phallic staff, presiding over the naked male and female figure. The imagery is subtly humorous, rather than overtly pornographic and a rather tasteful addition to the growing number of erotic tarot decks.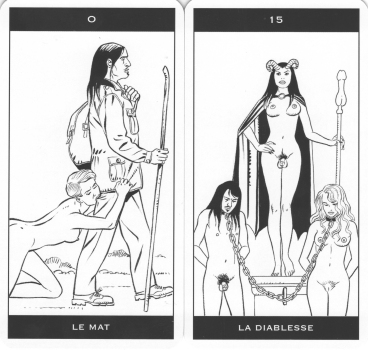 26 September 2008 Over the past few months I have been watching on the Aeclectic forum the evolving of Dana Lynn Driscoll's Tarot of Trees. So I was delighted to hear that she had completed the Majors and had decided to issue these as a limited edition, while she worked on the remaining cards for a 78 card deck. This arrived today and is truly glorious. It comes in a little, hand decorated, wooden box. The cards are small and are printed in intense luminous colours. The idea for the deck was to create a tree centred tarot. Here the trees are not decorative background symbols, but instead they reflect to us, through their depictions and gestures, the tarot archetypes. Thus the Fool shows a tree precariously growing on the side of a precipice, the Lovers show two trees intertwining their branches, the Emperor is a tall oak, lording over and protecting seedlings growing below, while Judgement has an acorn sprouting underground and just putting up its firs leaves into the outer world of the elements - perhaps it will survive, or perhaps not. This is a delightfully painted and well thought out deck. I am not sure how many copies Dana will produce, so I am pleased to have been able to buy one.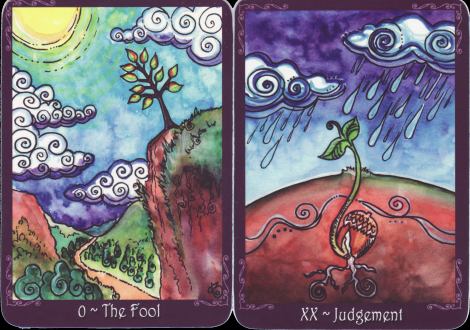 24 September 2008 I don't usually buy Jeu de Tarot, the French card game, as these do not usually incorporate any tarot imagery, even in the trumps, but I could not resist buying the Droopy Tarots when it came up on an Ebay auction recently for a modest price. Droppy was a well known cartoon character (MGM not Disney). The trumps include frames from some of the cartoons while the other cards have redrawn images of Droppy and some of the other characters from the cartoon series.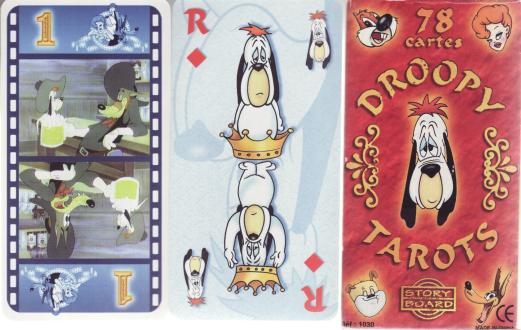 21 September 2008 A few weeks ago I bought the deck Tarot - The Ancient Translation Tool. This is a Biblical Old Testament inspired deck created using computer graphics. Well today I received another Biblical tarot, this time from the opposite end of the Bible, the Tarot of the Revelation again produced using a computer drawing program. The imagery in the Majors draws on the Book of Revelation, often quoting visually from artists such as Durer. This deck is issued in Japan and was created by Christopher Earnshaw, who is much influenced by the American psychic and mystic Edgar Cayce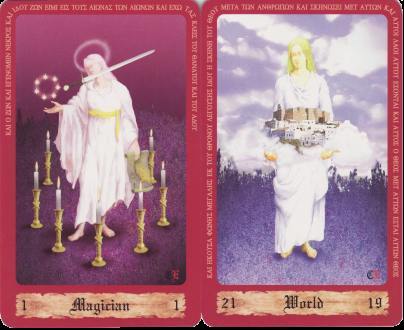 18 September 2008 I recently received the rather expensive Hetalia tarot 22 . This is a self published tarot produced by a Japanese artist named Koze. The designs are conventional but nicely drawn and coloured using a graphics program. I was a bit perplexed by the inclusion of country names on the cards, however a little research on the internet alerted me to the fact that this is derived from a manga called Axis Powers Hetalia, apparently based on the two 20th century world wars. As there is no official tarot issued with this manga, I must assume that this deck is a self published doujinshi (or fan art) deck. This makes it rather rare and justifies the price I paid for it. Decks like this will be impossible to find in a few years time. The deck comes in a solid card box and includes a little booklet. In this booklet are shown the original pen drawings on which the tarot card images are based.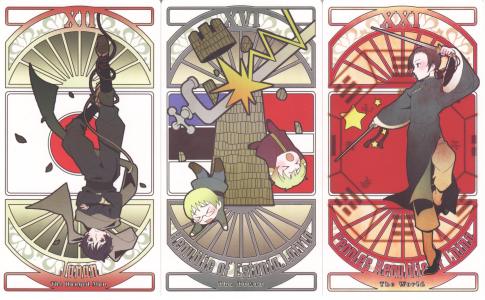 16 September 2008 Today I received a copy of the Keishobou Tarot, possibly the earliest of the Japanese tarots to be issued. It was apparently published in 1973. It is a strange amalgam of a Marseille style Majors and images derived from Rider Waite Minors. The box has a collage of alchemical and emblematic woodcuts and engravings.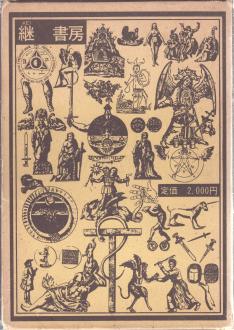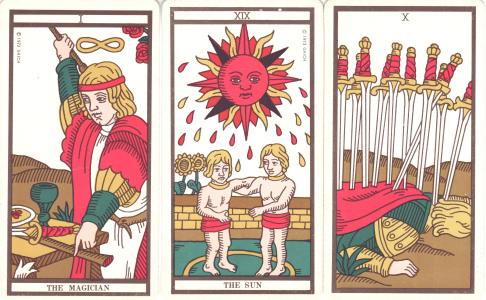 13 September 2008 I have been away all week at the Chymia 2008 conference in Spain. I got back to a mass of emails and letters which I have now to answer and deal with. Thus I have not been able to keep up the weblog over this past week. I will try and put up some new postings this week.

4 September 2008 Last week I bought the Tarot - The Ancient Translation Tool produced in the USA by Tracey. This inexpensive deck is professionally printed on standard thin varnished stock and produced using a computer drawing program. The artwork is in thin line and subtly coloured in solids and gradient tones, with no attempt at modelling, which produces rather nice clean and crisp images. The imagery draws from the Biblical Old Testament. Thus Aaron is the Magician, Abraham the Hierophant, Adam and Eve the Lovers, Samson Strength, and so on. The Majors, are for the most part depicted with original ideas, though cloely related to the standard tarot imagery, but the Minors draw clearly from the Pamela Coleman-Smith emblematic imagery. I found the Tower rather original, it showing Lot's wife turned into the pillar or tower of salt.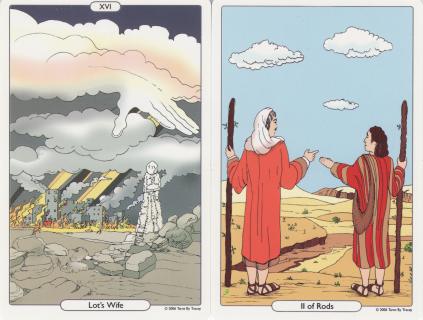 3 September 2008 I have been finalising the new tarot in my Art Tarot series. Hopefully it will be published in the last week of September or early October. I never give advanced details and prefer to wait till I have the decks finished and ready to post out before advertising them on my web site or sending information to those on my mailing list. It is my experience that purchasers of tarot can get rather annoyed by announcements of a tarot before it is ready to ship, as some publishers preannounce months or even a year or so ahead. Setting up this latest deck has taken up a good slice of my time recently so I perhaps have been neglecting this weblog. I will try to make a few postings over the next few days. There never seems to be time to do everything one wishes !

29 August 2008 Every so often I am able to buy the original artwork for a tarot deck. With well known decks this is, of course, impossible, as the artist usually sells their pictures off at a high price, to recoup the value of all the time they put into their original creations. But I have been able to acquire a few one-off deck designs. Today, I have received a series of 22 card designs made using coloured felt tips on a heavy board. Nothing is known about the origin of these, and though obviously not by a trained or skilled artist, nevertheless, the designs have an integral style, using elongated figures. Most of the cards contain at least one pair of rising and falling figures. The cards are neither titled nor numbered, but in most cases it is relatively easy to assign them to the appropriate arcana. There are a few which are ambiguous, but after I spend some time looking at them I will probably be able to assign them. On a quick examination I can find no indications, signature or other coded information, about the artist or even country of origin. It is good to have a few originals in ones collection.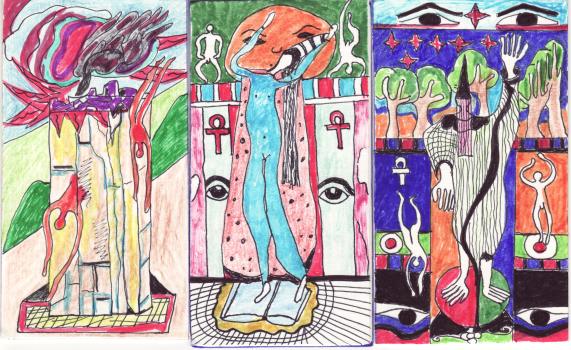 27 August 2008 It is often difficult for mass market publishers to have the courage to issue a deck with challenging or unusual artwork, so it is heartening to see U.S. Games Systems' recent publication Deviant Moon Tarot. The deck was designed by Patrick Valenza apparently entirely using a digital graphics program. I have known about this deck for some time, and it is good to see these well printed on large cards that allows the details of the artwork to be appreciated. The faces of many of the figures are depicted in stylised moon crecent form, in some cases with a dark and light side reflecting the lunar phases. The backgrounds are for the most part a flat plane, while the foreground figures are depicted with a heightened three dimensional modelling, often with applied surface texture. Patrick Valenza also adds in disarticulated limbs and stylised joints to many of the human forms which gives them a surreal quality, reminding me a little of the Fergus Hall deck produced 35 years ago in 1973 and also issued by U.S. Games. The imagery is filled with delightful and subtle humourous touches.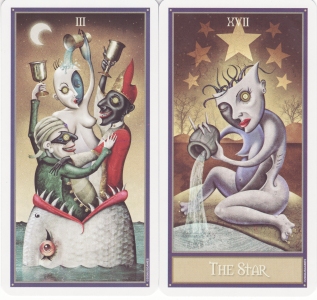 20 August 2008 There is quite a tarot input from ACEO artists. This is a relatively recent art format. ACEO stands for "Art Cards, Editions and Originals". These cards have one main rule - they are 3.5 inches by 2.5 inches - the size of a trading card. These artists produce a wide range of subjects and styles and usually sell the originals on Ebay or some other trading system. A number of these artists have tried out some tarot images and some even complete a set of Majors. Debra Klopp-Kersey's Clown Tarot started out as ACEO cards, but she has now printed these out and issued them as a limited edition of 100 signed copies. Earlier this year she issued her Crow tarot which I bought for my collection. The Clown Tarot cards are a bit larger (about 5 by 3 inches). Her paintings are very powerful and she captures the sinister, the sad, the disturbingly wierd and surreal, as well as the conventional image of the Clown.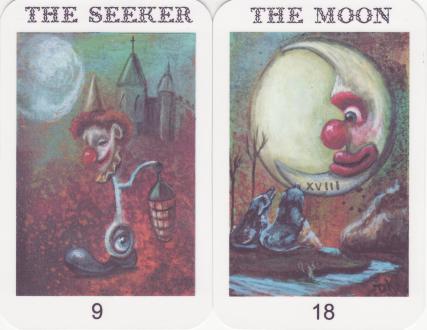 17 August 2008 I recently bought a copy of the new Tarot of Inner Peace created by Hedy Maimann as a series of oil paintings on canvas. Her imagery is to a great extent unique to her conception, though recognisably reflecting the usual image we have of the arcana. Some are quite puzzling. Consider Judgement which shows a couple crouching close to the ground and seemingly trying to lay out a large pieced jigsaw puzzle. The Emperor is shown as a surfer wearing a crown. The pip cards have emblems which do follow the Pamela Coleman-Smith imagery though completely re-envisioned by Hedy Maimann. For example, instead of using the usual image of the sword, which probably carries a negative 'unpeaceful' image she represents this air suit by using birds. With the pentacles she similarly avoids money inages, and instead uses circular floral bouquets. In her painting she uses thin layers of paint except in some areas where she builds up quite a high impasto, especially in white pigment. This is an unusual deck but archetypally tarot. She includes an extra card which she assigns to arcana 22. This is called Pandora's Box and refers to its myth, in which at the bottom of the box which Pandora foolishly opened, was found 'hope'.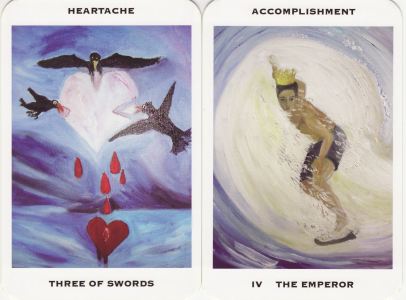 15 August 2008 Over the last week I have been getting bombarded with various email newsletters that someone went to the enormous bother of subscribing me to. It seems to be a puerile revenge for some minor thing I said on a discussion forum. Some people seem to be on a hair trigger and any rejection of their ideas results in a rush of fury. Sadly the choice of these newsletters/mailing lists that this person has subscribed me to, reveals something about that individual. They subscribed me to many newsletters on geriatrics, and older peoples' health issues, and a large number of gay newsletters. How sad it is is for someone to think to do this in order to get revenge. It reveals so clearly the sheer smallness of their mind. It would be rather amusing if it were without its inconveniences, and having to manually unsubscribe from a mass of such newsletters. Unfortunately people like myself who openly use my real name and use a public email address are at the mercy of people on the internet who hide behind pseudonyms and handles, so that they are never held responsible for what they say or do. Such people are merely cowards and bullies. Luckily I am a strong person and not hurt by such things, but I could imagine a more sensitive soul being upset to the point that they withdrew from using discussion groups and email communication.

14 August 2008 I have a bit of a backlog of entries to this weblog as I have been rather busy this week with other projects. However, yesterday, the Whispering Tarot by Elizabeth Hazel arrived. At first one is perhaps a bit confused by the title, but on the artist's web site we see it bears the subtitle "Softly Spoken Secrets", and she further explains that her deck was conceived to speak to people, and that wisdom, emotion and esoteric knowledge are woven into its form. Well, though many tarot artists might have a similar aim, very few have her drawing skills and colour sense to realise such a project. Though the cards are small, the wonderful detail of her pen drawings, in which she subtly uses various thicknesses of line and shows a mastery of shading and dot textures, is seen. I think the choice of the framing black borders also helps lead ones eye into the image and intensifies the contrast. The colours are intense but sensitively applied and she does not feel forced to colour every square millimetre of each drawing with colour, and instead allows the strength of the drawing and shading in some areas to stand on their own. Her imagery is creative and she finds new ways of representing to us many of the arcana. Her emblematic pips obviously draw on Pamela Coleman-Smith's imagery in the Rider-Waite deck, but she adds her own subtle twists and variations. I feel sure people will have fun looking at these two decks side by side. Her Devil card is delightfully original with the rather beautiful devil seen with its true face reflected in the waters of the cauldron - that is a neat image. The Moon card is renamed 'The Eclipse', but has recognisable symbolic elements, though entirely freshly conceived. The artwork and creative input into this deck is really astounding. The little jpegs here do not do justice to the sharp intensity of her artwork, and one has to buy an actual deck to appreciate her work.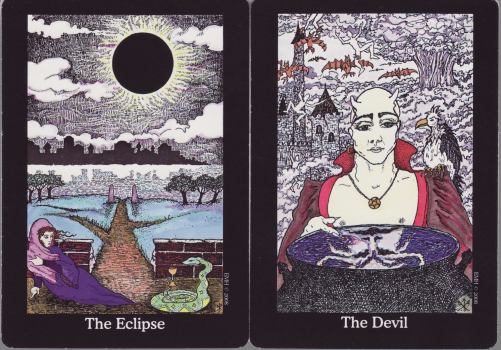 7 August 2008 I have most of Beth Seilonen's tarots. These are produced in small limited editions. Last week I noticed she was selling some prototype decks, which were her original artwork. These were experiments in oil pastels. Usually she works in watercolours or pen drawings. I was very drawn to her Froggy Arcana and bought this. It is a one off. Perhaps in time she will make a frog tarot to publish as one of her limited editions. There are surprisingly few frog tarots! but many cat tarots, and even a few crow tarots (one of which was recently published - see the entry for 3 Mar 2008). Michael Kutzer produced a Frog tarot, but I missed out on that one, so Beth Seilonen's makes a brilliant replacement. The colours are wonderfully vibrant and the imagery is cute and humorous, just as one expects from a froggy tarot.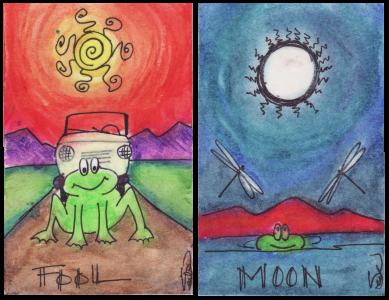 5 August 2008 Addams Anna Majoeria's second Love Tarot has just been issued this year. The art is in soft coloured pencil. The book shows the pen and wash originals from which, no doubt, the final coloured versions were made. Here we see a rather fine Japanese devil. For the Emperor she uses a stylised portrait of King Henry the Eighth. I have not seen that before.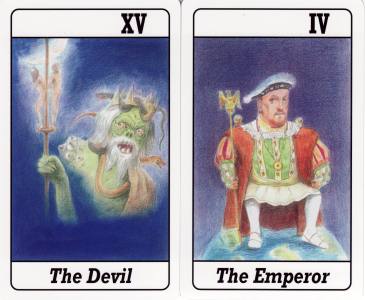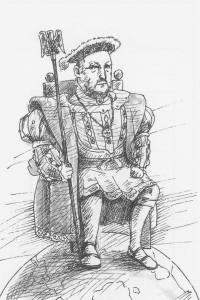 4 August 2008 I recently bought copies of two tarots from Japan both named Love Tarot and both by the same designer, Addams Anna Majoeria. The first was issued in 1999 and consists of black and white pen drawings. These are rather individual and have some nice humourous touches. The Wheel of Fortune is quite original.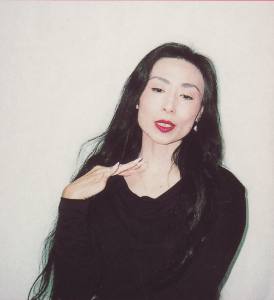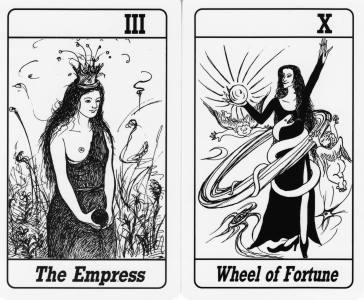 I will show her second Love Tarot in tomorrow's weblog.

1 August 2008 The artist of the tarot I mentioned yesterday told me she created it on a computer using Corel Paint. Today I have to show another tarot created using a computer, but this time using a vector based architectural drawing program called ArchiCad. This is The Mystereum Tarot Deck created and self-published by Jordan Hoggard. It is a full 78 card deck in a somewhat smaller format than usual. The cards are professionally printed. The limitations of the architectural CAD system, impose a clear geometrical structure on the imagery in the cards, and this is of course the intention of the artist. Thus many forms are broken down into circles, arching forms and structured regular curves. This does not mean that the artist keeps to simple forms, indeed many of the images are very complex. Jordan Hoggard is certainly aware of the qualities and how to use this drawing software. Although architecture stands as an idea behind the conception of this deck, it transcends making simple associations between architectural forms and tarot, and instead the tarot images emerge out of his applying four abstract architectonic principles about how a form stands in its environment. It is a quite fascinating and original way of looking at the tarot.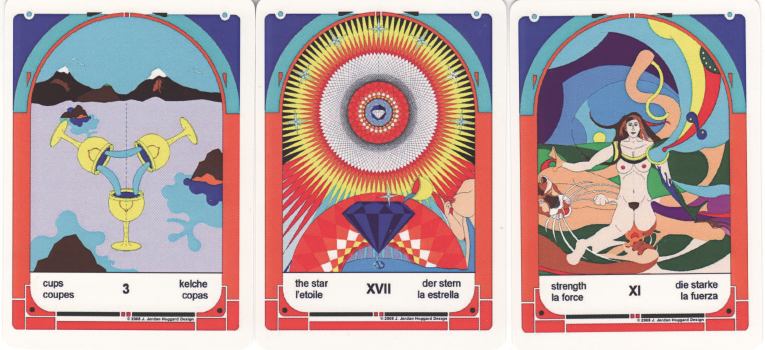 31 July 2008 I have just received a Rider Waite clone deck from Germany. This is the Traumtarot or 'Dream tarot', self-published by Isabel. This is a full 78 card deck. The minors are essentially a clone of the Rider Waite imagery but in Isabel's own style. Her majors are created more from her own imagination and dreams. She appears to have created the artwork on a computer using a painting program. This produces a softness to the detail and a blending away of sharp edges, which gives the images a kind of dream-like quality. The cards are quite small and are professionally printed and produced. The titles are in German and English. You can buy copies direct from Isabel Krsnic isabel@krsnic.de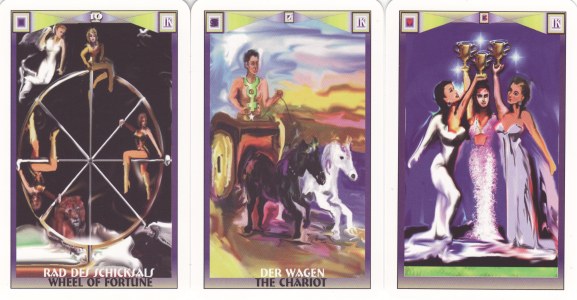 30 July 2008 Sorry for the short gap in the weblog. It was not that I had any lack of material but rather a lack of free time for me to write anything. During the last few days I have received a number of tarots. Among these is a self published deck by Tamara Nikolic which she has entitled The Visionary Tarot. It is essentially a Rider Waite clone complete with emblematic minors. It appears to have been painted in gouache or acrylics. The Majors use those artists' jointed mannikins to depict the figures. One remembers this device was used in Osvaldo Menegazzi's Il Fantastico Viaggio di un Manichino. The Visionary Tarot is an edition of 100 numbered copies. Although self published, the cards have been professionally printed. Strangely these appear to be printed using screen printing as the colours are in distinct layers, but this may just be an artefact of a particular litho printing press.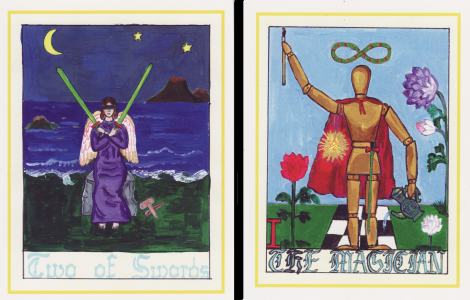 24 July 2008 There is a tarot of pirates, more than one of bellydancers, a couple of baseball tarots, a tarot of white (and only white) cats. and even a couple of tarots of postage stamps, but today a tarot of lighthouses arrived in the post. Well, it is not actually called the tarot of lighthouses, but rather it is Beth Seilonen's The Maine Tarot which she started some time ago but only recently released. There is a lighthouse on every card, sometimes more than one. Maine must have a lot of lighthouses ! This is a nicely produced limited edition of 25 copies, which comes in a little black velvet bag inside a solid cardboard lidded box, as do all her recent tarots.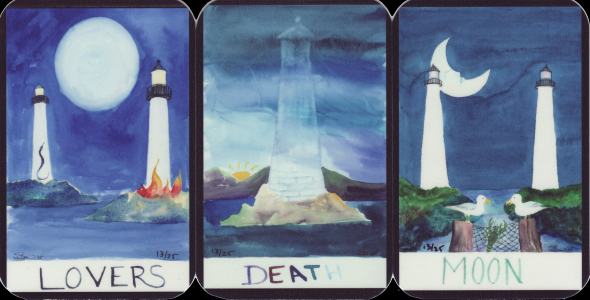 23 July 2008 Yesterday I received a rare tarot which had shuffled its way to and fro across the Atlantic two times before it reached me. I thought it had been lost in the post, but for some weird reason the UK Post Office returned it to the sender as undeliverable ! This would have been the first item I had ever lost in the post, and sadly it was a rare tarot, but happily the dealer sent it back to me and it was delivered safely on the second occasion. It is a rather strange, relatively early tarot from 1971, Le tarot de Prinner, in the form of a portfolio of black and white prints in a folder together with a stapled book of descriptions in French. The original artwork is in pencil as is the text of the book. These have been litho printed. Anton Prinner (1902-1983) was a sculptor working primarily in ceramics. He was apparently originally Hungarian but moved to Paris in 1927. In 1945 he met Picasso who described him as "the small fellow who makes big statues". Picasso nicknamed him the "Small Woodpecker". Prinner developed an interest in the occult and this seems to have led to him working on the tarot designs. I am not sure how many of his tarot portfolios were printed but it would have been sad if this had been lost in the post. The prints are quite large 12.5 by about 10 inches. His imagery is influenced by Eastern spirituality, as in his Death card which shows a series of reincarnations.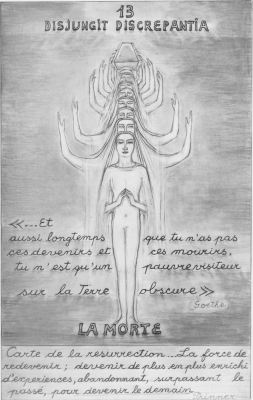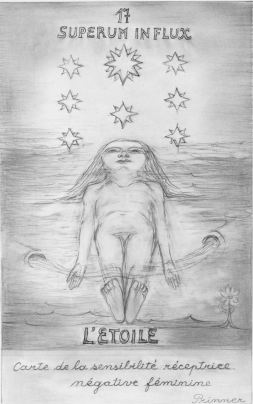 21 July 2008 From the same artist who produced the Dragon's Tarot which I mentioned in my entry here for 3 July 2008, is the Stone's Tarot. Each of the 22 Majors is associated with a precious or semi-precious gemstone which is depicted on the card imagery. Thus the Lover is rose quartz, Strength is cat's eye, the Hanged Man is malachite, and so on. As with the Dragon's Tarot, these have been printed onto soft matt thick card on a high quality inkjet or giclee printer, which has somewhat softened any hard edges in the drawings, to give a diffuse effect.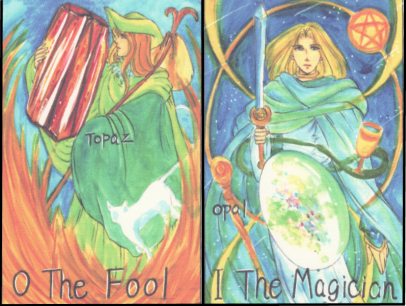 19 July 2008 Sometimes one finds tarot cards published in odd places, in magazines as pullouts, in association with computer games, and so on. Today I got half a tarot which was provided with a CD entitled Cosmogenia : Von Magnet meets the data gypsies. I bought this from a German source for only a few euros. It contains a set of 11 small and very thin tarot cards, renumbered but totally recognisable. The images are either derived a late 19th century engraved French deck or in that style. Perhaps this musical group intends to create the other half of the deck and issue that with another CD. The music is not to my taste, being synthesiser and samples collaged together.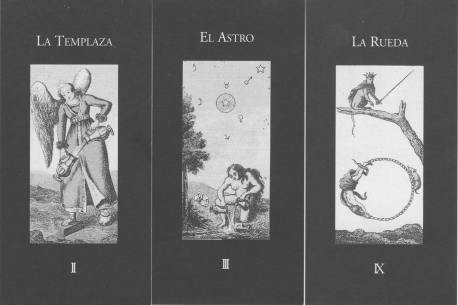 18 July 2008 Fellow collectors often say I am one of these sad cases who looks for the seriously obscure items. Some days ago I obtained the Kosmokrator Tarot (what a wonderful name for a tarot deck!). This is a Japanese majors only deck created from black and white photographs by the artist Muramatsu Katsura. Each image was originally created as large silver gelatine emulsion prints (the older method for printing out black and and white photographs). Here the artist has overprinted two or three different negatives to create the final image (a bit like photoshop layers but done in the darkroom with an enlarger rather than using a computer). The images are quite enigmatic and not immediately recognisable as tarot images. The cards come in a rather stylish concertina like black folder with a silver cover. Thus one can open out the concertina and have all the cards in a line. They are held into the folder by little slits which enable the cards to be easily removed and replaced.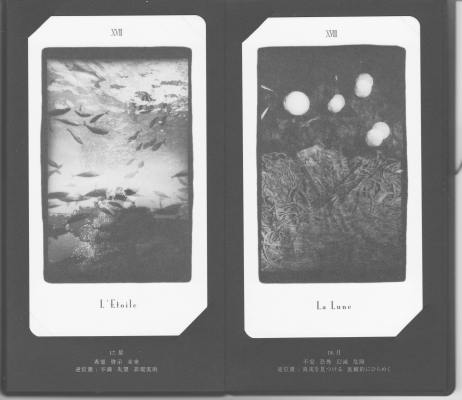 It is not easy to scan these at a small size as the artwork relies on one being able to see all the layers of detail. The Star, for example is primarly derived from photographs of a planetarium projector seen through images of fish from an aquarium. The little image I show hardly does this justice. It was not inexpensive, but is a rather fine art tarot issued in 2004 in an edition of 200.

15 July 2008 Today I received a tarot in a book that I have been searching for over the last year. This is a series of woodcuts by Andre Kerkhoven illustrating a book of poems (in Dutch) by Paul Rodenko. This was published in 1979 in the Hague. The illustrations are litho printed but the originals were woodcuts. The follow the usual imagery but with a few interesting variations. Coarse woodcuts does provide an unusual yet powerful medium for tarot imagery. It was not an expensive purchase.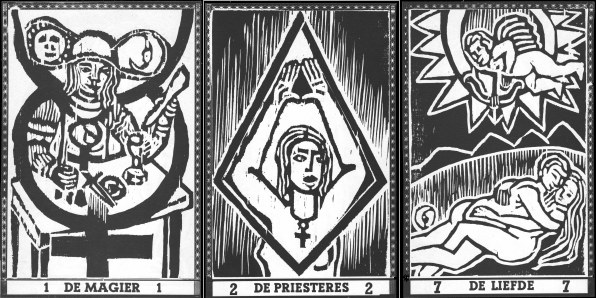 14 July 2008 I have had a good response to my latest tarot publication the Arto Tarot by Jane Estelle Trombley. This Canadian artist seems to have a considerable number of friends and supporters who wanted to make sure they got a copy of her deck, so I have sold 30 copies in just a few days. The sales will no doubt drop off a bit, but people obviously recognise the skill, creativity and power of her art.

11 July 2008 This morning I wrote the text for my tarot mailing list posting. I suddenly realised that this is the first mailing for about six months. This is because I had not been able to find the time to work on publishing new tarots early this year as I had to devote my time to other projects in order to pay the bills. Publishing obscure though delightfully creative tarots does not make any money and absorbs hundreds of hours of my time. If I ever were to properly account for the time I spent working on each deck from beginning to end I would be devastated to see how little I was paying myself an hour. Of course the artists do even less well, as they must spend so much more time creating their images in the first place. Anyway, I struggle on and will be announcing the publication of more items in my Art Tarot series in the months ahead. Hopefully, I will send out the mailing list later this afternoon.

10 July 2008 Two of my Art Tarot Series have sold out recently - the Alchemical Emblems and the Aleph have now sold their editions. I will now, no doubt, get many emails from people wanting copies. Sadly, so many people leave purchasing to the last minute and then they miss out. I am not going to reprint items - I intend to use my energies and capital to continue to publish new tarot decks rather than reissuing material I have previously published. A limited edition is just what it says - limited to 100 copies only. A few other of my decks are selling quite quickly. I expect many will be sold out within two to three years of their initial publication.

8 July 2008 This morning I began making up the most recent deck in my Art Tarot series. This is the delicious Arto Tarot of Jane Estelle Trombley. Here are couple of pictures taken during the making up of the deck. I should complete this later today and now have this for sale through this page where you can see more samples of the cards.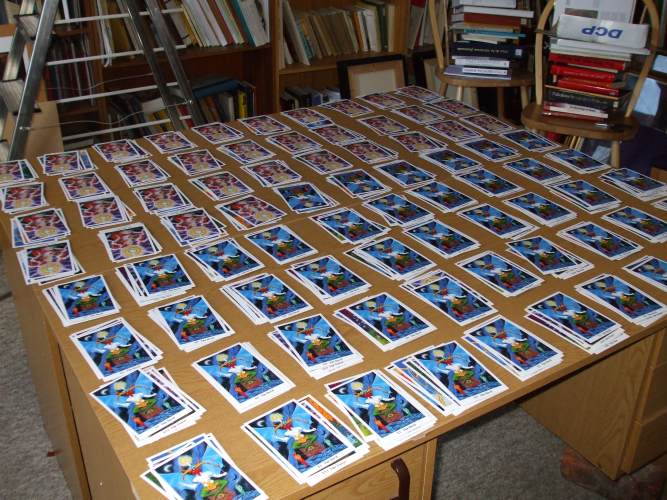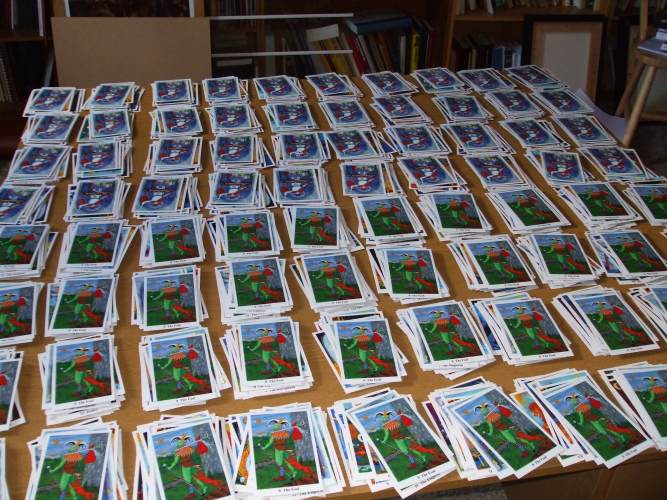 7 July 2008 I have set aside today to cutting up into cards the next tarot in my series. Cutting might seem a rather simple task, but unfortunately it is far from that. It requires total concentration and exact measurements. At this stage one can ruin the whole printrun by a moments carelessness. Thus one has to constantly check and recheck each cut. One has to work to fractions of a millimetre as there are many cuts required and any error is additive. Thus if one gets the first cut wrong then by the time one gets to the end, the edges are skewed or do not match up. This particular deck is difficult as the fronts have a white border. When the images fill the card one has to cut a little into the image, but here we have a white border so it is important that the cuts are positioned correctly as there is no leeway for error. I expect this task will take all day as one can only cut about 10 or so laminated cards at a time, as they slip under the pressure of the guillotine if one attempts to cut a larger pile.

4 July 2008 The wonderful Pen Tarot arrived yesterday morning. The images are truly magnificent and totally original. The interpenetrating faces of the Lovers is a rather nice working of the essence of this card. I am always interested in any original reworking of that most difficult of all cards, the Tower, and here the artist Penelope Cline has produced an astounding new visioning of the card. The pen drawings have been given volume and surface by the subtle use of diluted ink applied by a brush, giving an overall warm grey and soft sepia quality to each image. At the focal point of each of the compositions is a symbol that is depicted in subtle colour, a powerful stylistic element in this deck. I could easily run out of superlatives in describing the Pen Tarot. The artist, Penelope Cline, must be very pleased with the resulting deck, as it has been well printed and presented in a black felt cloth within a strong black box. The whole concept, deck and packaging work so well.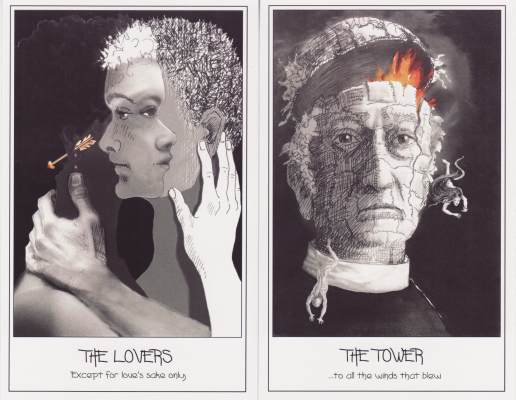 3 July 2008 I now have yet another Dragon's Tarot. This is a hand produced deck made by a Japanese group in 1996, on which I have no information at all, as there is no documentation apart from a short note. The cards have been printed onto soft matt thick card on a high quality inkjet or giclee printer. Throughout the set of 22 Major arcana, a winged dragon appears, to reflect the tarot archetypes. The artwork is diffuse and unfocussed, and the colours softly merge one into another.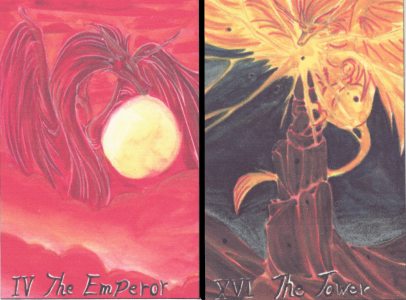 2 July 2008 For a very modest price I obtained two hand made tarot decks which seem to be based on the Santeria Afro-Caribbean religious tradition. I have no idea who made these. They are drawn using felt tip pen on a thin foil backed card. On examining the backs one can see a pressed outline of the image, suggesting that the outlines were made using considerable pressure, and thus that by using carbon paper between a stack of blank cards, multiple copies could have been produced. The lines were then strengthened using the felt tip pen and the various parts of the images coloured also with felt tips. So I suspect it may be that the creator of the cards made more than one copy. The cards in each of the two decks are given the names of the Orishis or Gods in Santeria, but these are made to correspond quite closely to traditional tarot imagery in many cases (though not in the classic order). The more square rectangular deck has 25 cards, while the more elongated one has 30. The imagery on each deck does closely relate in many of the cards, but other do have distinctly different images. I don't suppose I will ever find out anything else about these decks. The artwork is naive but very appropriate to the subject, possibly even been made by someone practising Santeria. I find these rather elemental and more alluring than the many rather polished mass market decks on this subject, such as the Tarot of the Orishas, Tarot Lukumi and Afro-Brazilian Tarot.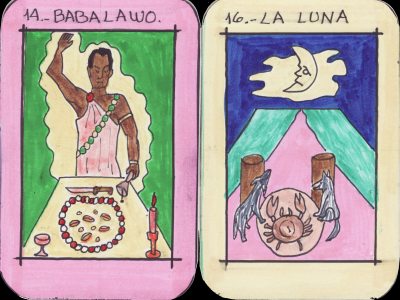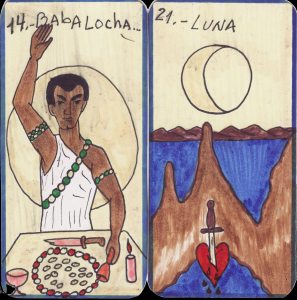 1 July 2008 Here is another charming deck I recently obtained from the tarot dealer Baby_Dream, from whom I have obtained so many rare and interesting items from the Far East. It is a self-published deck by an art student in China named Mi-Mi. She does not appear to have given the deck a name so we will have to call it the Mi-Mi Tarot. The name Amy Van is seen at the bottom centre of each card, but I don't know what this means here. The drawing for this deck is very fine indeed with a subtle and lively line. The lines flow and glide rather than being mechanically drawn. It appears to have been coloured in a graphics program rather than with watercolour. The colours, though bright, are well chosen to be harmonised and well keyed to one another.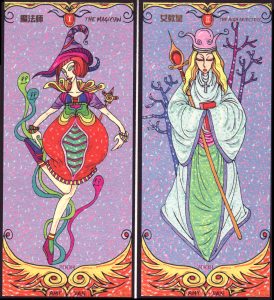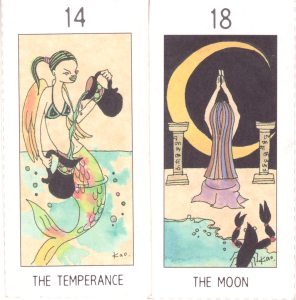 30 June 2008 In the last few days I have received a number of really interesting tarots, which I will post up here on my weblog over the next week or so. I will begin with a rare little set of small cut-out tarot cards issued with a 2002 issue of the Japanese fashion magazine An.An. The art, in pen and watercolour, is rather stylish. The artist signed each card 'Kao' but I have not been able to identify this person. Such giveaway cards, though often issued in large quantities with a magazine, are now extremely rare and difficult to source. Most would have been thrown away when the next issue of the magazine appeared. I think I must be one of the very few collectors interested in these items. The artwork is often, as in the case of the An.An furoku, of surprisingly good quality and originality. Here we have a rather nice new take on Temperance and The Moon.

27 June 2008 Yesterday I began printing out the next tarot deck in my series. I will continue with this today. Next week I hope to be able to allocate the time to laminating, cutting into cards, rounding the corners and making up the decks into boxes. Hopefully, this tarot, created in beautiful paintings, will be ready for sale in a week or so. Watch this space !

25 June 2008 This morning I checked over the statistics for this weblog. For most of this year around 120-280 people were accessing the Weblog every day, but somehow from the 22nd of May the numbers substantially dropped to a range of 70-95 accesses a day. I am not aware of doing anything - changing the style or content of the postings - that can explain this. Perhaps some key link from some other tarot site has been removed. Visability on the Internet is a bit of a lottery it seems.

25 June 2008 Some days ago I received a copy of a new tarot, Tarots de Mai, from the French artist Oda who earlier this year produced her first tarot. See the entry on the weblog for 18 Apr 2008. This new tarot is in the same media and style, but here I find that the figurative element is emerging more out of the abstract. One detects a kind of evolution of form from the mass of prima materia. These two decks wonderfully complement one another.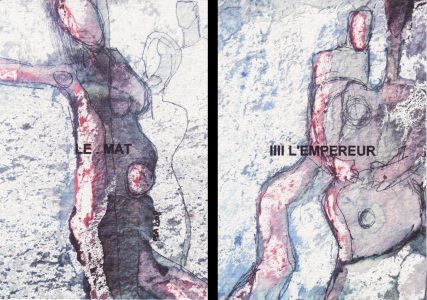 24 June 2008 Earlier this month I managed to obtain a interesting set of surrealistic designs for tarot cards as illustrations in a Spanish book by Octavio Aceves. I now have, again from Spain, another set of surreal tarot cards self-published by another Spanish artist. I don't yet know the title of this deck but I am so impressed by it that I will buy a small batch of copies and sell these on to my fellow collectors.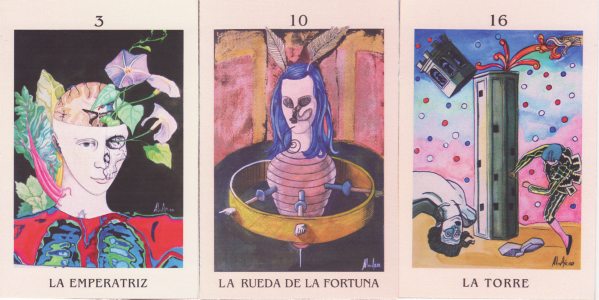 23 June 2008 Over the weekend I sold two more copies of the Alchemical Emblem Tarot, leaving only one copy left to sell from the edition. This is the first of my Art Tarots to sell out its edition and this has taken just over two years. Other tarots in my series will doubtless follow. I will not be reissuing decks as some publishers do. I produce limited editions of 100 signed and numbered copies only and will stick with that. There will be no second editions. I prefer to spend my time producing new decks, as there are many, many interesting art tarot designs out there that should be printed up in the form of a deck. If people want to own one of my Art Tarots I advise them to buy as soon as the deck comes out, rather than waiting till it is about to sell out its edition, as this will ensure they get a copy and they could even take advantage of the discount I give on the first 20 or so copies sold. With the deck I am about to publish in the next few weeks, I already have more than twenty advance orders so it could sell out quite quickly.

20 June 2008 I have been able to spend some further time over the last few days building up my database of Japanese tarots. It does take a lot of time researching and identifying items, but once I finish this it will be a firm foundation on which to build my exhibition. Now I have not just a pile of decks, but a body of organised information. There are so many themes to explore. Japanese tarot is remarkably diverse.

16 June 2008 In the last couple of days I have begun some preliminary work on the Art of Japanese Tarot exhibition. I always like to start early as it is very difficult to work tup against a tight deadline. The first stage is to conceive the exhibition as a narrative, and this requires me to look at all my Japanese tarots and find a way of linking these into a coherent structure for the exhibition. I decided to make a detailed database of the material so I can immediately find items and see them in different contexts. It does burn up a surprising amount of time creating a database as each entry needs a little research, though more detailed research will have to follow, when I move on to writing the catalogue sometime in the autumn. The database will probably take amost of the next week to complete as I have to fit it in to my other work.

10 June 2008 I found this set of 22 interesting tarot designs as illustrations in a Spanish book by Octavio Aceves, Tarot para meditar (tarot for meditation), published in Madrid in 1991. The illustrations are by Federico Gallego Ripoll and are drawn in pen then splattered with textured colour (perhaps using an airbrush, a really attractive effect. Some of the images present a new creative envisaging, for example, the Tower being stabbed with a pair of scissors, and the Magician's table as a playing card, and with human legs. There is a strong continuity of style throughout the images.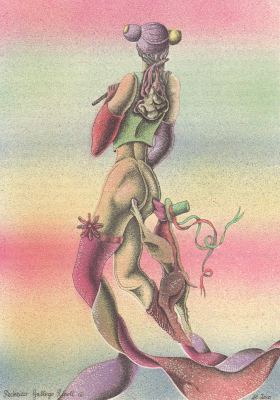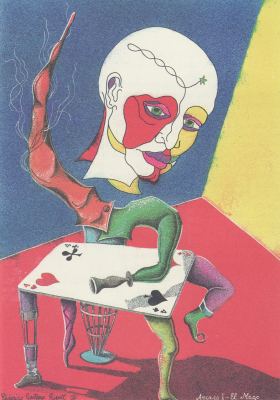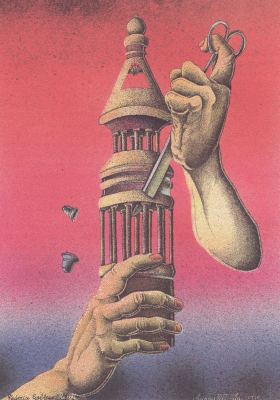 6 June 2008 I have obtained another rather obscure black and white tarot, drawn in ink with pen and brush. This is from Denmark. I only have two Danish tarots so this is a good addition. This tarot is entitled Tarok: Arcana Majora Extensa conceived by Erwin Neutzsky-Wulff and drawn by Ole Christensen and published in 1986 in Copenhagen. As the title suggests it is an enlarged deck, with 34 cards. The first 22 correspond to the normal tarot archetypes, and the additional twelve relate to various gods and goddesses from different traditions, such as Demeter, Horus, Marduk, Odin and so on. Some of the imagery for the majors is quite conventional while some is rather idiosyncratic. Thus the Tower corresponds to the conventional, while the Star with its star form inside the human brain, and the apocalyptic atomic explosion of Judgement are new twists on the imagery.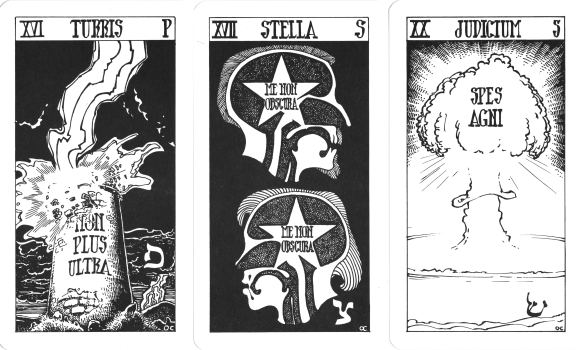 4 June 2008 I was recently able to buy a tarot which appears as illustrations in a book. I have been looking for this for some time and eventually one turned up. This is Egyptian style tarot illustrations by Paul Stephen Grayson for The Oracle of Thoth: The Kabalistical Tarot by R.A. Straughn, published in 1977. These are pen drawings with some applied graphic shading. They don't drawn on the late 19th century Wegener/Falconnier Egyptian tarot, but are an original concept. R.A. Straughn, known by his religious name, Ra Un Nefer Amen, a member during the 1970s of the Rosicrucian Anthroposophic League, formed the Ausar Society in 1975. Straughn became an occult teacher to the black community and around 1980 established an independent organization which applied the universal occult truths of Rosicrucianism to the Afro-American situation. He seems to be a fascinating character.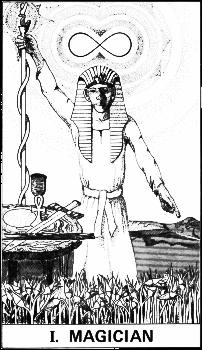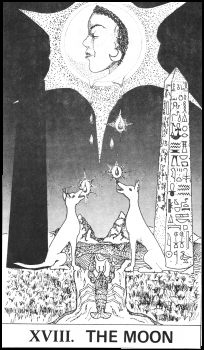 3 June 2008 Today I received a new tarot from Thailand - which raises my Thai tarot collection to four. This is a 78 card deck based on Thai Buddhist imagery. The artwork is beautifully detailed with the outlines of the human forms made in red ink line, and subtly and sensitively coloured. The minors are emblematic and follow the imagery of the Rider-Waite, though located in Thai Buddhist imagery. This deck is a delightful addition to my collection.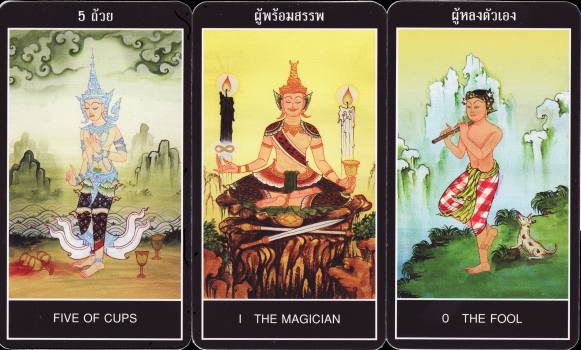 2 June 2008 Today I had a meeting at the Glasgow School of Art concerning an exhibition proposal that myself and my colleague Ronnie Heeps had put forward. So it has now been agreed that Glasgow School of Art will show an exhibition on the Art of Japanese Tarot based on my own collection. This will be held in Glasgow from around the 26th of April 2009 and probably run for about three weeks. This will give me the opportunity to show Japanese tarot as art, and allow people to see the breadth of artistic styles and creativity found in this neglected artform. Japanese tarot is almost unknown in the UK. I plan to produce an illustrated catalogue to go with the exhibition whch will provide a survey of the material, and locate it within its historical and social context.

1 June 2008 There are quite a few erotic tarots, the Druuna, Manara, Tarot of Casanova, Kamasutra Tarot, Decameron, Tarot Astar, Esteban Lopez Tarot, Tarocco Erotico dei Giardini di Priapo, Swedish Erotica Tarot, and so on, but until a week or so ago I had never heard of the Tarot Erótico of Xenia Joan. I found it on Ebay and manaaged to buy the copy. It was published in 2002 in Barcelona and consists of the 22 majors with five additional cards (a joker and one card for each of the traditional elements). It is supplied in a box with a large book in Spanish. The images are pencil drawings that have been coloured. Most of the images are pornographic rather than old-fashioned erotic and serve to illustrate ideas in the accompanying book. The author Xenia Joan has devised a tarot system in which the cards are divided into groups and associated with certain symbols. I have chosen here two of the images which should not offend the more sensitive readers of this weblog as they merely show nudity without the graphic sexual activity depicted on most of the cards.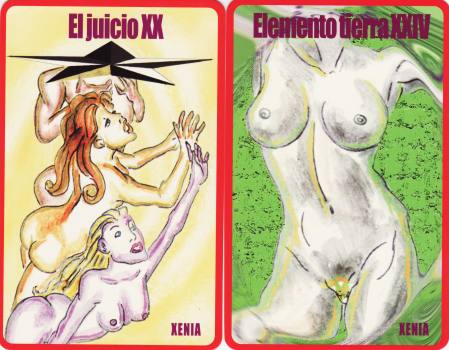 31 May 2008 I now have all the material for the next deck, the seventeenth, that I am going to issue in my art tarot series. I will work on the layout over the weekend, then hopefully begin the production next week, so it should be ready late in June, in about three weeks time. People have commented that there has been quite a gap since my last tarot publication. This has been primarily due to my having to give much of my energies to producing two new books in my alchemy series, and I also took some time earlier this year to make some oil paintings. I do actually have a number of tarots in the pipeline and these should gradually appear over the summer and autumn.

30 May 2008 The Alchemist Atelier Marie computer game was released in Japan in 1997. Also included in the box with the computer disc is a set of 22 tarot cards and a pen in the shape of Marie's staff and a small metal barrel. The cards depict characters from the game and some of these are shown in the accompanying booklet. Marie appears to own an alchemists' shop and consequently gets into various adventures. The artwork is finely drawn manga style with the female figures depicted with those large doe eyes.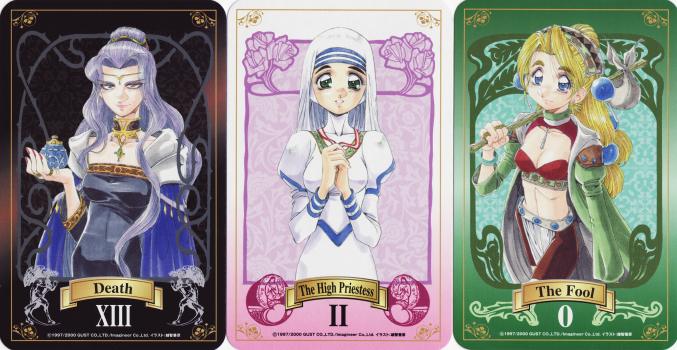 29 May 2008 I recently managed to acquire a copy of a rather rare and beautiful Japanese tarot deck produced in 1999. The designs are entirely based on Paul Foster Case's B.O.T.A. deck but here they have been realised in a wonderfully luminous coloured deck created by Masanori Miyamoto. The deck was made in a small edition, the precise number is thought to be less than 50 copies. I have number 29. What makes this particularly special is the way that the cards have been printed onto a crushed textured metal reflective foil in strong saturated transparent colours. Thus the foil shines through the applied colour and makes the cards glow. Merely moving the cards slightly makes the colours shift and move, which produces a remarkable effect which cannot be shown by scanning onto the computer screen. These really have to be seen and handled to be appreciated. An expensive deck but a rather beautiful one.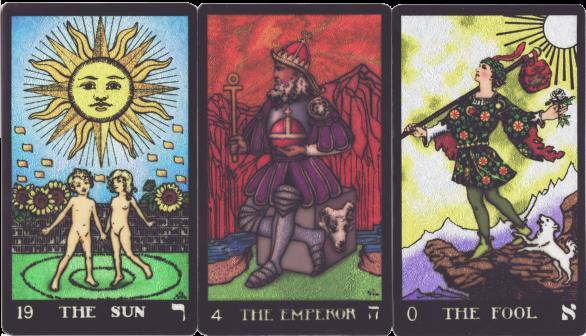 28 May 2008 "Oh no not another cat tarot!" do I hear you say. Just how many cat tarots does a sixty year old man really need? Well this one comes from Hong Kong in China, published this year by Likebulb Studio and is in cartoon style with bold lines and strong colours. I really like the Tower in which not only is the Tower in the form of a cat struck by lightning but also the cat on the lower right.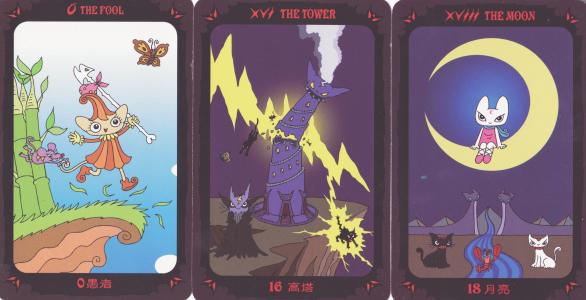 27 May 2008 Today the rather stylish El Tarot Universal de www.meigaweb.com arrived in the post. Meigaweb.com is a Spanish Occult, and New Age books and paraphernalia supplier, describing itself as 'el porto esoterico'. The cards, though sold to the public, were probably conceived as a promotional item for their bookshop. They do sell a wide range of tarot decks. Their own deck has some rather interesting artwork. It is a 78 card deck professionally printed by Fournier and supplied in a standard tuck box. The figures and their clothing is depicted in an angular style, and there is a definite 'egyptian' influence to the artwork. It is rather well drawn with a thicker outline and thinner line for detail and coloured with watercolours. One always finds some new idea when an artist has a go at designing a new tarot, and so here we have an interesting variation in El Carro, the Chariot, where the heads of the two horses cross over in the foreground.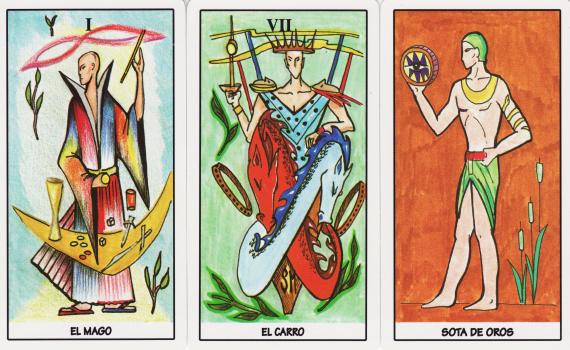 21 May 2008 The last two days have been rather productive as I managed to sell all six of the Korean tarot decks I had bought, to some of my fellow collectors. I hope to get another batch in the next week or so. I also managed to buy two rather rare and unusual tarots which I will post on here in a week or so once I have them in my hands. Tarot collecting can have its quiet periods when nothing much seems to come available, but then one gets a small rush of items to try and buy. There are always new tarots to discover and collect.

19 May 2008 I have just received a small number of the tarot cards from Korea that I described on 29 April. I was quite taken with these so I decided to buy a small stock from a Korean dealer and sell them on to my fellow collectors. I do especially like Far Eastern tarots but they are usually very difficult to source, and I rely on my contacts to get items for me. So this time it is myself that is supplying them.

www.alchemywebsite.com/tarot/special_offer_korean.html

14 May 2008 It has been a very busy tarot week for me, but not necessarily reflected in this weblog. I have just bought another bunch of Far Eastern tarots, which I should receive next week and I look forward to sharing information about these on the weblog. I did manage to buy a copy of the Black and White Jasniak tarot at a reasonable price. This is a Polish tarot produced in 1990, though printed in the USA. Although described as a black and white deck, essentially in line drawings in pen, it has some areas on the minor arcana cards heightened with block colour. Luigina Monteu-Gina used a similar device in her recent tarot (see 26th April).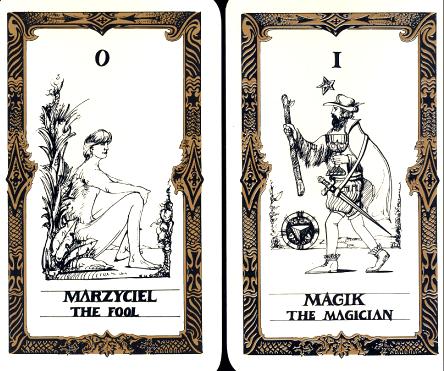 9 May 2008 The last few days have been rather quiet as far as my receiving new tarots, however I do have a few on order which will arrive over the next week or so. A few days ago I received some rather fine pen drawings for a tarot which I will publish as soon as I find the time. I don't just do tarot, but publish books and CD-Roms on the subject of alchemy and have been very busy this last week or so finishing a new publication. I also try to find the time to do some oil painting. You can see my other weblogs on these subjects here Alchemy Weblog and Art Weblog.
A few days ago I had an email correspondence with someone who wanted me to agree with him that Tarot originally emerged out of alchemical imagery. He wanted me to cooperate on some project with him and endorse his ideas. Sadly I could not go down that road as it is not true to say that historical tarot grew out of alchemical imagery. "Grew alongside" could be acceptable. It is obvious to anyone who looks at art history that tarot imagery grew out of the emblematic and allegorical material found in late medieval manuscripts, frescos and panel paintings, particularly of the 15th century. Alchemical imagery also drew on this material but was not linked to the tarot. This is what excites me now about 15th century artwork, and I am trying to research both the illuminated manuscripts and panel paintings of that period.

4 May 2008 I recently bought three tarots from Colombia. The Tarot de Saint Germain, Tarot Angelico and Tarot de las Galaxias. I had already bought a copy of the Tarot de las Galaxias a few years ago but had erroneously assigned this to Argentina, so it was good to be able to obtain these tarots produced in Colombia. The Tarot Angelico is an oracle deck of 78 cards and although some of the images seem close to the tarot arcana it does not seem to have any tarot structure within it. The Tarot de Saint Germain is a version of the Egyptian-themed tarot deck published in 1910 in the book Practical Astrology, which was in turn derived from the 1896 Falconnier/Wegener deck designs. Each card here has a pink background. The Tarot de las Galaxias is a almost unknown modern tarot with some rather interesting artwork. This seems to have been created using those water-coloured pencils, as some areas have the characteristic colour pencil texture while other parts of the image show the use of water to soften edges and intensify the colour. This deck is based on some strange UFO ideas with many of the images incorporating flying saucers and alien like beings. It is well worth collectiing as it is so unusual and also because it comes from Colombia.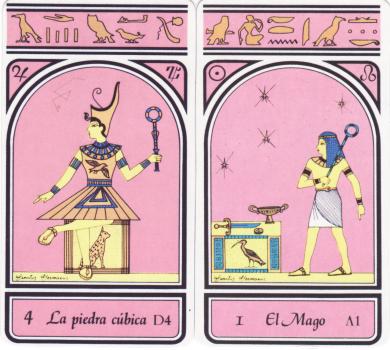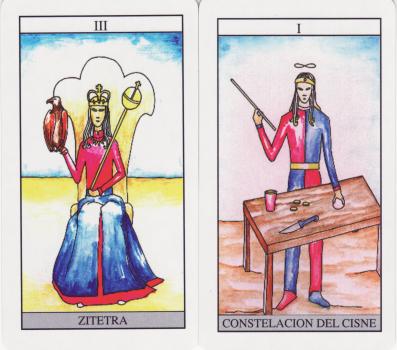 2 May 2008 Taiwan is a major source for tarot. I have recently received the Marvellous Tarot. This is aimed at younger children and it has the familiar female figures with the large appealing doe eyes, and the male figures depicted with the convention of sharp features, the angular chin and the narrow almond shaped eyes. Though rather conventional and unadventurous in its symbolism, this deck is nicely drawn and a very good example of the style.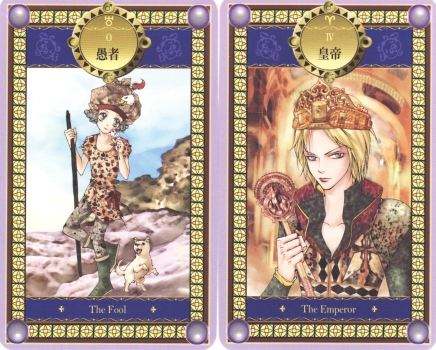 29 Apr 2008 I have 28 Korean tarots and another one arrived today. This is rather prosaically entitled, The Tarot Card, with no information on the packaging in English about the publisher, however, I did notice the date as being 2008. The cards are elongated, almost in the Chinese tradition. Many Korean Tarots were made for younger children and the artwork style is cartoon with many of the figures with those big doe eyes. This deck is quite different, not having a juvenile artstyle, but some rather appealing artwork. They would appear to be created in acrylics with intense luminous colours. Though the artwork draws on the conventional tarot images, it is freshly realised with some interesting inventions and new approaches to the symbolism. The Chariot, for example, makes a reference to Charles's Wain, the Constellation of the Great Bear (Ursa Major) known generally as the Plough and in Asia as the Northern Dipper. In the World, a mermaid figure embraces the Earth planet. I am going to try and buy a batch of these direct from Korea to sell on to some of my fellow tarot collectors as this is one they certainly should obtain for their collection.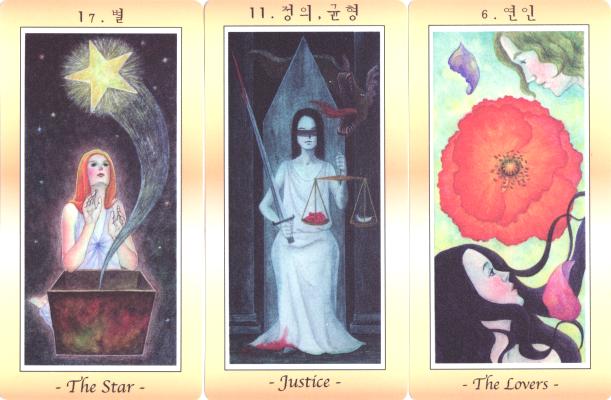 26 Apr 2008 A wonderfully detailed pen drawn tarot arrived today from Italy. This was created by Luigina Monteu-Gina in a small edition of 100 copies. The pen drawings are very detailed and have been heightened in a few areas with a wash of colour. This is extremely effective. It is printed on thick card embossed with a laid paper texture. The faces are delicately and sensitively portrayed. She is a master of shading using cross hatching and creates subtle transitions from dark to light. These look almost like high quality copperplate engravings one finds in 17th and 18th century book illustration. She has even gone so far as to create different borders for each card. I don't usually bother to show the back of cards in my collection, but in this case I thought it such a wonderful image that I wanted to show it here. These small scans do not do the artwork justice. It is so detailed and subtly created.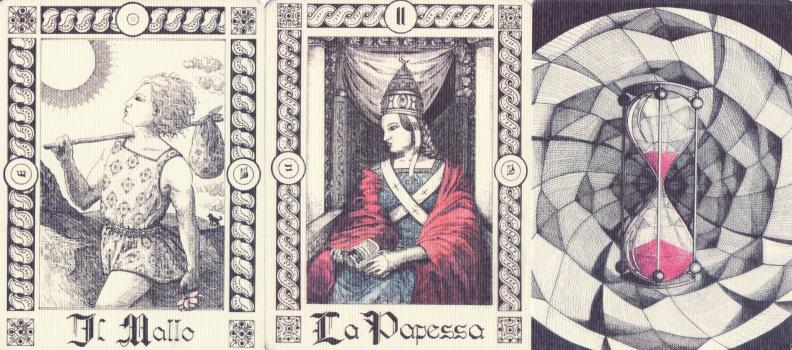 22 Apr 2008 Iceland has finally joined the wonderful world of tarot, with the new publication of the Icelandic Tarotcards, the first I know to have been issued from this country. The full 78 card deck comes in a standard flip-lid packet. The cards are in black and white and were originally created as etchings in 1988-90, and though the cards are here printed in standard litho printing, you can still see the characteristic background of the etched plate in the white areas. Apparently there is a version in Icelandic, though I have the version with English titles. The forms are pared down to the minimum which gives them a strong archetypal quality. The pips are not emblematic.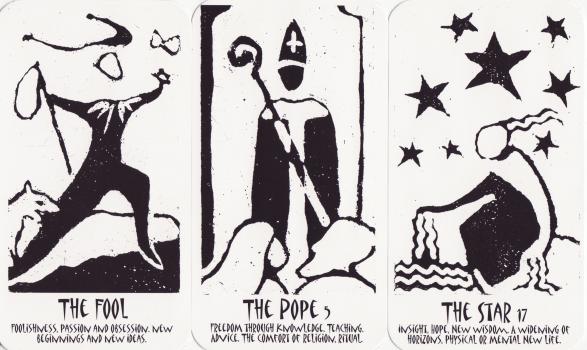 21 Apr 2008 Today it is the Sun Conure Arcana by the prolific Beth Seilonen. Somehow I have managed to get the first copy (1/100) of the edition of 100. I first became aware of Beth Seilonen's tarot work in August 2007 when I bought a copy of her Theban Tarot. Since then she has had an amazingly prolific and creative phase, producing almost one tarot deck each month. She has two distinct styles, one relying on simple line drawings heightened with a key colour, and the other on watercolour paintings. Sun Conure are brightly coloured parakeets from South America (primarily Brazil). They are now quite commonly kept as pets. Most seem to have an intense sulphur yellow breast (almost Cadmium Yellow). Anyway, this deck uses images of these parakeets filtered through Beth Seilonen's subtle humour and she also includes images of various orchids, which are no doubt part of the native environment of the Sun Conure. Sadly it is now an endangered species in the wild (though bred in captivity). Apparently they are delightfully engaging pets. They remind one a little of lovebirds. Beth Seilonen has really worked hard on the production side of her tarot work, and her decks are now laminated and corner rounded and come within a little pouch in a strong lidded box. Here are her sad Hermit with his dark cloak, Death where the Sun Conure devours an orchid, and the Tower as a egg set upright and beginning to crack open.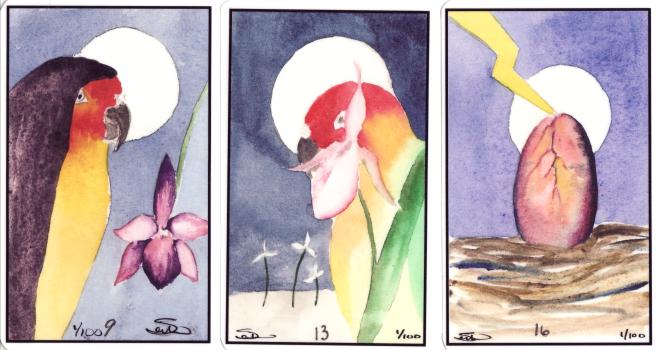 18 Apr 2008 A few weeks ago I was in touch with the French artist, ODA, regarding a tarot deck that she has just issued a month or so ago. She works in acrylic, ink, pastel, coloured pencil, gold leaf, on canvas or paper. She describes the theme of her art as an exploration of the invisible, the secret occult marks and traces, prints, tarot cards, magic squares, Yi King etc. She incorporates both figuration and abstraction, and appreciates contemporary art as much as she does the art of the past. Her tarot comes printed borderless on soft card. When you order a copy she asks you what colour you wish. This is because she individually prints out each deck with areas printed in a different colour. Thus each deck is unique, though the background artwork is the same throughout. Isn't it marvellous how people come up with such new ideas. Anyway I said I would leave the choice of colour to her and so today when the cards arrived I saw that she had done them in blue. Her tarot is a tense meeting of the figurative and the abstract. Some of the images reminded me somewhat of the paintings of Francis Bacon, not so much in their style, but in their similar fusion of clearly figurative forms within a more abstract art space. I am really pleased to have these.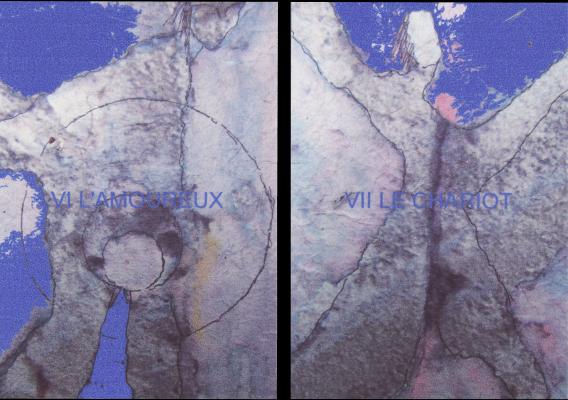 17 Apr 2008 Sometimes I wonder just who is reading my musings in this weblog. On the second of April I wrote about the Amo tarot which I bought at an Ebay auction, so it was a great delight that the creator of this deck, Laura Cristin, must have found this entry and wrote to me. She told me about another version of the Amo deck and I immediately bought a copy of this from her. There are thus two Amo decks, and each has a small image on the back of the corresponding card from the other version - a really neat and original idea, as if they are mirrored images. So I now have both versions, and thus the complete work. As I indicated in my earlier entry Laura Cristin is a performance artist from Italy using the name SHEren, who together with Dario Della Rossa participated in the Festival Hermatena "Science, Art, Alchemy" 22-30 June 2007 on the occasion of the opening of the Museum of Tarots in Riola di Vergato (Bologna). Their performance consisted of a series of musical-visual pieces each related to one Arcana. She has kindly enclosed, with the deck she sent, photographs of some of these tarot performance tableau. She is also working on a series of paintings, some of which draw on tarot imagery.

16 Apr 2008 I have just obtained a tarot with the most weird name Lsspgladys Tarot . It is a promotional deck printed on three sheets of thick card for you to cut out. It seems to originate from Hong Kong from shop called Witchyland - Witchy Wit for Body Mind Soul. Gladys, it would appear, is the owner of the shop. She does readings with standard tarot cards (Rider-Waite, Morgan Greer, etc) and runs some tarot courses. She also has some colleagues who offer aromatherapy and hypnotism through the shop. Anyway these promo cards are rather nice, being in Western cartoon style, with some rather original takes on the card imagery. People often say to me that these sort of decks are totally derivative and unoriginal, but they are wrong in this case. Usually I cut out the cards when they are provided in this format, especially if the card is perforated. Here the card is not scored or perforated so I think I will leave them intact.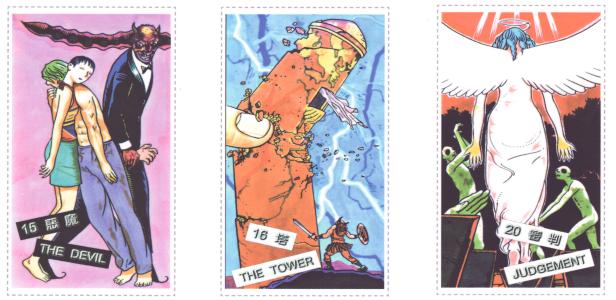 14 Apr 2008 Today I managed to obtain two tarots from Argentina. I am always trying to increase my holdings of South american tarots which are often ignored by other collectors. The first one is a nicely produced Tarot of Marseilles, while the second is one of those tarots printed on flimsy card given away free in a magazine and to be cut out by the purchaser. Fellow collectors often think me crazy to buy such items.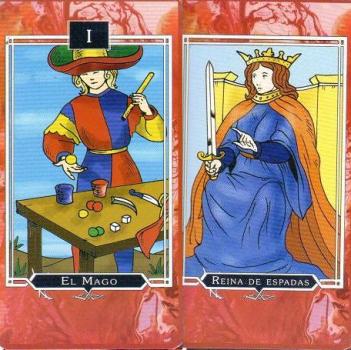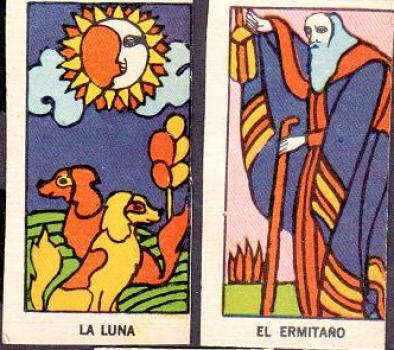 12 Apr 2008 There have been many attempts over the last decades to create a tarot deck based on images from classic paintings. Not that these paintings were in any way inspired by tarot, but only that the creator of the deck found some tarot association in a well known painting or part of a painting. The latest attempt is the Tarot of the Masters just issued by James Ricklef. The artwork for the Tarot of the Masters is drawn in outline from the original paintings. The drawings are very much simplified version of the originals. These have then been coloured, probably using Photoshop or some other graphics program, using a lot of tone gradations and some textures to give some modelling to the forms. This is quite nicely done, producing a uniformity of style across all the artwork on the cards. This solves the problem of using scans of images of the original paintings, as these are all in different styles and formats and difficult to squeeze into standard shaped cards with their usual portrait format. If one bought this deck solely for the artwork, one might be a bit disappointed as the images are, in a sense, caricatures or cartoons of the originals, but the deck rather has to be seen as making its own style.
For his Magician he uses a section of the 'Juggler' by Hieronymous Bosch, his Tower draws from Breughel's 'Tower of Babel', while his Temperance takes its imagery from Vermeer's famous 'Milkmaid'.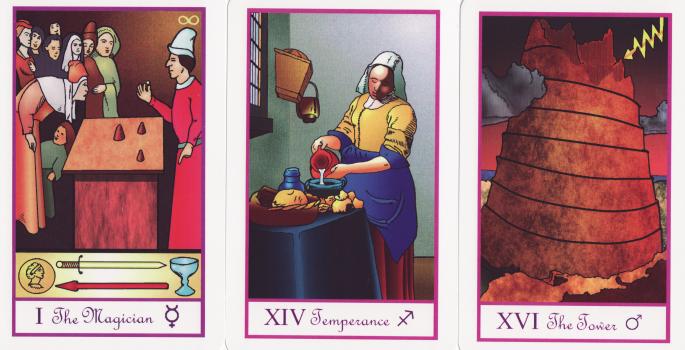 11 Apr 2008 I have just this morning come across this Cat Tarot painting. It is wonderfully cheerful and brightened up my day.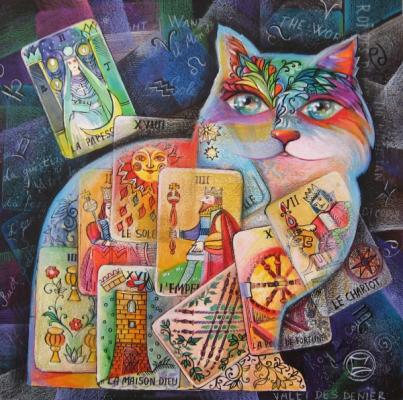 The painting is still for sale click here. If I had the money available I would buy it immediately, frame it up and hang it my hall so I could see it many times a day as I walked passed.

10 Apr 2008 I found this little illustration from an English illuminated manuscript the Luttrell Psalter 1325 - 1340. This marginal image seems rather to reflect the tarot Fool. Of course, this image was created more than a century before the first tarot images were painted, and though I am not suggesting that it had any influence directly on the tarot, it was from such imagery that the tarot emerged.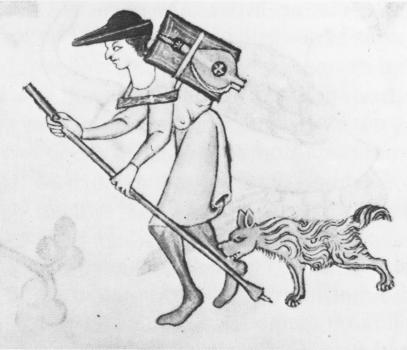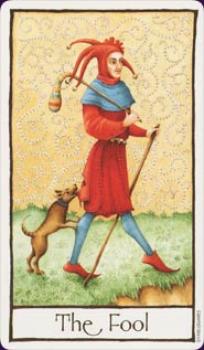 It is rather interesting to realise that The Old English Tarot, designed by Maggie Kneen and published in 1997 by US Games, was based on the Luttrell Psalter, though she does not use the image I have shown for her Fool nor indeed does she slavishly copy the style of the miniatures in the manuscript.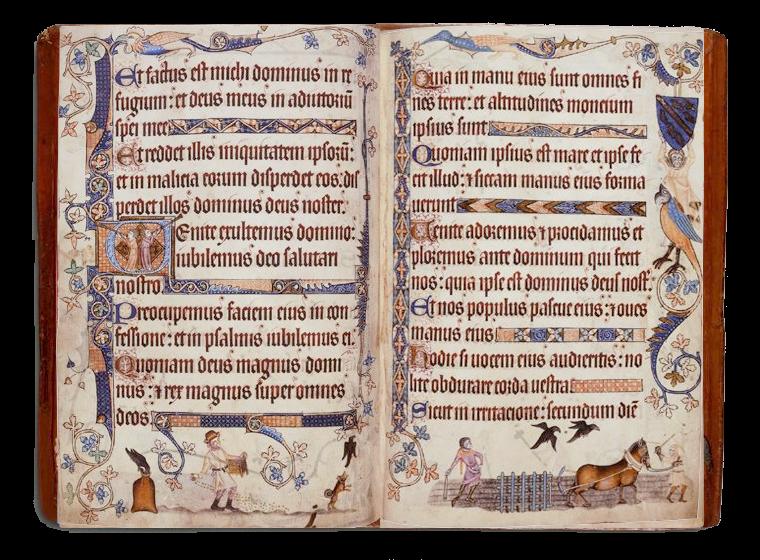 9 Apr 2008 Being a painter myself, I do have an especial liking for painted tarots, so today it was quite a treat to receive the american artist Cathy McClelland's The Star Tarot Deck. This has obviously been an enormous work of will for Cathy McClelland. She actually began working on the tarot images back in 1991, and it took her about three months to complete each tarot painting. By 1996 she had only completed five card images. The other demands of her life must have gotten in the way but in 2005 she returned to her task and eventually in 2007 she completed the twenty two paintings and had these printed as a deck. The cards are very large (6.7 x 4.5 inches -170 x 115mm) and this allows us to see all the details of her original paintings. She paints using acrylics but also uses airbushing to create smooth gradations of tone. The deck comes with a paperback book which outlines her approach to the symbolism. The artwork is wonderfully detailed in saturated colours, and the way some of the forms are modelled makes them appear to glow out of the surface of the card. These little scans do not do the images justice, you will have to buy a copy to appreciate this artwork fully.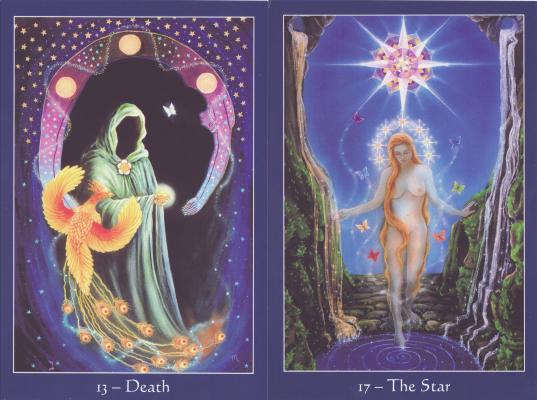 8 Apr 2008 I was very lucky recently to have been able to obtain a copy of the Apologia del Libro de Thot, Barcelona, Editorial Barath, 1980. This is a large format art tarot printed using silk-screen (serigraphy). The artist was Suarez and his Egyptian style tarot images are printed using silkscreen onto 13 by 7 inch thick card. A commentary on the symbolism of the Book of Thot by someone called del Pozo, is printed in gothic or black letter script on interleaved card, and the whole set of cards is then provided in a black folder. I have long been looking for a copy of this, but it was always too expensive, however, a week or so ago I got lucky and was able to get it on a Ebay auction at a price I could afford, possibly because I was the only bidder. In essence it seems a relatively conventional Egyptian style deck. I have not yet had time to examine it in detail to see if there are special features to the artwork or symbolism. What distinguishes it for me is the silk-screen printing (nowhere near as finely done as the Kashmir Tarot) and the size of the cards. Each card is signed and numbered, which considering that it was produced in an edition of 999 would have taken Mr Suarez some weeks to complete had he felt he had to number all the decks at the outset! 22,000 signatures and numberings. I hope he just did this as he sold each individual deck.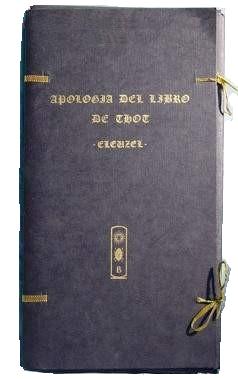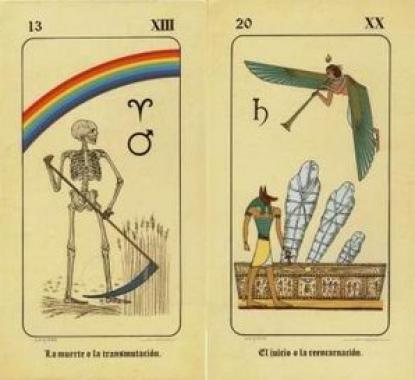 7 Apr 2008 This morning the postman woke me up with a package from Amazon France. This contained some books I had ordered and a new tarot Tarot sanctum : le grimoire des initiés by Marie-Renée Patry, which comes in a large solid box, which includes a book. The 22 card deck was created by Pierre Foisy. The cards are large and printed without borders. They are presenting tarot as a magical system rather than a divinatory one, so the book deals with all sorts of ways of incorporating tarot imagery into magical ritual. The card designs are for the most part entirely conventional though beautifully worked in a coherent artistic style. Each image (apart from the Wheel and the World) have a textured background on which a circular form is set within the top half of the card space. This bears the card number and its astrological glyph and associated magical symbol. The tarot arcana are then set as the foreground image. The artwork are painted in richly saturated colours, probably in acrylics, with rather good modelling giving a deep three dimensionality. The figures stand out well from the backgrounds and are painted in considerable detail.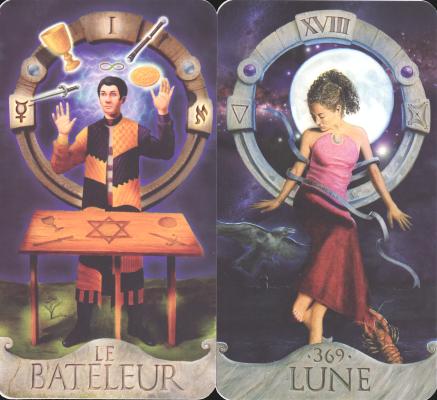 4 Apr 2008 My collection of tarot decks and tarot designs in books has now risen to over 1700 items. I also have some hundreds of unpublished tarots, some still in the form of scans, others which I have printed out. So I suppose my collection is now over the two thousand mark. I try to keep up with all the new publications but there are still many gaps in the earlier material which are difficult to find and expensive. Gradually these are being filled in and in five or ten years I should have as close to a complete collection of modern tarot as is possible. It has become a bit of an obsession.

3 Apr 2008 Last evening I spent far too long on the internet. However, I was rewarded by finding a little cache of downloadable tarot decks. These were not free - I had to pay to download the images, but the price was modest. I will print them out and make them up as cards. Among these were some really interesting items. The Matrix Tarot produced in 2006 by Klaudio Zic, has rather naive art in pen and coloured pencil, however I found the imagery rather captivating. The Sideshow Tarot is created in the style of the posters from the early 20th century advertising sideshow and carneval events, nicely produced in Photoshop. The third one I want to share is the Naos Sinister Tarot designed by Ryan Anschauung [R.Frank]. It emanated from a magical order called the Order of the Nine Angles. In 2003, 18 copies of the Naos Deck were printed up and offered to the public for a thousand dollars apiece. Four decks sold at this price; four more were sold at a reduced price, while five were given to close members of the Sinisterion inc. a member of the ONA. The remaining five are held in a private collection by the Temple of THEM. Happily they are making the images available as reasonably high resolution scans which should print out quite well on my colour laser. These are rather powerful and sometimes disturbing images, truly a "dark deck". It has a number of alchemical aspects to its symbolism.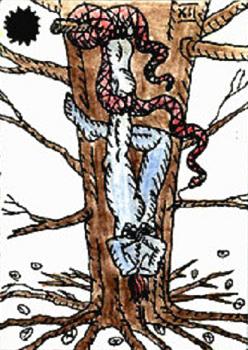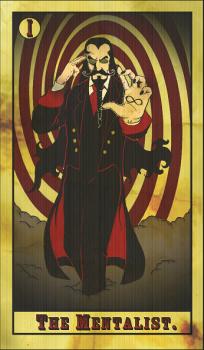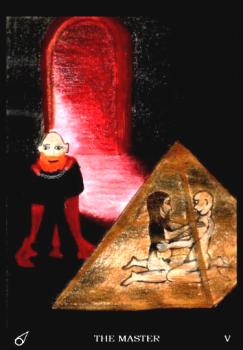 2 Apr 2008 On the 24th of March I promised to give you information about a tarot that obviously arose out of personal experiences. This is the Amo Tarot by Laura Cristin. It is a Majors only deck in an edition of only 22 copies. I have obtained number 1 of the 22. It is in ATC format and each card is signed on the back. It is not especially well produced, being printed on an inkjet on ordinary paper rather than proper surfaced photographic stock. It is laminated in those little lamination pockets with the rather sharp edges. Nevetheless it is a nice little tarot of photographs of the artists friends, many of whom appear to be musicians. This is the kind of tarot that most people look down upon and sneer at. It was produced in 2006 so I would expect that it will be difficult for people to find a copy, so I feel rather happy to have this obscure item in my collection. At first glance it would appear to be an amateurish naive effort, but Laura Cristin is a performance artist from Italy using the name SHEren, who together with Dario Della Rossa participated in the Festival Hermatena "Science, Art, Alchemy" 22-30 June 2007 on the occasion of the opening of the Museum of Tarots in Riola di Vergato (Bologna). Their performance consisted of a series of musical-visual pieces each related to one Arcana. Although the Amo Tarot looks amateur and naive, it is an emanation of an artistic personality fully engaged with tarot.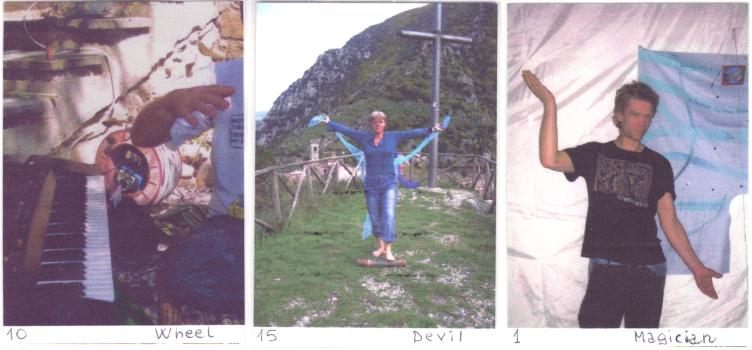 1 April 2008 Back in 1994 in Japan the TV anime Ghost Sweeper Mikami was very popular. I have acquired a set of 22 tarot cards related to this anime. These were no doubt created much more recently, but as I don't read Japanese I cannot decipher the date. The card designs are classic manga style and the designs seem to show various characters from the show. In Ghost Sweeper Mikami we are taken into a world where demons and spirits run amok. The world is saved from these demons by Mikami Reiko, a smart and sexy female exorcist. GS Mikami has a moderately large cast of characters: Okinu-chan, a spirit of a shrine maiden unable to leave this world; Emi, a rival shamanistic exorcist; Meiko, a shy girl who uncontrollably releases Shinigami from her body when upset; the immortal and mad scientist Dr. Chaos and his android helper Maria; half-vampire Peitro; Mikami's mentor and Catholic priest Father Karasu, the narrator who is a hand puppet, and others. These cast members form the basis for the various misadventures of Mikami.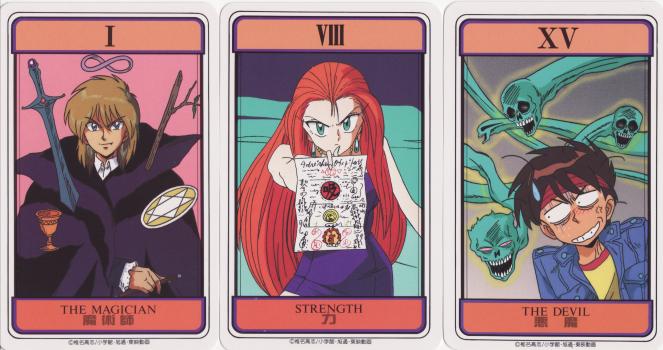 30 Mar 2008 In the last few days I have received another of those amazing Japanese tarots produced throughout the 1980's and into the mid 1990's, which adopted or mimiced Western art styles. This comes in the usual Japanese packaging for tarot during that period, a slip case with a book, and the cards safely presented in a foam cutout within a cardboard folder. This particular deck Asu ga Wakaru-Yasahil was published in 1990, and here the tarot images are presented against backdrops of kinds of floral wreaths. The foreground forms seem to have been painted in watercolours, with the backgrounds perhaps airbrushed or done with process colour as the gradations are so very smooth. This is not perhaps a deck of the first rank, but it is rather good to still have been able to find a copy of this relatively early Japanese tarot.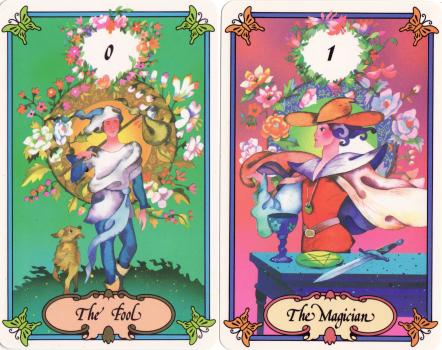 28 Mar 2008 A number of Chinese publishers have in the last few years issued boxed tarot decks primarily as a vehicle to showcase the work of various graphic artists. Today I received a copy of the Artist Tarot also named Artworks Tarot issued in 2007, which I have only just heard of a few weeks ago. Unfortunately the accompanying book is entirely in Chinese so I cannot identify any of the artists or the sources from which their imagery was taken. If I interpret the second page correctly it is a list of seven artists contributing to the tarot. It is, however, fantasy art, probably used in graphic novels, anime, computer games, CD cover art and so on. One can see a number of distinct styles. One artist depicts human bodies with extremely well defined musculature (the Fool, Death and the Hanged Man) while another loves to depict ornate masks/headresses (the Moon and the Sun card). I also rather liked the Tower. It is a full set of 78 cards in the elongated format favoured by Chinese publishers, based on traditional card shapes. The pip cards are not emblematic and all suits have the same background of flames. The Courts are fully emblematic in a conventional way but using scenes from fantasy art. The book has a few of the images in their original context, so we see that the art on some cards has been cropped from larger artworks in order to focus on tarot related symbolism.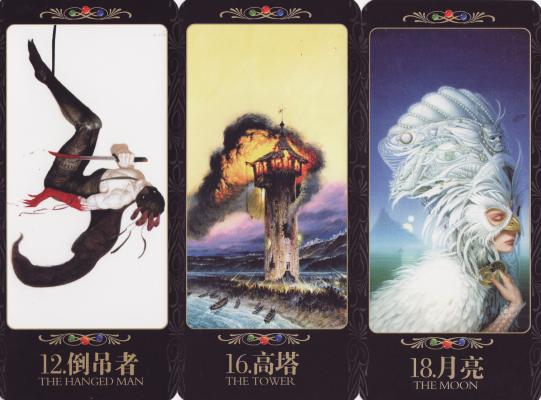 24 Mar 2008 Kerrie Carbary's Tarot of Mom finally arrived today. It was created using old fashioned scissors and paste collage in 2000, so it is strange that I only heard about it recently. Perhaps Kerrie Carbary has only just got round to printing it up in deck form. She has renamed many of the cards, but they are archetypally tarot images, and she provides a translation key. I must say I really like these unpretentious tarots that obviously arise out of some powerful personal experiences. Other collectors, oriented toward fine art, tend to look down on such items and treat them with a bit of disdain, and even contempt, but for me such decks are a key part of modern tarot. A few days ago I bought a similar production which should arrive soon, and I will be happy to show it to you on this weblog as soon as it comes into my hands. At the same time I also bought, at a very reasonable price, a copy of a fine art tarot, in the form of a series of large serigraphs, so I appreciate both fine art and outsider or naive art in tarot.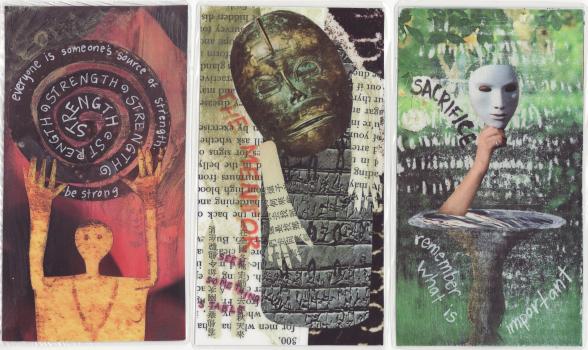 18 Mar 2008 Over the past few days my Tarot Collectors forum achieved its 200th member. Due to some problems I had with my broadband connection I have not been able to log on very often to the forum for the last week, but now this is fixed I should be able to start contributing again.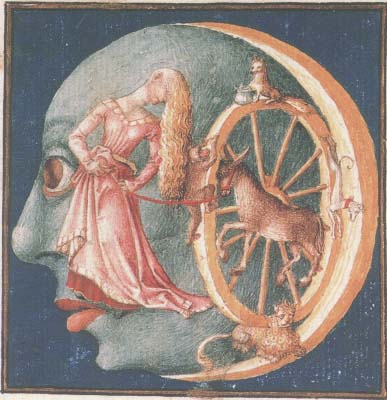 16 Mar 2008 I just found this rather interesting image from a 15th century Flemish manuscript. Although it could be mistaken as modern, it was created as an illumination or miniature painting in a manuscript by an unidentified artist, the Master of Evert Zoudenbalch, sometime around 1465-70. The manuscript is now in Wolfenbüttel in Germany. What drew me to this image was way it brought together two powerful emblems, that of the Moon and the Wheel of Fortune. Fortuna is also shown with her hair falling down over her eyes so that she is blind to the way that fortune falls. This image is contemporary with the early period of the creation of tarot images, and thus further emphasizes the way that tarot imagery evolved out of the emblems and artwork of the 15th century. When I have time I will make a painting based on this image.

15 Mar 2008 I have recently been doing a lot of painting. When I do, I like to listen to some music. Yesterday I was looking for a CD to play and I found a double album I bought a few years ago, an anthology on tarot compiled by the goth musician Michael Riddick, The Power of a New Aeon: Musical Impressions of the Tarot. Goth music is very diverse, and one errs far from reality if one thinks of it merely as thrash metal and deep growling voices. Riddick's group The Soil Bleeds Black, for example, is a modern reworking of medieval troubadour music. The CD has 22 tracks, one for each arcanum. The CD contains a booklet, in which are 22 designs for tarot cards, using collage, primarily of photographs of the musicians, but also incorporating bits of alchemical emblems, Robert Fludd engravings, magical diagrams and overlays of text from manuscripts. This was designed by Riddick. It is an evocative set of images, subtle and mysterious, in contradistinction to the heavy aggressive images of Marlyn Manson's tarot cards. The music is also rather delightful and I hope Michael Riddick will forgive me if I found it useful as a background musical environment for painting. I was in any case painting an alchemical image (see my artweblog for March 11), which resonates with the theme of the CD.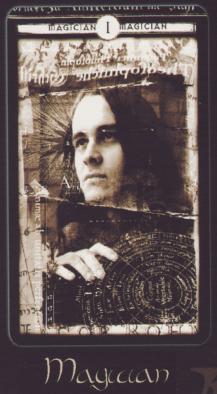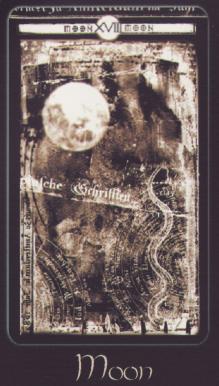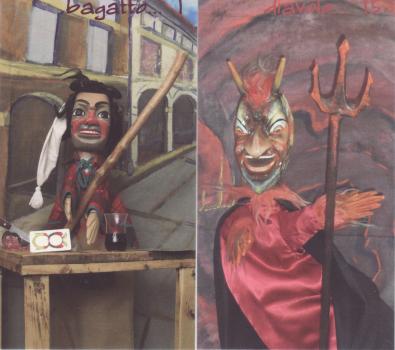 13 Mar 2008 The third item I bought recently from the Museo dei Tarocchi is I Tarocchi Burattini (the Puppet tarot). The deck is a photographic deck, in which puppets are set up in various tableaux with objects and costumes reflecting the tarot arcana. These are art puppets rather than proper articulated puppets used in theatrical performances. In this sense they are perhaps better described as dolls. They have well carved and painted heads, and very simple hands. These appear to be sewn into hand made costumes. These were made by Riccardo Pazzaglia and the set up scenes photographed by Milena Fantuzzi. The Museo seems to think they will sell a few of these as they have issued it as a signed and numbered edition of 300.

12 Mar 2008 The Museo dei Tarocchi in Italy has just issued I Tarocchi dell'iride (the tarot of the rainbow) by Claudio Parentela, an illustrator, painter, photographer, cartoonist, collagist, and prolific freelance journalist in the international underground scene, having produced many illustrations for magazines and books worldwide. His tarot deck is in a signed and numbered edition of 100 copies. The images are very busy, and brightly coloured, using for the most part unmixed colour (perhaps the idea of using a rainbow palette of colours). They are made to look like silk-screened art. The style, to me, is reminiscent of 1960's underground comic art, such as seen in Oz magazine. The images are quite conventional, though translated into and filtered through Claudio Parentela's style and method of working. You can see some of his other work, including the black and white pen drawings made for this tarot and others, on his website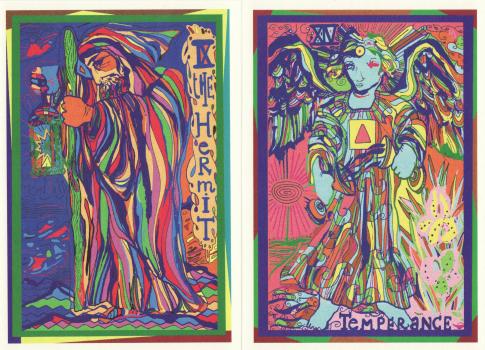 10 Mar 2008 A year or so ago I saw an interesting series of tarot designs by Gioia Giorio on the Museo dei Tarocchi website. These were coloured etchings were made in in 1997 and published in a book as a small edition of only 10 copies well beyond my budget. So I was delighted to see that these had now been issued as a printed edition of 100 copies at a reasonable price (Euro 45) that I could afford. The images are irreverent and full of humour, while the artwork is nicely created in the medium of etchings with a primarily sepia tonality, though lightened in areas by the addition of blues and pinks. Now I can only hope that they do the same for another art tarot beyond my means, that of Luciana Nespeca.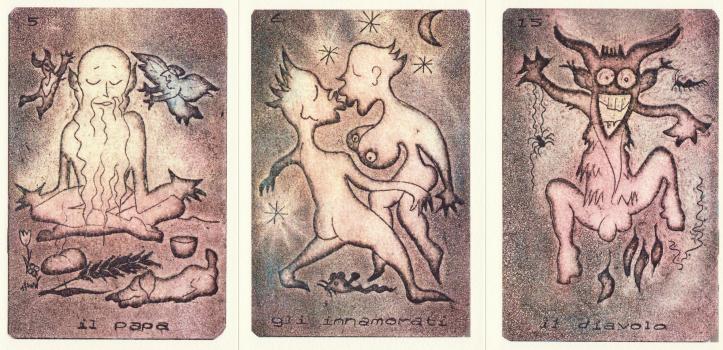 8 Mar 2008 A few days ago I mentioned the new tarot issued by Beth Seilonen. When she sent me the cards she told me that the title of the deck Sail on in Arcana, is the correct pronounciation of her last name, 'Seilonen'.

7 Mar 2008 The prolific producer of tarots based on artwork, Jason Lang, has done it again with his latest 22 Wheels Tarot. Rather than taking the work of a particular artist as the basis for a deck, here he chooses the theme of wheels, or circular forms, primarily images in early paintings and miniatures in illuminated manuscripts. Three of the cards draw on imagery from Bosch, seven use those circular appealing cosmic designs drawn from different cultures, there are three Celtic/Grail images, and some from Greek, Hebrew and Aztec sources. It is a neat idea and as always Lang manages to find appropriate images for the 22 Tarot arcana. He is always subtle and thoughtful in his choices and never obvious or trite.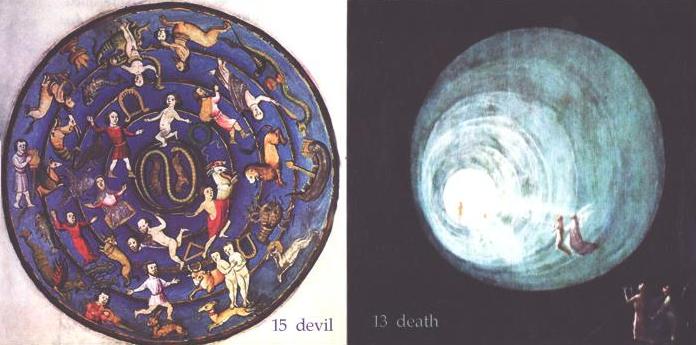 5 Mar 2008 Sometimes, despite my continual researching and investigating I miss a tarot, as if it was in ones blind spot. Well today I have filled in one of these gaps, the Tarot Pacifico created by Kirsten Muskat and published in 2004. Luckily there were some decks left, as the edition was one of 350. They appear to have been created using those watercolour pencils, with a sparing use of water. The little white booklet tells us that the 'Pacifico' of the title does not relate to Pacific Ocean culture but to the concept of peace, and gentle reflection. The booklet even states that "these cards are not intended to be used for fortune telling" ! The artwork is by Sabrena Pfaffly, an artist living in Colorado. Each card has a border formed of bamboo and the imagery seems to me to be very much drawn from Pacific Ocean cultures, and Hawaian, Maori, South Sea Island, even Japanese references show up in these luminous cards. The cards are big and wide and the artwork is delightful and engaging.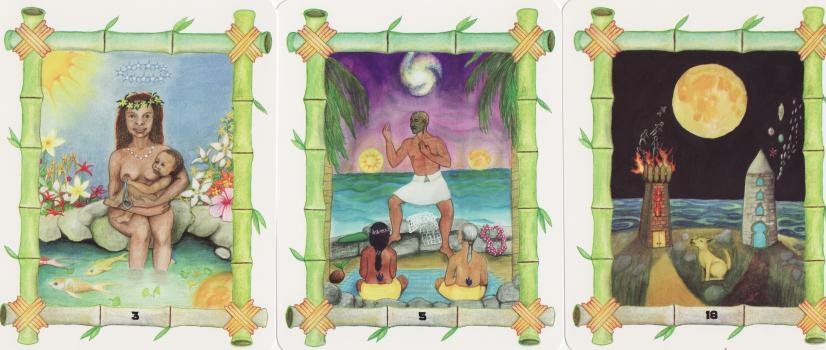 4 Mar 2008 As this weblog is again becoming rather too large for people to easily access, I have placed the entries from 1st May 2007 to 1st November 2007 into an Archive 2 file.

4 Mar 2008 I have just begun an occasional art weblog in which I put up information about my paintings and my enthusiasms for early Flemish painting, illuminated manuscripts, alchemical, allegorical and emblematic imagery. You can see this here www.alchemywebsite.com/paintings/artweblog.html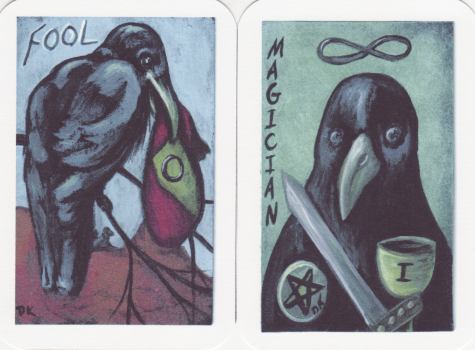 3 Mar 2008 Crows are remarkable birds, intelligent, mischievous, engaging but somehow attractive. So it is not especially surprising that a Crow tarot has now appeared. The Crow's Magick deck by Londa Marks is now well known, being issued by US Games back in 1998. That deck featured crows amongst other birds of prey, eagles, owls etc, and also a number of carniverous hunting animals, panthers, bats, a pterodactyl. But now we have a deck entirely devoted to crow imagery, created by Debra Klopp-Kersey, initially as individual ACEO cards, but now printed up into a 22 card deck. I was quick off the mark with this one and managed to buy copy 2 of the edition of 250.
The deck comes in a rather fine hand textured box.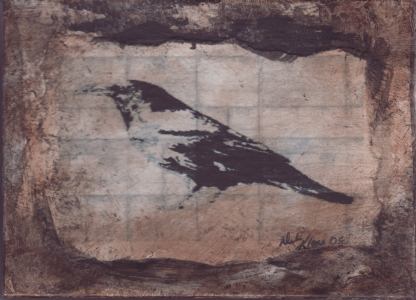 2 Mar 2008 Beth Seilonen, an artist living in Maine, has in the last months found a new style for her tarot artwork and this resulted in a very prolific and productive period for her. Over the last six months she has created the Arcana of the Tree People, Dancing Dragonfly Arcana, Arcana of Red Jester, Starlight Arcana, Spirit Eye Arcana all in her new style of simple figures in flowing lines, coloured with watercolour using in a single tone. Now she has reprised all these decks in her latest production, amusingly entitled Sail on in Arcana. Here we see the characters and stylised elements from these previous decks appearing alongside each other. This is a rather wonderful idea, and not one I would have thought her to have done. Artists often surprise us. Her limited edition decks are not expensive. One sees in her output an artist having fun exploring her new style. Every tarot collector should have a copy of at least one of her decks.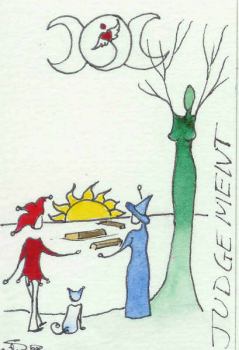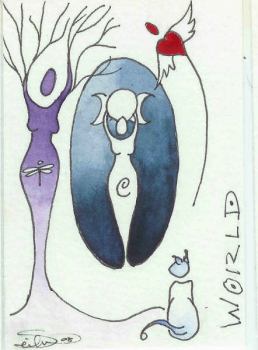 Here the Red Jester meets the Indigo witch, under the branches of one of the Tree People, while at their feet a Siamese cat from the Starlight arcana watches on, as they all gaze at the setting sun and the open graves of judgment, while in the sky about is the horned moon within which we glimpse a dancing dragonfly.

1 Mar 2008 The Magic Manga Tarot is now available here in Europe from AGMüller, a few months ahead of its publication by US Games in the USA. The images are made in manga style, with the typical sharp pointed shield-shaped faces and doe-eyed females. The colour toning of the drawings is muted and subtle rather than bright and garish. I am not quite sure what exactly is implied by the word 'magic' in the title. It is certainly not inspired much by occult imagery, but seems rather conventional. There are already a few Manga Tarots so one supposes this title may just be to differentiate it from the others. The artwork is by the tarot artist Viviane. I found the Tower particularly interesting - it shows a tower with spiral winding staircase, metamorphosed at the top into a giant female statue, which is struck by a lightning flash. The court cards are rather conventional images and the pips are emblematic though not in any way following the well known Rider Waite pip images. This deck does not appear to innovate or introduce anything significantly original but it is stylish, well conceived and executed.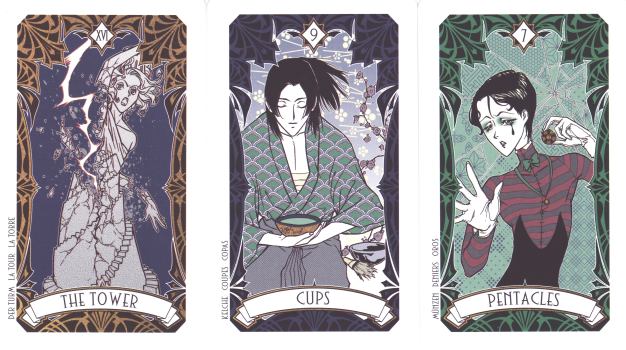 29 Feb 2008 Today I received a copy of the most recent tarot deck issued from Canada by the prolific Jason Lang. Lang looks for tarot resonances in the output of various artists, and uses these images as the basis for a 22 card Majors deck. He has already produced what I call "tribute decks" for the work of Matisse, Frida Kahlo, Kandinsky, Redon, Klee and Malevitch as well as a few others based on historical imagery from the Book of Kells, Carolingian manuscripts, and the engravings of Callot. His recent deck draws on the artwork of Adolf Wölfli (1864 - 1930) a naive or outsider artist from Switzerland who produced brightly coloured, intricate coloured pencil drawings, characterised by their geometrical patterns often with detailed borders.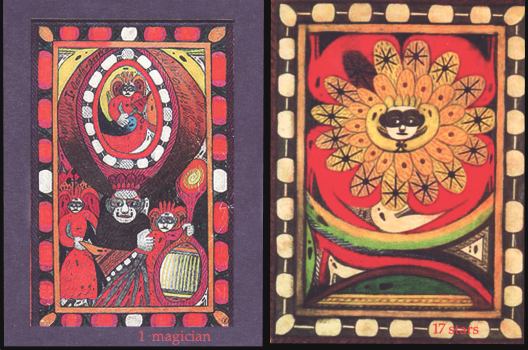 27 Feb 2008 Yesterday and today my broadband connection through Pipex went offline. I have been with this company for well over ten years and for much of that time they did provide a good service, however since December I have experienced three major outages, one lasting a week (though there were intermittent periods of connection), one of about 12 hours and the most recent lasting now over 36 hours. They are obviously having severe technical problems, however, their helpline staff are totally unhelpful, and even try and shift the blame onto my equipment, suggesting that I replace filters and routers, when they have a blanket email message on their phone helpline stating that they have a current outage ! So I have decided to shift away from them and find a new provider for my broadband. I am temporarily having to go back to an old 56K dialup modem which is ridiculously slow. Hopefully Pipex will get their system running properly shortly so I can go back to that. I will probably use the same company that provides my alchemywebsite.com site (of which this tarot site is a small part) to supply me with a broadband connection, as this site has not had any technical problems that I have noticed.

23 Feb 2008 I collect tarot decks, tarot illustrations in books and a few pieces of original tarot art. I see this as building a reference collection of modern tarot. I also collect digital images of tarot designs that I have found on the internet of complete decks and partial decks which someone has begun and not yet completed. I have hundreds of these unpublished decks, or abandoned designs. Of course many of these are in rather low resolution scans which the artist has put up on their own web site, or on one of the growing number of amateur art sites. Often it is difficult to locate things and I have to spend many hours laboriously going through the many finds that arise when one puts the word "tarot" into the art site's search engine. There are many wonderful decks out there, neglected and ignored. I would dearly love to publish some of these in cards form, but I have limited resources and can only do a few decks a year. Here are just a few examples from my digital collection.



Oleg Kantorovitch's angular almost cubist forms.

Reinhard Schmid's beautifully polished
and original images for his Aedicula Arcanororum.

Sebastian Selvén's sharp and inventive images.

It would be wonderful if even a few of these hundreds of unpublished designs could be issued as actual printed decks.

21 Feb 2008 Yesterday I put up the image on a plate resonant of tarot. Today perhaps you might like to see an image of the Wheel of Fortune from an early medieval illuminated manuscript, the Hortus Deliciarum (Garden of delights), written in the late 12th century by Herrad of Hohenbourg, the Abbess of Mont-Sainte-Odile. This was a sort of illumined encyclopaedia of instruction for novices in the order. This image was created around 1180 nearly 300 years before the first painted tarot cards were produced. It makes us realise how the tarot imagery arose out of the emblematic imagery that evolved in European art.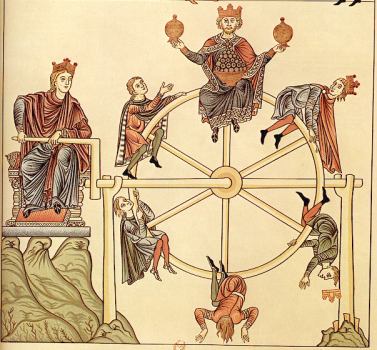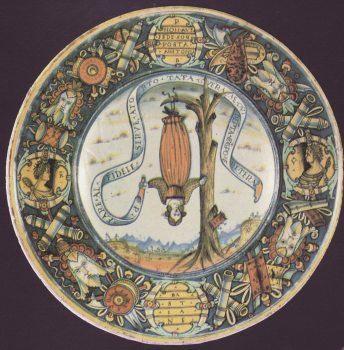 20 Feb 2008 Today I found this image of a maiolica plate (the white-glazed pottery of the Italian Renaissance) made in Deruta in Italy in 1510, which shows a female figure hung upside down by her feet from the branch of a tree. Although this is not a tarot image of the Hanged Man as such, it was created a few decades after the first painted tarot decks were made, and derived from the same emblematic tradition. It perhaps indicates how the tarot images were part of the wider current of allegorical emblems and classical mythological figures which informed the art of the 15th and 16th centuries. I cannot quite decipher the Latin text on her banner as it uses a number of contractions.

19 Feb 2008 I had thought that by withdrawing temporarily from my Tarot Collectors Forum and not let myself be a target I might let things cool down a bit, but after only a day one person posted yet another stupid message which was intended to annoy and inflame others to respond. I felt I had no alternative but to ban two of the offenders from the forum. I then received a rather puerile (and, of course, unsigned) email direct to my email address:


---
NEW Stem Cell Research Tarot
To: adam@alchemywebsite.com

maybe it will help you grow a pair of balls.
LOL
my feeling is that everybody should experience everything in life at least once, and that includes being banned from tacky internet message boards.
if that's the best you can do, you are indeed a eunuch

---

It just confirmed to me what sort of people I had been struggling with. My discussion forum has obviously been targetted and an attempt made to undermine my work. To think that someone is so determined to stop a rather old, scholarly, man from trying to enthuse others about the artwork of modern tarot. I may be approaching 60, but I can assure people I have a strong will and determination and am not easily dissuaded by such childishness.

18 Feb 2008 I have just found a one of those rather interesting decks, that arise directly out of some personal family experience. This is Kerry Carbary's Tarot of Mom, a set of 22 collaged cards which was born out of and reflects her experience of a period in her life when her mother became very sick.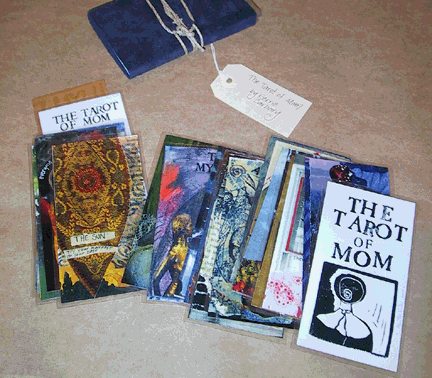 This reminded me of the deeply personal Elliot's Tarot or Mary Cantwell's Mundane Tarot which records the struggle of bringing up her child.

18 Feb 2008 People who visit this tarot weblog regularly will have come to realise that I take delight in the rich diversity that is found in modern tarot art. I use these pages to bring tarots, and people working to create tarot art, to the attention of others and though this has only a small audience of just under two hundred people a day visiting and reading my entries, I feel this is a worthwhile task. Tarot artists need a sympathetic advocate. About six months ago I decided to set up a discussion forum where I thought that tarot collectors like myself could share their enthusiasm and exchange information freely. Initially this seemed to work rather well but recently it seems to be going through a bit of an upheaval that has lead me to reassess how I proceed further. It is rather sad to realise how easily my open and inclusive approach can be undermined by a few people with firm agendas, who obviously resent my way of working to promote interest in tarot. Recently a small number of people have chosen to ridicule and try to diminish a tarot deck, not for its artwork, but for the belief system of the artist! I could hardly believe such a thing. When I tried to intervene to support the right of an artist to have their work accepted on its own merits and not to be dismissed and trashed merely because they believed in some (rather common) alternative spirituality, I myself became a target, so much so that I now feel I must temporarily exclude myself from my own discussion forum, as anything I say at the moment just evokes a negative response from this small group. It is well known that communication on internet discussion forums can become rather strained, but it is saddening to see this happen so very quickly on a forum that I had every hope could act as a way of sharing enthusiasm about tarot art. I am not one to censor and ban people, so I will just hold my tongue for a bit and hope that these clouds will blow over and eventually that the group can return to the positive agenda of taking delight in tarot art. It does, however, leave a rather bitter taste. It is so easy for a few negative people to poison positive communication. I had thought that all tarot collectors would share my enthusiasm for tarot art in all its diversity, but this is obviously not the case.

17 Feb 2008 The Tarot Ulani by the German artist Lana Bragina is a collage deck incorporating old engravings and modern photographs. The images are kept quite simple and uncluttered and exhibit her subtle humour. The Hierophant perhaps makes a little nod towards Max Ernst, who used similar bird headed images in his paintings and in particular in the fourth section or day of his collage novel Une Semaine de Bonte. The Tower is quite unusual with the space of the card being occupied, in the foreground, by a large sheep, overshadowing the Tower itself set in the far background. Some of the cards take a rather minimalist approach which nevertheless truly captures the idea of the card. The Hermit for example, or the Lovers. These are large cards and not inexpensive, and although not numbered or signed, and will probably only appeal to a small group of serious collectors.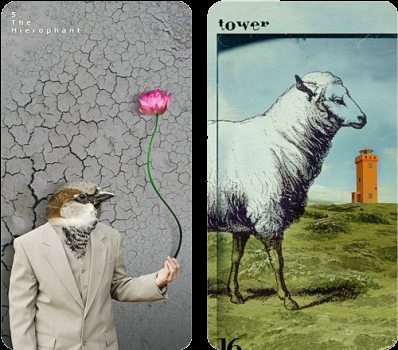 14 Feb 2008 I just received a rather fine Japanese tarot issued in 2005 which seems to be called the Fate Tarot or possibly the Demour402 Tarot. This appears to be based on illustrations by Shuuji Tsuyadashi for the Japanese doujinshi (fan art) group Demour402. I am not at all sure of the sources for these images, but I feel sure they will be familiar to people who know Japanese manga. I am not sure whether these images were created as a tarot or have been chosen from a some comic books series. The Hierophant, Lovers and Chariot for example are classic tarot images, but other are a little more peripheral, or perhaps unique envisagings of a tarot image - the Hanged Man or the Tower for example are quite unusual. Rather than being a high building the Tower is a giant armoured figure striding across the landscape. They would appear to be by the same very skilled artist. I am told that this is a self published deck. The quality of the artwork is very high.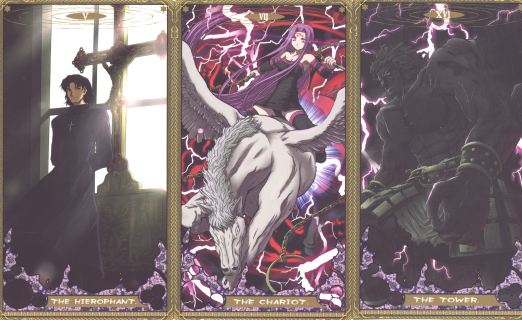 13 Feb 2008 Earlier this week I received a package of tarots from my Far Eastern contact. Among these is a rather set of 78 cards painted in watercolour by Eunju Son. This is the Phoenix Tarot and it comes with a illustrated book in Korean. I found the illustrations fresh and original. The illustrated pips do not slavishly follow the Rider-Waite images, but nod in that general direction, though the individual images are original and probably explained in the accompanying book. The Court cards are quite conventional. I liked the Tower, which here stands solid, not being struck by lightning or earthquake. The Wheel of Fortune is turned into a child's monocycle. The watercolours are applied on top of rather freely drawn sketches in pencil, which gets us away from the more common hard pen outline. This is a very pleasant, joyful and charming deck. I am not at all sure why it is called the Phoenix Tarot.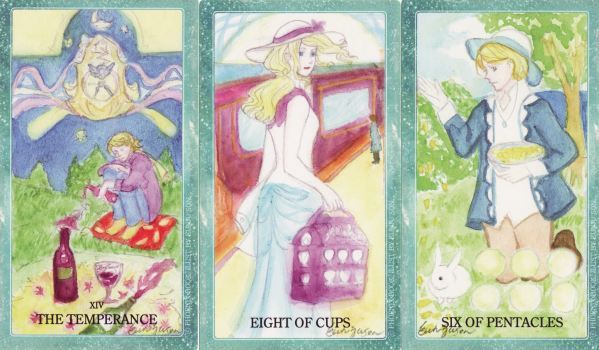 12 Feb 2008 Recently I managed to buy the proof copy of a new Spanish deck, Tarot de Montse Hidalgo. This should be published shortly. It is in an edition limited to 200 copies and would appear to be self-published by the artist, Montse Hidalgo. Although she created the designs for the full set of 78 cards in a very short period of ten days, the artwork is extremely fine and wonderfully coherent. She decided that she would not represent the human figure in her designs, which has created a rather unusual deck, as she has not resorted to mere abstract forms to represent human figures, but instead leaves them entirely out of the designs (even the court cards). I found this quite fascinating. The card titles are also placed in a vertical panel on the left side allowing the full length of the card for the imagery. The colouring is nicely saturated, like a modern reprint of a Rider-Waite deck. She uses diamond gems for the suit of pentacles.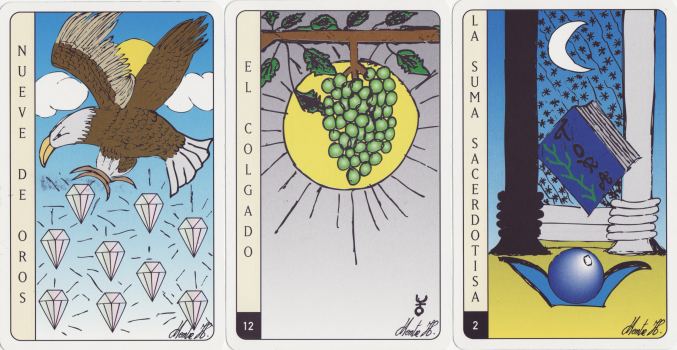 10 Feb 2008 I collect tarot imagery whether in the form of printed cards or illustrations in books, so I recently came across an Italian book, Tarocchi Interpretazione e Divinazione by Claudia Ramponi, published back in 1988, which contains at the rear of the book a series of line drawn tarot images which the reader is supposed to cut out and colour. They are rather conventional tarot images and the artist Maurice Bienvenu appears to have derived, but not slavishly copied, these from M. Guarnaccia's Nuovo Tarocco Ligure Piemontese of 1982, created just a few years before this book.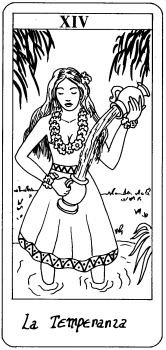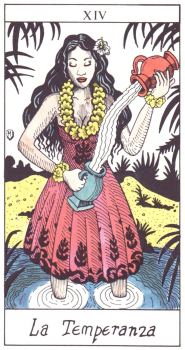 9 Feb 2008 Last week I wrote to a local art gallery here in Glasgow with a proposal for an exhibition on some facet of tarot. As people will know I have one of the largest collections of tarot cards in the world (over 1650 items) and my interest in tarot lies entirely in modern tarot (1960s onwards), in its artwork and the way in which it documents our contemporary social history. I have long had the idea to mount a large scale international exhibition dealing with this aspect of tarot as an art form that documents our era, however, this requires my finding sponsors as well as the time to create such an exhibition. As I am based in Glasgow, I have recently been thinking of a more modest and maneagable pilot project in my home city, something that I could develop within my own financial resources. I would like to take a subset of the corpus of modern tarot and make a small exhibition out of that. One idea that immediately came to mind was to create an exhibition on Japanese tarot. This is almost unknown here in Britain, but I have one of the best collections (outside Japan) of over 140 items. I have also been thinking about an exhibition focusing on tarot as social documentary. This could include tarots addressing political ideas, social satire, and outsider art - taking in such as Oz magazine, Rock and Roll, Marilyn Manson, the G7 meetings, dark gothic imagery, as well as tarots from magazines such as Cosmopolitan, and the individual self-published works of naive and outsider artists. I have tried to get some people interested in tarot as a modern art format, but usually get a blank, or ill-informed response. It is strange how the art world, so easily accepts a pile of bricks, or spit (or worse) on a canvas as worthy of exhibition and yet stubbornly ignores a coherent body of artwork produced in our age, that reflects our world. Of course, if some celebrity pop star were to take up the subject then things would be different, but a 60 year old, rather scholarly, uncharismatic, older man, living in the poorer part of town, seems to have a rather uphill struggle. It is strange to clearly see the importance of something, and yet find others so prejudiced and unwilling even to consider that tarot art has any merit or value.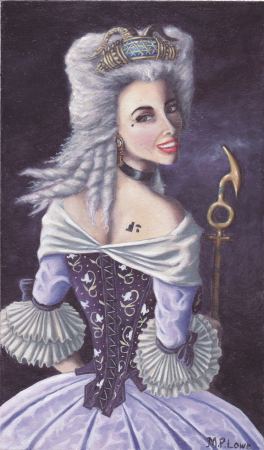 8 Feb 2008 As I should have expected, in response to yesterdays entry, I have had a few requests for a sight of the other painting by Mike Lowe. So here is his Empress.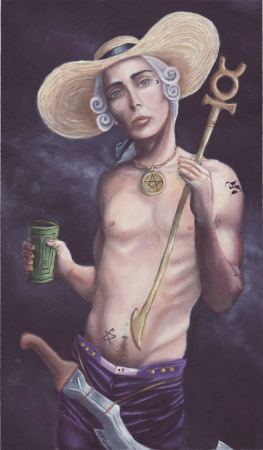 7 Feb 2008 I have still not found the time to sort out my tarots into the new storage system. I had to devote all this week to a publishing project and had no spare time for tarot. But tonight I was picking about among one of my piles and came across two paintings I bought from the British artist Mike Lowe in 2006. I had framed these up but neglected to hang them on my wall so they had got lost in a pile of papers and books. I was so pleased to be able to buy these. Mike only completed two paintings for a proposed tarot but he failed to find any interest in these and abandoned the project, so I am happy to have the remaining items. Earlier this evening I tried to find his web site, but it seems to have disappeared. He is a talented and skilled artist so I was keen to see other examples of his work. I will have to browse a bit deeper and try and locate him again. I have promised myself that tomorrow I will put his paintings up in my hall. Here is a scan of his Magician.

4 Feb 2008 I received today my copy of a new UK publication the Soulworkers Tarot. This was created by Heather Pedley and has some nice original touches in the conception of some cards. For example the two female arcana of the High Priestess and the Empress, present the forms emerging out the landscape. The Devil is rather original with the figure of a little devil trying to pull the central figure off of the straight chequered path into a ravine. The Tower is quite unusual, with a large rectangular block of stone, like a standing stone, being split by a bolt of lightning so that only one section falls away. The Moon is also rather fine with three moons in the sky and the two dogs baying at the moon moved to one side, so that the central figure of the crab in the sea is given prominence. I found the artwork of this Majors deck quite appealing. It comes with a rather fine little paperback book which explains Heather Pedley's approach to the tarot symbolism.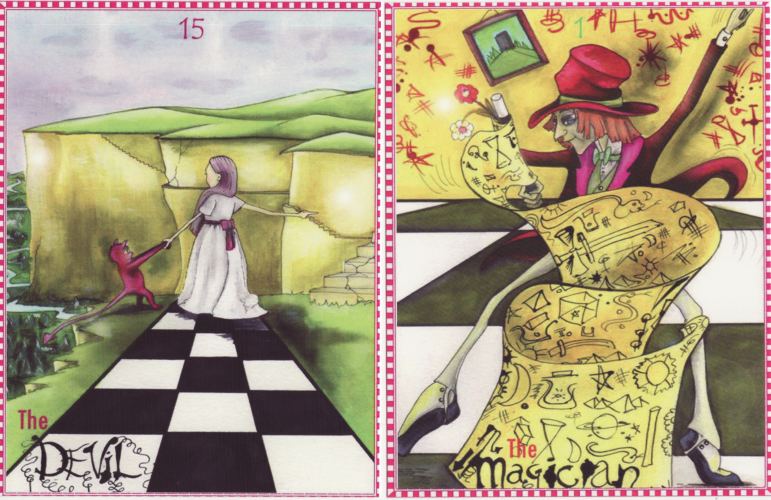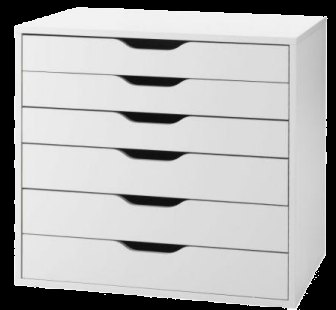 2 Feb 2008 A week or so back I bought six large A2 size chests each with six low drawers. These I thought would be ideal for storing most of the unboxed tarots in my collection (the boxed ones are easily stored in bookcases). I finally managed to find the time to make up the last of these six chests and I stacked them two up. The drawers are on rather good quality metal runners and will not pull out of the unit and tip all my tarots on the floor. Each drawer seems to hold about 40 or more tarots, so each drawer unit will probably hold about 250 decks, so the full six should hold about 1500. I plan to place the decks in drawers indexed under different countries and different themes, so this should make it easier for me to locate items. It is rather difficult when one has 1650 decks to readily put ones hand on where one had stored a particular deck, so I am very hopeful that this new storage system will prove workable. Now all I have to do is to fill each drawer with the specific decks. That in itself will take a few weeks at an hour or so a day.

31 Jan 2008 Back in September last year I discovered that Didier Graffet had produced a set of Majors images for a French role playing game called Chimeres, created by Jean-Luc Bizien in 1994. At that time I was not sure if these designs had been issued as a actual deck or merely as images within this game. By great good luck a deck turned up on Ebay a week or so back and I was able to buy it and after a short wait in the post it arrived yesterday. The deck actually consists of two sets of cards - 22 Major tarot arcana and a set of 15 animal cards. The Majors have a central image of a line drawings of the familiar Tarot de Marseilles woodcuts. These are set in ornate borders which seem to reflect some aspect of the game. The animal characters are such archetypal images as the Crow, the Serpent, the Wolf, Owl, Black Cat, Dog and so on. I am not sure how they fit into the game.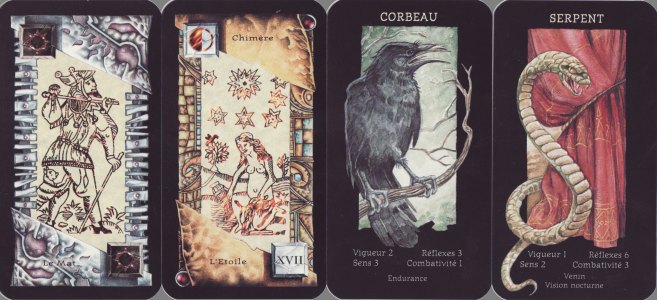 28 Jan 2008 Sometimes one muses on themes around which no one yet has yet created a tarot - a snake tarot, a drolleries tarot, an interplanetary and so on. But over the weekend I heard of a new tarot which I could never, even in my more expansive flights of fancy, have imagined a Tarot of Portmeirion. To many people the word 'Portmeirion' will mean nothing, but they will, as soon as they see photographs, nevertheless immediately recognise this village constructed down a cliffside on the coast of North Wales. It is a wonderful folly of eccentric architecture created from 1925 onwards by the Welsh architect Clough Williams-Ellis. Well known as a tourist site in Britain, it came to international prominence through being the setting for the 1967 surrealistic television series The Prisoner which starred Patrick McGoohan. Now Craig Conley has created a tarot deck based on his photographs of architectural features from Portmeirion. In the world of tarot someone always trumps ones imagination by invisaging a deck which one could never have thought up oneself.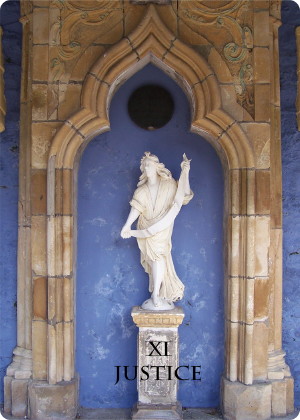 25 Jan 2008 Just arrived today from my favourite Far Eastern tarot dealer, were two additions to my ever-growing collection of Japanese tarot. One of these was the Unmei Tarot by Moris Chacosy, published in 1998 in those wonderful boxes, with the book and the cards in their protective foam folder. The copy I have bought is in mint, unopened condition, which is amazing considering it is ten years old. This is a 78 card deck, and the 22 majors have been for the most part renamed and reworked, though recognisably tarot. The artwork is reminiscent of Brian Williams' POMO deck (1994), in that it borrows and quotes images from well known paintings, though, unlike Williams, Moris Chacosy does not have the same acidic, cutting sense of humour. The artwork style also reminded me a little of the Tarocchi of Renato Guttosi. The pip cards are rather wonderful.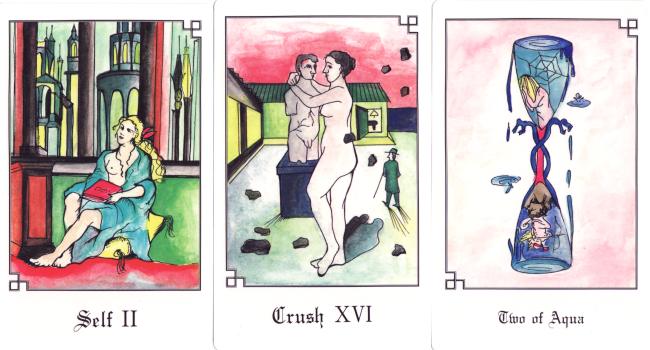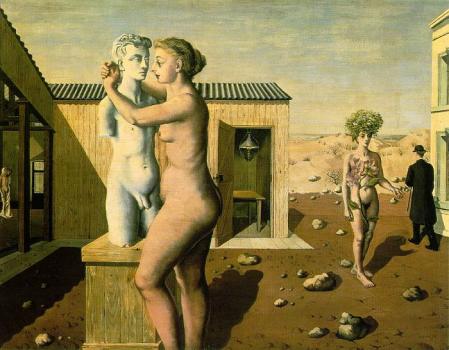 What a new take on the Tower ! Here Chacosy quotes from a painting by the Belgian Surrealist Paul Delvaux on the Pigmalion myth - and isn't that Two of Cups truly amazing ! Ones day starts well when one gets a tarot like this in the post - all one has to do is spend all ones money on buying tarot.

25 Jan 2008 Yesterday evening I was able to buy a rather rare and obscure Italian tarot I tarocchi di Cristian Finoia, 22 cards with original box and booklet, self published in 2007 by Atelier Finoia art studio in an edition of only five copies, signed and numbered. I have bought number four which was apparently the only one publicly available. The creator of this tarot is the stage and costume designer Cristian Finoia who has created sets and costumes for over twenty theatre and opera productions (including La Traviata, Aida, Idomeneo, Elisir d'Amore, Metamorfosi, Oberto). Strangely, I was able to buy this without any counterbidding, which suggests that few people are interested in collecting such pieces. I am quite surprised at this, because anything produced by a known artist in an edition of only five copies surely must be a good investment and worthy addition to a collection, even if it was just a promotional item given to some of his friends. Perhaps people are just not seeing the value in such pieces. Anyway this is my gain and other collectors loss. The artwork itself is rather captivating.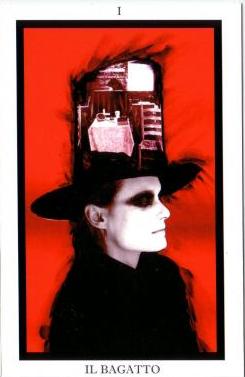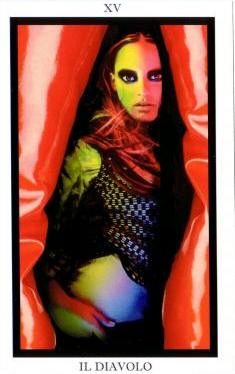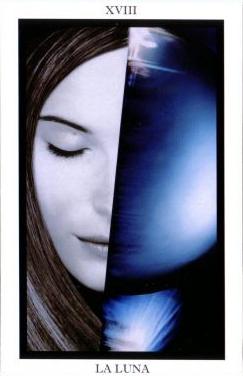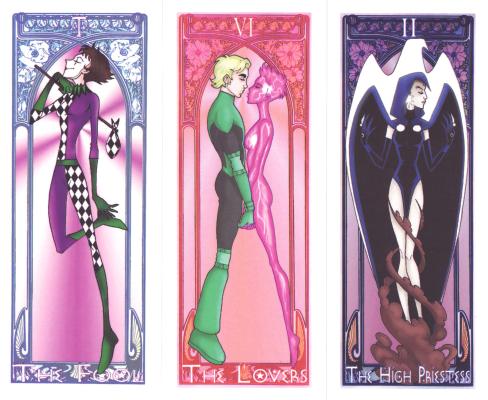 22 Jan 2008 Today I received a copy of the Teen Titans tarot. This is based on the DC Comics superhero comic books issued back in the mid 1960's and still going strong. This deck would appear to be produced by some fans of the Teen Titans and is probably an unofficial small volume self-publication, possibly a Doujinshi (fan art group). The cards are tall and thin, being 7.4 by 3 inches (187 by 76 mm). They are well printed on slightly glossy thin stock. There are 42 cards, the 22 Majors and the 16 Court cards, plus an extra 4 copies of the Fool. For those who know the comic book characters - Jericho is The Magician, Raven is the High Priestess, Troia the Empress, Risk and Prysm are the Lovers, Nightwing is Justice, Tempest as Temperance, Starfire the Star, Argent the Moon, Lilith is the Sun, Slade is King of Spades, and the Titans Tower is The Tower. The reason for the shape of the cards is to suit the elongated figures of these superhero characters. I am not sure if this is a Far Eastern production. The titles of some of the cards add the definite article to "The Temperance", "The Death", "The Strength", "The Justice" which a native English speaker would not do, and this suggests to me a Japanese, Korean or Taiwanese origin as I have seen this used on other cards from these countries. There is no documentation provided with the cards.



21 Jan 2008 During the last few months I have often despaired about my tarot collection as it has grown so large that it was proving impossible to find a particular tarot when I needed access to it. A year or so back I bought a large plan chest and this was a good solution but it rapidly filled up and I resorted to the usual solution of piling new tarots up when they arrrived, so that it was difficult to locate anything. I was thinking of buying another plan chest, but when visiting the furniture store Ikea with a friend at the weekend I found a storage chest, A2 in size, with six shallow drawers, totally suitable for the various sizes of tarot deck. Though not inexpensive, I instantly decided to buy six of these, and pile them in two stacks three high. These were delivered today as flat packs, of course, that have to be assembled. It will take some days to do this, as I have so much to do at present, but I feel this will be a good solution. I plan to store the decks primarily under countries, with some under themes or publishers. That should make things easy to find. I feel sure this will solve my storage problems, though I may have to buy more in the future.

17 Jan 2008 Strangely, as in the best fairy stories, things often turn up in threes, so today a third tribute tarot arrived. This one, from the prolific Jason Lang in Canada, is based on 19th century Japanese prints by Yoshu Chikanobu (1838-1912). He produced several thousand coloured woodblock prints in a popular style dealing with the broad canvas of human life and his works are full of drama and characterisation. Of course, Chikanobu would have had no knowledge of Western tarot, but his subject matter is sufficiently broad as for it to be not too difficult to pick out prints or sections from prints which resonate with tarot archetypes. Jason Lang must have had some fun looking through all this material and settling on particular images. I just show the ones he chose for Death and the Hanged Man. Death is rather neat with its landscape and trees formed of human skulls. The print chosen for the Hanged Man remarkably shows a figure sinking upside down into deep water, a rather nice find.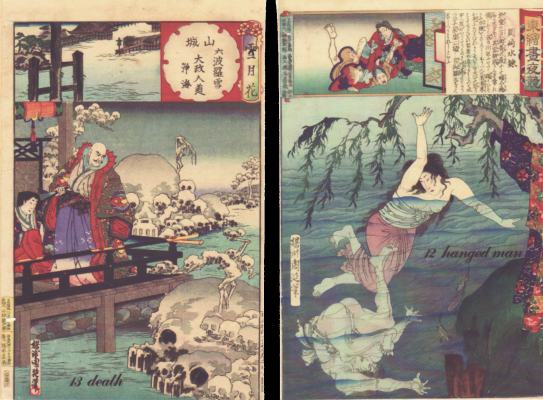 15 Jan 2008 Over the past few days there has been quite a lively debate on the Tarot Collectors Forum about a particular type of tarot deck, which one could describe as a tribute or perhaps attributive deck. Here the creator of the tarot takes the artwork of well known artists and tries to find aspects of their paintings which seem to echo or resonate with the tarot arcana. Of course, these artists were not intending to reflect tarot when they made their paintings, and this is essentially a recontextualising of their work as tarot images. It is an interesting exercise, though the results can be rather variable. It is not too difficult to find images paralleling the Emperor or Empress, but rather more difficult to find a Hanged man or Temperance. Yesterday by good fortune two examples of such decks arrived. One of these worked with the paintings of the Pre-Raphaelite artist John William Waterhouse. The creator of this deck, Endré Rousseaux, has mounted these images onto substantial 3 mm plywood and gilded the edges to produce some rather unusual wooden 'cards'. A year ago I bought previous set of these wooden tarot on the theme of Halloween imagery.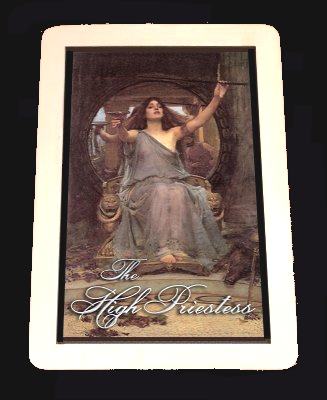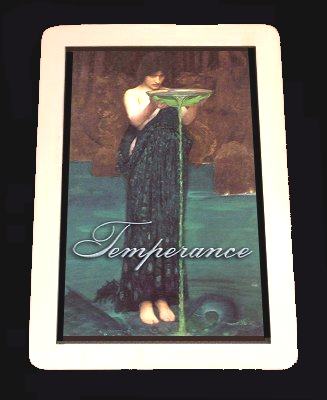 13 Jan 2008 I seem to have found a new method for printing my art tarot cards. The downside is that it is quite a bit more expensive, but the upside is that it requires a good bit less hours of my time than I have to devote to the production methods I have been using previously. The quality of print and finish will be even better than my present production. It involves me using a printer who can litho print large A2 sheets and laminate them either in a silk or a glossy finish. I then have to cut the sheets into cards, round the corners and make them up into boxes. It will mean I have to invest more money up front in each deck and will not break even very quickly, but I feel the saving in my time will make it worthwhile shifting to this method. I hope to be able to do this for the next deck I produce (in February). Sadly this will not solve the problem of making 78 card decks as this method is far too expensive and the deck price would be too high to be practical. It seems that making 78 card decks can only be achieved with more mass market decks, or at least those that would sell 500-1000 copies. Based on my experience with the sixteen decks I have so far produced, selling a limited edition of 100 copies is possible over a three to five year period. This is insufficient to sustain 78 card deck production. I will have to keep looking for another solution to this problem.

11 Jan 2008 Tarot artists are truly amazing. Despite the thousands of tarot designs that have been published over the passed 50 years, and the tight symbolic structure within which they have to work, creative artists still manage to come up with an origina slant or style of artwork. Aya Rosen has just issued her Black Lilly Major Arcana Tarot Deck. She is hand produceing each deck and selling them through a art and craftwork coop site called Etsy, a little bit obscure and well off the usual tarot path. But happily a colleague alerted me to this deck and I was able to buy as copy. The artwork is in clean pen drawn outlines, with solid areas of black for the backgrounds. Part of the foreground artwork have then been coloured with watercolour using only two colours (mine has blue and orange colouring). The High Priestess is depicted without her usual trappings (the pillars, throne and scroll), Death is rather unusual with its half living / half skeletal figure, and Aya Rosen has boldly decided to dispense with the image of the sun from the Sun card.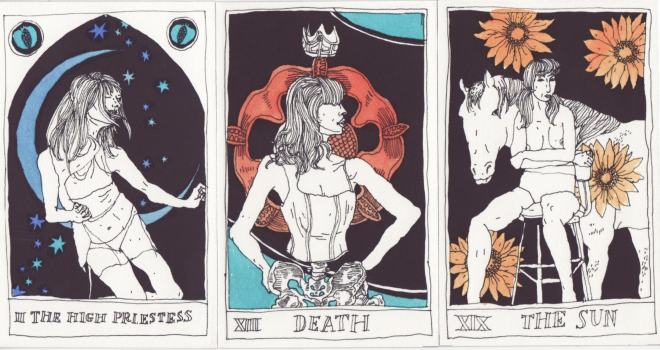 8 Jan 2008 An interesting set of cards arrived today. These are the Tarocchi Psycocarte, the designs for which were produced within an art therapy project at Verona in Italy. The paintings (watercolour or gouache) were made by a number of individuals, none of whom show significant technical abilities. The images were chosen by the editors Luigi Scapini, the well known tarot artist, and Graziella Morandini, the psychiatrist at the Centre of Vicolo Teresa in Verona. Together they have chosen the images to build a tarot. The majors are by a number of different individuals, but the editors have been very wise in giving the sections 1-10 of each suit, and the court cards of each suit to single artists. This produces a coherence in these sections which otherwise could have been problematic. This idea works extremely well. The editors also must have restricted the format within which the art was to be created (to a fixed portrait ratio), and thus one has another degree of coherence. The cards are very large, about 6 by 3.25 inches (150 by 85 mm) with a nice clean design which lets the artwork show clearly. The card imagery while entirely tarot, in some places reveals something of the indivual creator of the images, and various rogue elements or challenging aspect to the painting. The Chariot, for example, shows a white and a black horse, but here the black horse seems to have fallen to the ground. The art therapy patients were obviously made aware of the tarot imagery and some are almost conventional.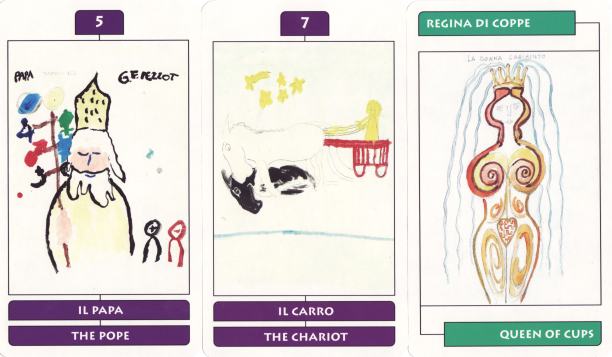 7 Jan 2008 I have just purchased another Japanese tarot, not this time published in Japan, but in Italy. It was a promotional deck issued by Yamato Shop in Milan. Yamato is one of the major anime production companies issuing DVDs. These cards were created by the manga artist, Hirohiko Araki, best known for his JoJo's Bizarre Adventures a long running series which he started in 1987, which had distinct links to Italy. These cards are described as the JoJo tarot. Apparently they were issued two at a time with the various DVDs. They are tarot with attitude! and with loads of humour.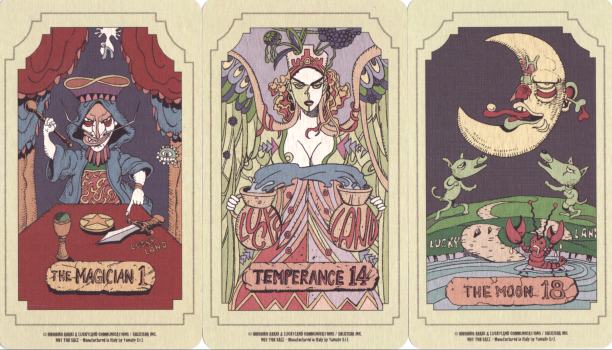 4 Jan 2008 The Sol Invictus - The God Tarot comes in a big heavy box, with those magnetic catches which are often found on Chinese tarot productions (indeed this tarot, though published in the USA was printed in China). The deck designs, which have been around for some time, are intended to redress the gender balance, as the creator felt that in recent times tarot imagery has been oriented more towards the feminine, with the masculine downplayed or even left out of the symbolism in some decks. So here, Kim Huggens and Nic Phillips have devised a 78 card deck with the card designs reflecting masculine Gods, Heroes, some real non-mythological males, as well as some characters from modern fictional works. Thus the Major arcana opens with Percivale as the Fool, Odin in place of the High Priestess, Jesus as the Hierophant, the Hermit as Nietzsche's fictional figure of Zarathustra. With the Minors I must confess I am sometimes on more unfamiliar territory with the Two of Swords being Papa Legba, a figure from Voudou, the Four of Swords being San Galgano (a Saint from Tuscany), the Ten of Wands is Giles Corey, a farmer in early colonial America who died under judicial torture during the Salem witch trials. Happily, more familiar figures such as Santa Claus, dear old Lucifer, Robin Hood, Socrates, and William Shakespeare are associated with cards from the Minors. The big box contains a 264 page book which, I suspect, most of us will have to read through to grasp the significance of the symbolism on each card. I don't think the deck is to be sold separately, as it would be rather opaque without the extensive commentary.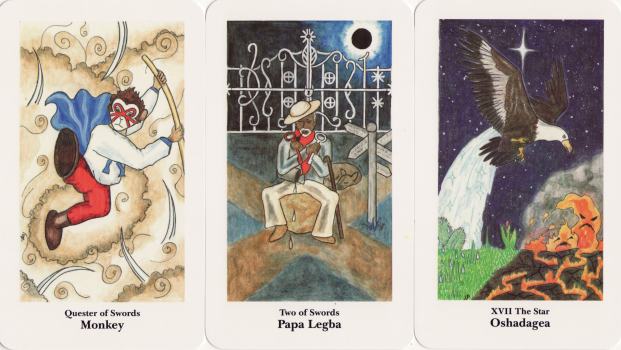 3 Jan 2008 I undertook some experiments today in new ways of printing a set of tarots, that could reduce the costs without any loss of quality in the printed image. This would enable me both to reduce the price of the decks I produce, and also allow the possibilty of producing 78 card decks. It is very difficult to devise some method for doing this, as if it were simple and straightforward then others would already be using this to produce decks. The main problem is the thickness of the card stock. This limits the printing method. Conventional inkjet printers, much loved by the self-publishers, is for me out of the question as the results are rather poor and being dye-based the images and not really stable but are fugitive and fade relatively quickly. One cannot expect people to buy expensive tarots if they find they fade within a few years, so this requires a pigment based printing system with archival print quality that will outlive the purchaser. At the moment I use a high quality colour laser printer, but then there is the problem of lamination. This is extremely time consuming and expensive and needs some clever tricks in order to guillotine and cut the sheets accurately into card form. If I was able to dispense with this stage then it could be that I could substantially reduce the costs. This requires a specially surfaced paper and I have been today testing a number of samples in an attempt to find one which can reproduce the image well and is also durable and suitable for use as cards. Mass market publishers don't have this problem as they are able to apply a varnish as part of the litho printing process. A few months ago I tried to find a rotary varnishing machine that I could adapt for this purpose but with no success. The only such machines I found were room sized for doing massive sheets of paper or card stock.

1 Jan 2008 The Tarots Collectors Forum which I established in September has now logged up its 100th member. I am so pleased that this little corner of the internet has been a success, with so many informed discussions and helpful advice from contributors. The forum has also provided useful information about new decks and alerted members to their publication. It is good that the forum has not grown too large and has kept its focus on the collecting of tarot.

31 Dec 2007 I have often wondered recently about tarots with strange and obscure names. Recently, one of these arrived - Tarot Whispers at the House of Dusk. This is by the prolific tarot artist based in the Philippines, Lynyrd Narciso. He has adopted a variety of artistic styles in creating his Tarot of the Lepidopteran People(2005), Les Adorables (2005), the Vanessa Tarot (2007), and a number of other, as yet unpublished, works such as his Masque Tarot. The Tarot Whispers is a small edition of 54 copies and is in the form of a set of large cards (Majors only) 5.5 x 3.75 inches, which allows all the details of his artwork to be seen. These are well printed, come in a hand textured lidded box, and include a little booklet describing the imagery of the deck. When one reads the Introduction the title of the deck is immediately explained. This is a rather fine addition to my collection. ...and people say that tarot as an artform is exhausted and dead. They must be living on an outer moon of Saturn.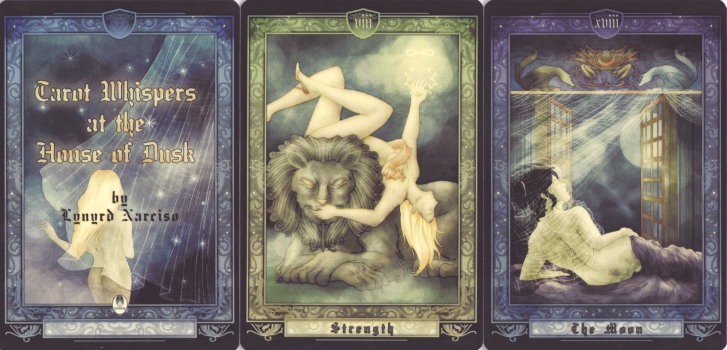 27 Dec 2007 Just over a month ago I got a copy of the hexagonal deck the Tarot of the Golden Desert, and today another six sided deck has arrived, the Elemental Hexagons. This is not a conventional tarot deck as it has 60 cards, however, 22 of them are associated with and named as the 22 Major arcana. Each card is associated with one of the chemical elements from the periodic table. There are divisions into sections but these are not related to nor do they embody the Minor arcana structure of suits. I don't usually collect decks with a loose tarot structure, being a bit of a purist I suppose, but this one captured my attention and interest because of its use of the chemical elements. I don't immediately understand all the associations the creator here makes between an element and a Major arcana. Some are straightforward enough - Sun with Gold, Silver with the Moon card, even perhaps Hydrogen as the Magician, but Phosphorus as Judgement, and Lithium as Justice seem a bit opaque to me. Anyway, it comes in a rather wonderful hexagonal box and is relatively inexpensive.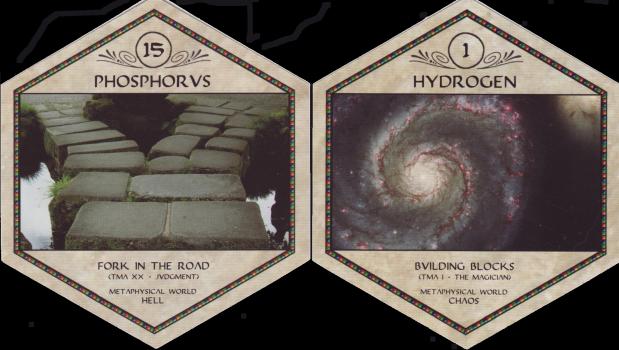 22 Dec 2007 I have been spending a great deal of time over the last few days looking at tarot designs on such artwork sites as Deviantart, Elfwood and epilogue.net. There are so many wonderful tarot designs in a number of media and a wide variety of styles. Of course there are also some more pedestrian and unimaginative pieces, but I was constantly surprised by finding interesting artwork. Naturally, as most of these artists are amateurs, they don't necessarily have the will power to follow through and create a complete deck, even of the Majors. Often one of these artists will create a couple of card designs then seem to give up and move on to something else. Perhaps in some cases they might have completed a deck but not thought to upload them onto the artwork site. I decided to follow up by emailing a couple of artists to see if they had been able to complete a deck as the examples I had seen were quite wonderful. There are even a few that I would certainly be happy to publish in my series.

22 Dec 2007 A few months ago some members of the Tarot Association of the British Isles came to visit me and see something of my tarot collection and get some idea about my work. They very graciously listened to me chatting about my interests in tarot as art, and let me show them some items that especially interested me. We had a nice discussion and I resisted the impulse to bombard them with images by showing them hundreds of tarot one after another. Anyway, yesterday I found that they had written up an account of their visit for their Yule Ezine. This is an online tarot magazine which is available to their members through their website www.tabi.org.uk T.A.B.I. members have a wide interest in tarot. It seems a very positive and active organisation, organising conferences and various study groups.

19 Dec 2007 I recently bought an unusual tarot item - not a deck of cards, set of prints, or even a book with tarot designs - but a set of hand decorated tarot plates. These I managed to buy for a really modest price from someone in Italy. The postage cost more than the set of plates, however, sadly one was cracked into pieces because of inadequate packaging, but it is rather nice to have even an incomplete set. The plates are about 6 by 4.5 inches (160 by 120 mm)and have been hand painted and then glazed and fired so the image is under the protective glaze and not on the surface. The major arcana designs are quite minimalistic and brightly coloured. I am not sure if this was a one-off piece of craftwork or if this was produced commercially. The staining and spill over of paint onto the backs of the plates make me think it was made by an amateur. If so I seem to have bought rather a lot of someone's time at a knockdown price! Perhaps they will take comfort that this has found a home where it will be appreciated.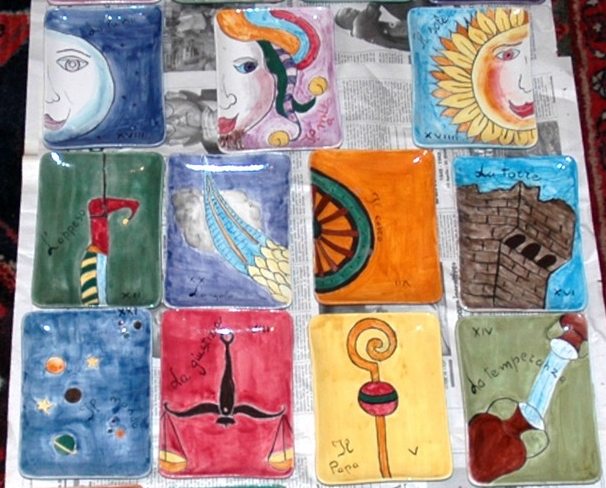 18 Dec 2007 Every now and again some artist gets so enthused and engaged by tarot that they quickly create a range of decks. The american artist Beth Seilonen is a recent example. I first came across her work in her Theban tarot which I bought in August this year. Then came her Indigo Witch in a similar style, but in the last month or so she has issued some simple line art decks, some with colour. These are the Dancing Dragonfly Arcana, the Arcana of the Tree People and the wonderfully expressive Arcana of the Red Jester. Luckily I have been able to buy a copy of each. At the moment she sells them on Ebay under her sellers name treepeopleart. It is rather good to see in her work the evolution of various approaches to representing the tarot arcana. She also runs the Cat's Eye Gallery in Calais, Maine where she exhibits paintings not necessarily related to her tarot work.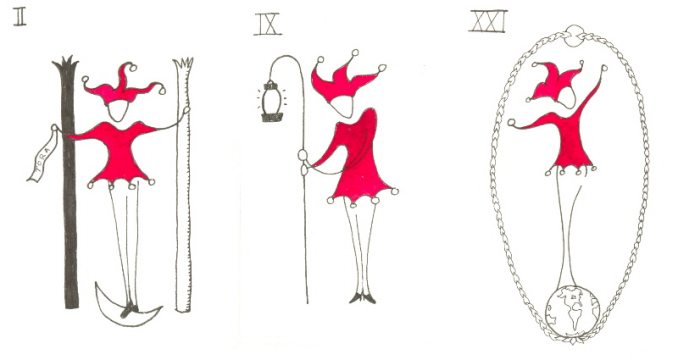 17 Dec 2007 I have been forced offline for quite a few days because of the failure of my broadband provider, and I only had sporadic access to my email, so I have not been able to update my weblog for about a week. Today I received a copy of a rather fine 78 card art nouveau style deck from Argentina, the Cartas de Tarot by Blanca Curi. There is no decumentation with the deck but 'Blanca Curi' is Spanish for 'of the white witch'. Apparently these cards were issued by a well known astrologer in Argentina. The artwork is signed M.E.L. and in an Alphonse Mucha style. The facial expressions are not very well achieved and the modelling of the forms is not of the best, but it has some nice touches and is a fine clean design of pen line with watercolour (perhaps augmented with some graphics colour, added later once the artwork had been scanned in). Anyway, as I like South American decks I had to have this one. It will probably never be widely available so collectors should try and get a copy while they still can.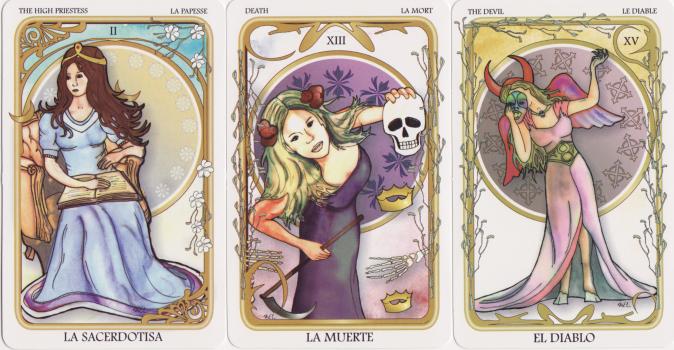 10 Dec 2007 Today, after quite a long wait, I received in the post a copy of the second issue of the Japanese, health, spirituality, new-age magazine called Sundari. In this inexpensive magazine there is a tear out tarot deck entitled the Sundari Love Qabbalah Tarot. Purist collectors would probably leave the cards in the magazine, but I could not resist carefully cutting these out so I could have them as an actual deck. I suspect the artist works for the fashion industry as the artwork is in that style with tall, thin, long-limbed figures in model poses. The artwork is drawn in fine pen line, then areas filled with black and some solid colour. Textured coloured areas are added in the background. It is similar to the French fashion tarots that I managed to obtain earlier this year Tarot Divinatoire des Tendances and Tarot de l'Amour (see my weblog entry for 30th April 2007). The Fool is rather intriguing. I may be reading something into this image - it presents an image of female domesticity, the mother with her child and her dog - it seems to be contrasted with the fashionable young things depicted throughout the other cards. The Lovers has a strange image of the female lover being bent over backwards and bound to a large sphere or stone by threads in this awkward position. Could this again be the artist presenting us with an image of the danger of commitment to conventional relationships?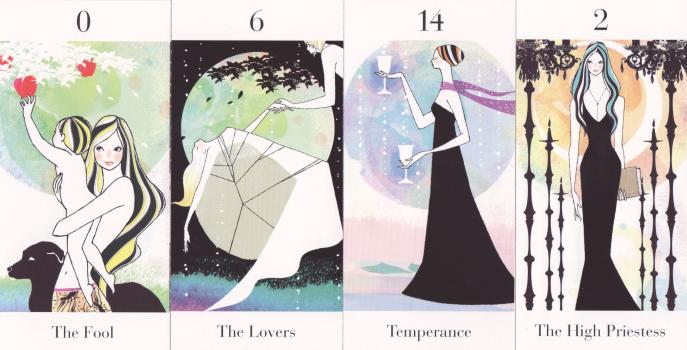 9 Dec 2007 I just uncovered a rather fine black and white tarot, while looking for something else in the Japanese section of my collection. This is the almost unknown Devil's Tarot self-published by S.A. Yuan in 1993. Yuan later in 2004 produced the Dark Tarot (which was not really dark at all, though it did depict some rather moody figures). The Devil's Tarot was created in pen drawn outlines with some block grey shading added later. This is a relatively early anime style deck (majors only of course, as with most Japanese decks). The imagery is quite conventional though there are some creative and unique departures. The Fool is rather unusual with his body half skeletal, and his eye seeming to deconstuct into root like forms. The Hermit is conventional, though the drawing is rather well constructed using 45 degree slanting pen strokes. Temperance is shown in an hourglass - her two cups being here seen as the upper and lower vessels of the hourglass, and she reaches out to touch the stream of falling sand - rather a distance away from the Sine Requie Temperance I showed in my last entry.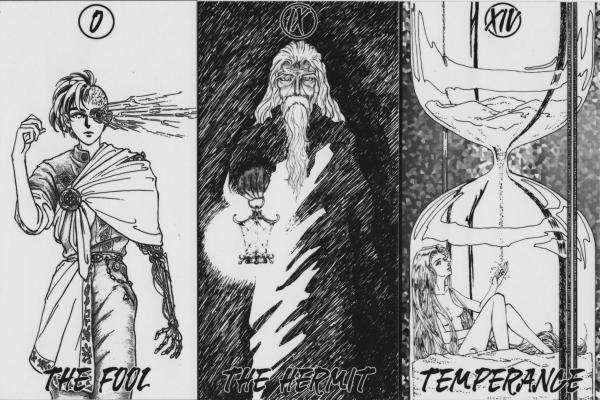 7 Dec 2007 Sometimes one buys a tarot and finds one gets hit with a rather massive shipping charge. One feels a little exploited, until the item arrives and you find it is in a massive wooden box, or some especially heavy packaging. Today my postman struggled up the stairs with the Italian Sine Requie. It is a small deck weighing hardly a few ounces, but it comes with a substantial hardback book weighing a kilo or more. This Tarocchi is actually part of a role playing game which seems to be based on the scenario of the formation of a Fourth Reich after the Second World War. The book provides all the background to the supposed history and no doubt provides the materials necessary to play the game. I am not sufficiently motivated to try and understand this, as the text is in Italian, but it seems to lead us into a world where the Nazis had triumphed. The deck consequently is rather dark in mood. Its title Sine requie translates as "without rest". The Empress is seen in a Nazi style uniform, while the Tower shows the Eifel Tower in Paris being destroyed. Temperance is rather gruesome, depicting a woman in a bridal dress squeezing the blood out of a heart into her goblet or chalice. Temperance has surely never been portrayed in such a bleak way.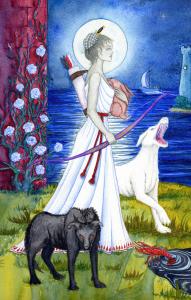 6 Dec 2007 Yesterday I received the artwork for the next tarot I plan to do. This consists of some beautiful watercolour paintings by the Canadian artist, Jane Estelle Trombley. I must say, being a painter myself, I respond very positively to painted tarot images. All being well, these paintings should be issued in my series, possibly in January or February 2008, as the Arto Taro. Here is just one example, the Moon card, of the powerful and original artwork of this deck, as a taster. It is a delight being able to make this artwork available as an actual deck. I will keep my customers posted on developments. Although the artwork is complete, there still remains a lot to work out before the deck can be printed.

5 Dec 2007 Angel tarots are rather numerous. I ran out of fingers and had to take off my shoes in order to count the ones I have. So it was not at all surprising that I missed one that was recently published by AG Muller. The artwork is by Nikita Arnett and Lydia Oukhaneva and is in a cartoon style drawn with heavy pen outline. The angels wings are left uncoloured and the image is coloured using a digital airbrushing tool, which produces rather interesting and unusual tones and textures. The angels all seem to be walking or suspended in space and often have strings of coloured bubbles under their feet. This deck has a naive and rather childlike style, though the images are attractive and engaging enough.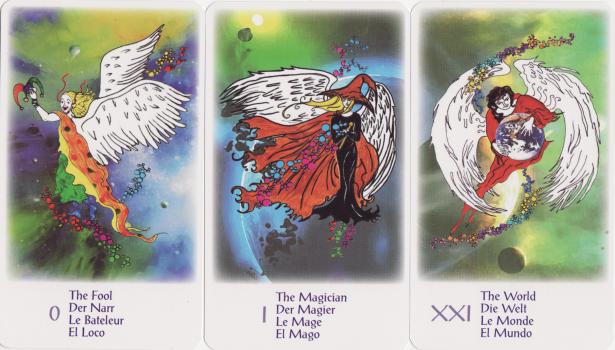 4 Dec 2007 Le Tarot de Marrakech is a set of 22 large cards together with a paperback book. Despite the name, it is published in France, and is the collaborative creation of Georges Colleuil with the painter Jean-Baptiste Valadié. The cards have for the most part been renamed, though immediately recognisable. Thus the Star is 'La Croix du Sud' (the Southern Cross), the Hanged Man is 'l'Acrobat', the High Priestess is 'Le voile de l'aube' (the veil of the dawn). The titles are also given in Arabic, and here I think we have the conventional names for the tarot arcana. The cards are finely printed and consist of pen drawn outlines for the most part coloured with block colour including gold ink.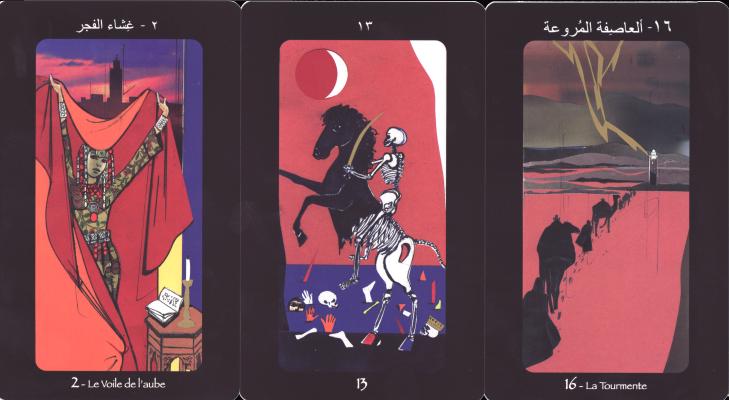 2 Dec 2007 Yesterday, I brought some tarot designs associated with Marvel comics to your attention. Today I want to mention a recent deck, the Tarot Corrupt produced by DC comics. This is not the familiar rival to Marvel, the DC Comics that gave us Superman, Batman, Wonder Woman, and so on, but rather the French punk goth Le Dernier Cri ("The final or last scream") a publishing company in Marseilles, France www.lederniercri.org producing some edgy, disturbing material. This tarot, issued earlier this year, was created by the Dutch cartoonist Marcel Ruijters. It is a majors only deck with two additional cards.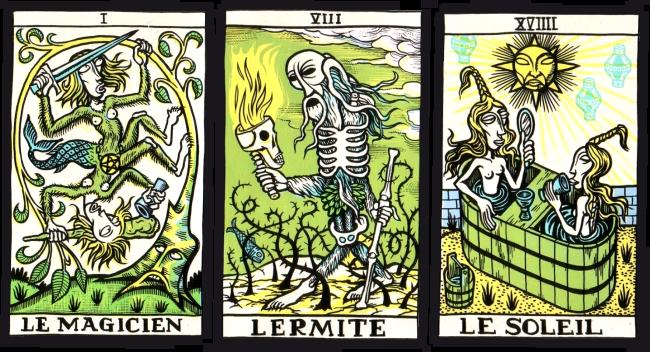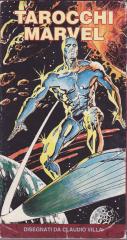 1 Dec 2007 In 1995, when Lo Scarabeo was still producing their important art tarot series, Tarocchi d'arte, they issued their Tarocchi Marvel with the 22 Majors being associated with characters from the Marvel Comics. Thus the Fool was Wolverine, the Magician was Dr Strange, Force the Hulk, and so on. Now Marvel comics have themselves issued a series of tarot designs based on their comic book characters. For this they comissioned the artist David Sexton, known for his Winged Spirit Tarot and Tarot of Oz. They have thus produced a wonderfully illustrated 48 page comic book, The Marvel Tarot, well printed on quality paper, which presents a series of tarot designs and their association with the various characters. Sexton has here stuck close to the Rider Waite Majors, redrawing and modifying them to his purpose. The complete set of Majors are printed on the last four pages. Some of the images are doubled, there are two Moon cards, two Devils, two Magician designs and two Emperors, and three for the High Priestess.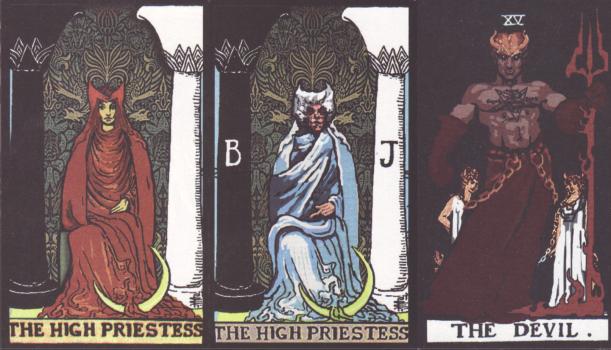 30 Nov 2007 I must admit to never ever having watched an episode of Charmed despite it being endlessly repeated on satellite television. Somehow, as a 59 year old man, I don't necessarily feel I have especially missed any significant life experience by clicking on the remote button to move on to another channel. But now, inexplicably, I am the proud owner of two tarot decks based on this series, one an official promo version by the French production company and the other a new unauthorised deck that has emerged from the UK in the past few days, the Charmed: Book of Shadows Tarot, in a limited edition of 500 copies. It is a 78 card deck with the pips and courts being non-emblematic and relatively conventional. The Majors, on the other hand, have at their centre a painted image in watercolour or acrylic, for the most part of one of the characters from the TV show, who presumably fits the particular arcana. The veracity of these ascriptions I cannot in any way judge, as I have no knowledge of who 'Paige', 'Piper', 'Gideon', 'Cole', or whoever, are. I must here confess that I would be equally lost if I were looking at a 'Buffy the Vampire slayer Tarot'. The official promo deck for Charmed was rather poor, consisting of stills from the show associated with each card. This unofficial deck seems to have a bit more thought behind it and at least uses some painted artwork. It is not an inexpensive deck and I wonder if, being unauthorised, it might not be interdicted by the intellectual property lawyers for the production company. We have seen a few of these actions resulting in the withdrawal of such products.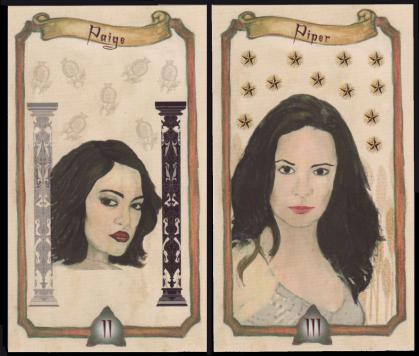 28 Nov 2007 There have been a number of dark decks issued recently, but tarot is not all about dismal, or horrific images of the terrible fate awaiting us. I am still expecting the Catastrophic Climate Change Tarot which may be a bit delayed, I believe! Instead, today a rather jolly deck arrived to brighten my day with its wonderfully happy images. This is the Tarot of the Lotus Circle, produced by one of those amazingly positive American organisations devoted to healing. I am sure my natural cynicism would rapidly make me tire when reading their literature, but I can resonate with the images in their deck. They have a delightfully original Fool, skipping along, blindfolded and holdinng an umbrella. I also found the Devil rather amusing, as here it is depicted through smoking and drinking, an obvious 'devilish activity' for a healthy lifestyle. If you want cheering up just get out this deck and have a look through its images. I am not always sure if the images chosen are tongue in cheek as with the playful Postmodern PoMo deck of Brian Williams. The Six of Wands as the relay race, could be either a neat joke or related to the health aspect of exercise through sport - I cannot decide.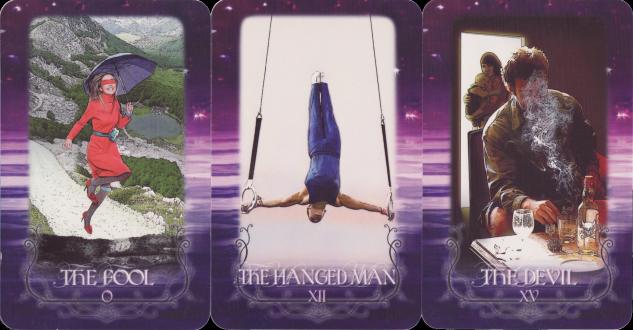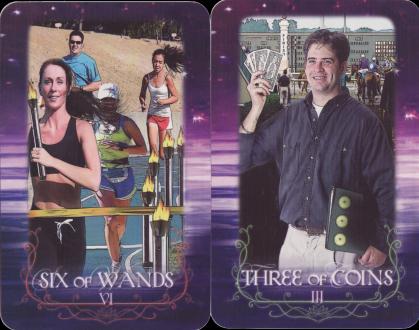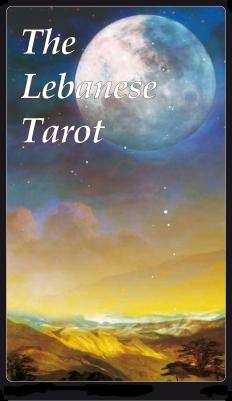 23 Nov 2007 Today I finished making up my most recent tarot, the sixteenth in my ever-growing series, the Lebanese Tarot by the Lebanese artist Caroline Mehlinger-Jawlakh. These images are wonderfully luminous and detailed and I am pleased with the quality of the printed cards. Later today I will announce this on my next mailing list and hopefully will begin to get a few orders for copies.

21 Nov 2007 I pushed on yesterday and today with laminating my next tarot. Once I have completed this, I will have to cut the sheets into cards, which takes almost as long - two to three days work. Then only remains the making up into decks. Hopefully I will be able to announce this publication next week. I never announce a deck as being for sale, or accept any payment, until I have the actual decks made up ready to be sent out, otherwise I would end up disappointing and thus losing the confidence of my customers. When I say I have the item available - you can be sure it is actually there as a deck on my shelf ready to be posted out.

20 Nov 2007 The Wormweird Tarot was created by George Higham using retro-tech Victorian stage illusions and waxwork sculptures which were then photographed and used for the tarot images without any post-photography digital manipulation. Higham's artwork has beeen described as 'Steam Punk', a style of fantasy art idealising archaic Victorian technology. The imagery of this deck is full of skulls, skeletons, waxworks, grinning teeth, and wounded or excised eyes. To a sensitive soul this imagery will be rather disturbing, but the more cynical among us will see that it is full of humour and a veritable tour de force of visual jokes. It creates a world of seeming cruelty, madness, decay and death, that also rather engages us through its coherence and underlying structure. It reminded me of the David Lynch film Eraserhead, not that these are in the same style, but that they similarly evoke strange disturbing worlds.
The 'Wormweird' of the title evokes the hallucinogenic and poisonous herb Wormwood that is the basis of the greenish drink Absinthe that rotted the brains of many aesthetes especially in fin de siecle Paris. This flows through the symbolism of the whole deck. I mentioned yesterday, that I felt the Indigo Witch Tarot had an underlying narrative, well the Wormweird's narrative is overt and explained in considerable detail in the booklet that accompanies the deck. It is too complex to even attempt a summary, as each of the Majors has about half a page describing the story portrayed in that image, and even the Minors have a paragraph or two devoted to their part in the drama that is Wormweird. This is an amazing deck, which I suspect will only be collected by those interested in Higham's work, or those tarot collectors who are immediately drawn to an artist working creatively with the tarot concept and locating it in their own obsessive world. I suspect people will either love this one or hate it. I, for one, am happily engaged by its wonderful though disturbing imagery. Perhaps, Higham, as a visual artist is expressing the fear of losing ones sight, as he constantly returns to images of empty eye sockets or even a shrunken skull 'crucified' by being nailed through the eyes - totally unsettling to someone whose life is lived through looking at artworks.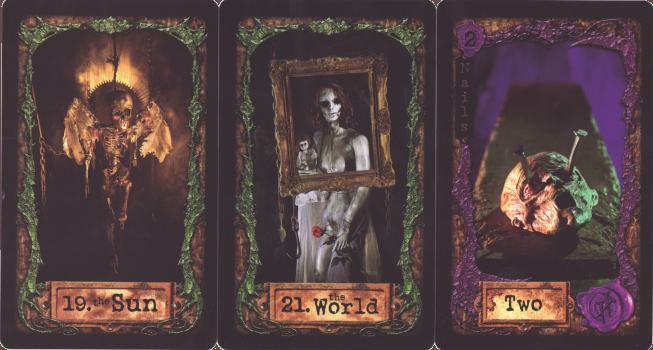 19 Nov 2007 Some tarots come with the most amazing names - some of which one could not make up if one tried. I suppose all the easy ones are taken - Celtic, Grail, Imagination, Archetypes, Greenwood, Indian, Sinister, Gothic, and so on. Who could have thought up the name 'Indigo Witch' ? Well I know, because I now have the Indigo Witch Tarot created by Beth Seilonen in the USA. Two months or so ago I bought her Theban Tarot, so could not resist her latest creation. This is painted in watercolours on a textured watercolour paper and then printed onto very thin paper stock in small editions. I have number one of an edition of eight copies and each card is signed and numbered by the artist. This is not a deck for tarot readers, as it would not survive long being shuffled or moved around on a table top, but entirely an art deck. Every card has a double horned moon in the upper centre. Another symbol on each card (apart from the Fool) is a tree woman. The skies are an intense midnight blue. There is a complexity to the symbolism that makes me think there might be some narrative behind the imagery. The Tower is a powerful and original image, with an eye in the bloody moon from which cracks descend down into the tower itself. The tree woman (shown on the left) is bent over as if by a strong wind. The witches' tools lie smashed on the ground below. Now there must be some story behind that !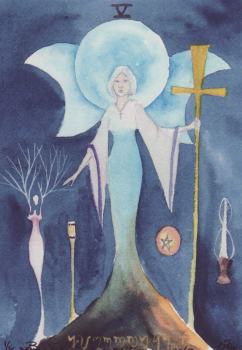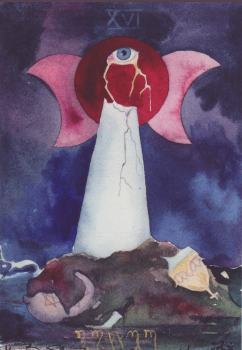 17 Nov 2007 I have recently acquired the Japanese PlayStation Persona 3 Tarot, which was a promo deck given to people who pre-ordered the Persona 3 game of 2006 directly from the Japanese Playstation website. It is consequently rather hard to find and therefore expensive, but will make a good addition to my Japanese collection. In the long term this can only get rarer and rarer as it does not often find its way into the hands of tarot enthusiasts. The designs are like silhouettes or shadow puppets set against a luminous coloured background and are for the most part minimalist. One sees from the design on the card backs the essence of the design concept, the interplay of darkness and light, negative and positive forms. The Lovers shows us a bleeding heart set in a tree, while Strength has the female figure like a shadow puppet dominating the lion. The effect is almost like modern stained glass (not the leaded traditional art form). The hero of the actual computer game is attacked by Shadows. This awakens his Persona, Orpheus, his only chance for defeating these creatures of the night. He learns of a hidden time that exists between one day and the next, swarming with Shadows. In the game the main character battles with others against the Greater Shadows, who have traits and appearances similar to those of the first twelve Major Arcana of the Tarot. He encounters an entity who refers to himself as Pharos, and who is really the incarnation of Death, the thirteenth Arcana. So we can see that these cards relate partly to the actual substance of the game itself.
My deck was unopened still tightly sealed in shrink wrap, probably discarded by someone more interested in the Playstation game to even bother opening the set of cards.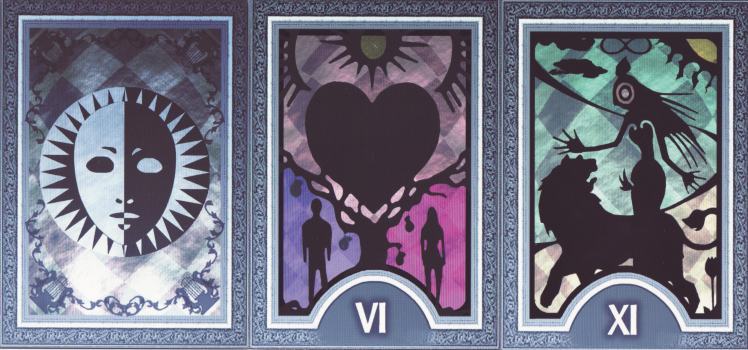 16 Nov 2007 Yesterday I discovered the immanent release of a hexagonal deck of cards based on the chemical elements and incorporating the 22 Tarot Majors. Being interested in chemistry, alchemy and tarot this seemed a must-have deck for me, and I wrote to the artist. In my email I mentioned that I had just a few days ago obtained another hexagonal tarot and he was immediately interested, so I will put up a few details and images here.
This is the Tarot of the Golden Desert and it comes in a stained hexagonal cedarwood box, which smells wonderfully of pencil shavings. The deck is designed by Lady Draagonstorm and realised using computer graphics with beautifully rendered surfaces. The artwork presents a science fiction landscape of the 'Golden Desert' in which we see various tableau related to the tarot imagery, which is explained in the accompanying booklet (hexagonal of course!). It is an edition of only 50 copies so will probably sell out relatively quickly.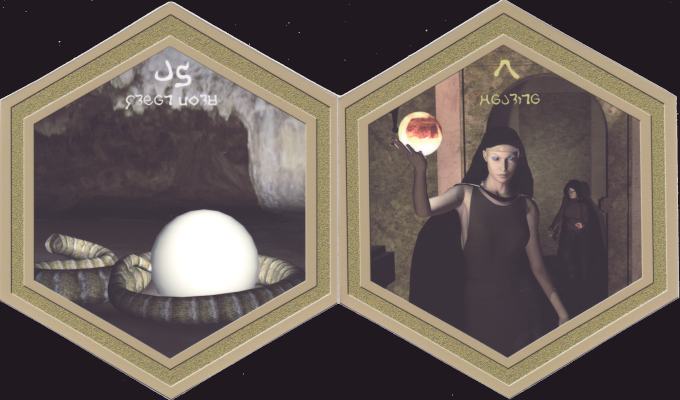 15 Nov 2007 I am trying to make time available over the next few days to produce the next tarot in my series. This is number 16 and is called the Lebanese Tarot. It has wonderful images and it is good to see the piles of printed sheets, though there is the totally time consuming stages of laminating and cutting up the sheets into cards. Once these tedious processes are over one gets to the fun stage of making up the decks and putting them into boxes. There are now only 17 decks left to sell of my Alchemical Emblems Tarot. This has done quite well and seems likely to sell out early next year, that is within two years of it being issued. Anyone wanting a copy should try and buy one soon. Once they are gone, potential collectors are faced with having to buy these on the secondhand market or at Ebay auctions.

15 Nov 2007 There is quite a tradition of fairies in tarot with a number of decks being devoted to this theme. One of the more hard to find is the Japanese Secret World Tarot. This is a majors deck and comes with a video tape which gives an introduction on how to read tarot cards. This was published in 1990 and is quite hard to find. The numbering of some of the cards is a bit out of kilter. I am not sure if this is intentional or a mistake on the part of the artist, designer, writer of the accompanying book or the publisher. They include an extra unnumbered card the 'Crystal Card' which has no fairies but only a picture of a crystal scrying ball. The artwork is rather clean, with well drawn pen outlines, using two different thicknesses which is very effective, and these are coloured using watercolour and some airbrushing. Fairies appear on most of the cards. It was rather expensive, but is a good addition to my Japanese tarot collection which now numbers over 140 items. It shows a rather different 'secret world' that that depicted in the BDSM chic of Evan Yi Feng.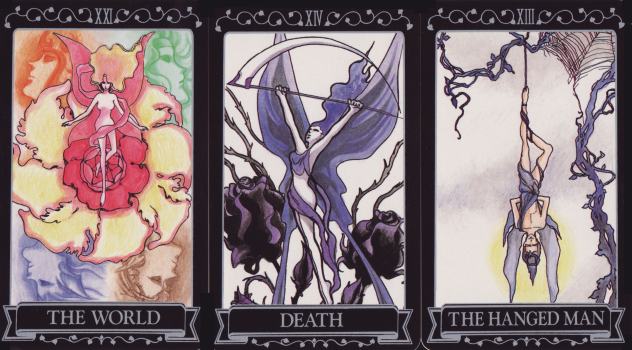 14 Nov 2007 Among the WOW! decks of 2005 was the totally delightful, contemporary, in-your-face, gothic, neo-symbolist, Lunatic Tarot of Evan Yi Feng. This Taiwanese deck was issued as a portfolio of large format 'cards' loosely bound on their top edge into a perfect bound book, so that it was easy to disassemble in order to have a set of large cards. The artwork was very detailed and really needed that large format. A year later the card designs were issued as a standard format deck with the cards being slightly cropped to fit the space. Now I have obtained a new Chinese deck which appears to use the images of Evan Yi Feng, and in particular incorporates some of the imagery from the earlier deck. It is, however, an entirely original creation, though drawing on the Lunatic deck.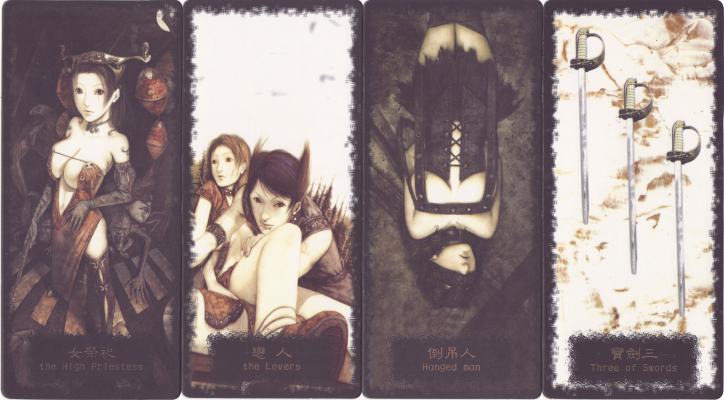 13 Nov 2007 My tarot weblog currently gets between 60 and 120 visitors each day (at the moment averaging around 80), and we can see from the statistical graph from my webpage counter that there is a general growth of interest, though with some inexplicable peaks and troughs. The weblog has been running for 354 days with 21522 visits from users. For me this counts as a success and encourages me to continue to update this daily if possible.




13 Nov 2007 I recently bought a copy of a Pocketable Tarot issued by Compact Games (Wakui Corporation) in Japan. There is no date on this production, but it bears the Series number 102. A number of years ago I bought another Pocketable Tarot, this time issued by SYU in Japan in 1994. As the packaging style is identical, it it likely that the Wakui Corporation has at some time bought out SYU and incorporated their products into the new company. Interestingly the SYU version from 1994 is Series number 319 (a higher one than the later issue). This pocketable series has the full 78 card deck printed very small 2.5 by 1.6 inches (63 x 41 mm), which are packed in four piles in a formed plastic mould in a kind of plastic wallet so the whole thing slips easily into ones pocket. The earlier issue is actually the US Games Connolly Tarot Deck, while the more recent issue is a Japanese style deck, possibly created for this series, but it could be a reprint of some published Japanese deck - it looks familiar to me but I cannot immediately identify it with some other publication. It is interesting that this version does not have any titles or numbers on the cards. The minors very much follow the Rider-Waite emblems. Here are the same cards from each deck.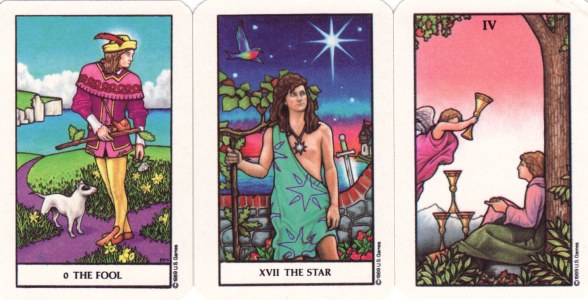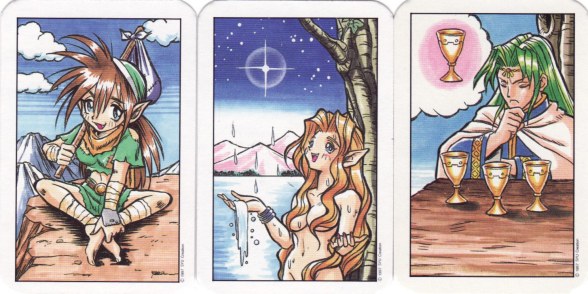 12 Nov 2007 A few days ago I had a visit from five members of the Tarot Association of the British Isles (TABI). They wanted to see my tarot collection and I suppose get some grasp of my approach to tarot. I don't usually welcome visitors as I am really too busy and tend to like my privacy, but I was happy to meet this small group and try and explain what it was that enthused me about tarot. I was able to show them a few items, but I resisted the temptation to just show deck after deck as that rapidly tires and exhausts people, so instead I picked out a few items which I felt reflected some unusual aspects of tarot. I think they will write up an account of the visit and include this in some future issue of their magazine. Later on that day I had an unexpected visit from an artist friend of mine and we fell to discussing the possibility of mounting an exhibition on Tarot as an artform. I have been attempting to get a gallery interested in such a project but without much success so far.

11 Nov 2007 I have long been looking for a copy of the Elsa Dax tarot produced in 1999. Dax is one of the major players in the anti-conceptual art movement and has had many international exhibitions and been represented by the prestigious Saatchi Gallery in London. She is part of a modern art grouping called Stuckism, a term which refers to a derogatory remark of Tracy Emin, one of the conceptualist Brit Art group, who said that figurative art was "stuck" (in a rut) as opposed to the perceived creativity of conceptualism. The Stuckists were apparently happy to adopt this title and promoted figurative painting in opposition to the prevailing conceptual art embraced by the art establishment in Nicholas Serota (formerly of Tate Modern) and the Turner Prize. The original deck seem to have been issued in a rather small number and I had almost given up on acquiring a copy. One of my fellow collectors suggested I write direct to the artist and I then discovered that she had now reissued the deck under the title Le Tarot de la Montagne Noire "Pays Cathares", (the Tarot of the Black Mountain in the land of the Cathars). So I now have a copy of this wonderfully coloured art tarot, albeit under a different name.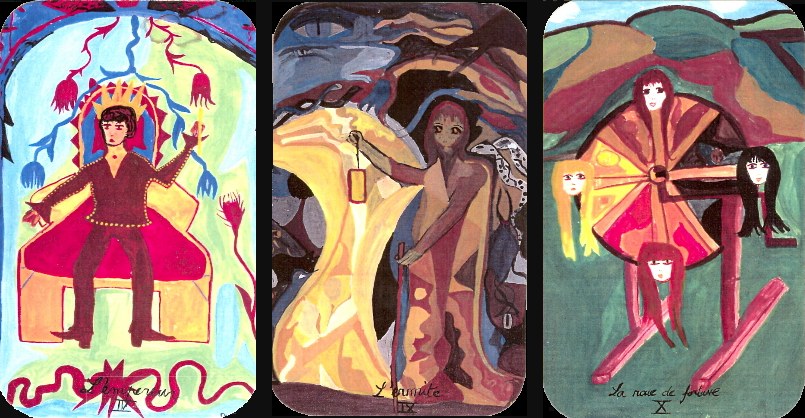 10 Nov 2007 Sometimes I almost despair of people. I have been receiving a number of emails recently, taking me to task for publishing 22 card Majors only decks instead of 78 card decks. Publishing small editions is very expensive and the costs of production, printing, lamination, costs of guillotining, packaging boxes, etc., are a considerable factor in the pricing. Indeed producing a 78 card deck using the same production methods as I currently use would mean that this would have to be priced around three times the cost of the Majors decks that I produce. However, it is not this that makes me despair, rather it is the fact that some people just cannot see beyond the 78 card deck. They obviously do not realise that the majority of tarot decks that have been produced are 22 card decks. Italian art tarots are almost invariably Majors only. Consider Japanese tarots - there are only a handful of 78 card decks. I have probably 120 or more Japanese tarots and they are almost all Majors only decks. Some people seem to think that a Majors only deck is not a real tarot - how sad is that ! Of course they also want to buy 78 card decks at less than $20. It is depressing.

9 Nov 2007 I must try and find time next week to work on my next tarot deck, the Lebanese Tarot. I have all the artwork and materials available now, but have been delayed by other projects, in particular I have been devoting many hours over the past weeks to painting some copies of illustrations from an early 14th century manuscript and also working on a portrait of a friend. As always, there is never enough time. How one wishes one could live for hundreds of years and not be restricted to the rather mean ration of years we are given. I am just getting into my stride and most of my life is now spent.

8 Nov 2007 I have just received from my contact in Taiwan, a Japanese Coloring Book of Tarot. This is a lavishly printed large format paperback containing four different Majors decks by different artists. At the front section of the book images are provided in colour of the four tarots, and in the second section all the card images are printed in grey outline inviting the reader to colour these (even the backs are printed on the reverse so that one could cut these out and use them as a deck once one has coloured them). Though obviously designed for children, the artwork for these four sample decks is extremely fine quality.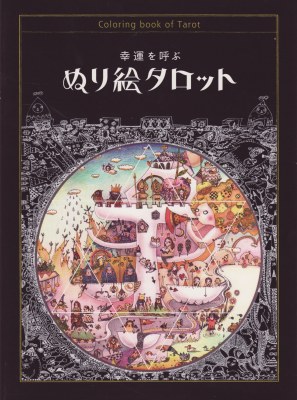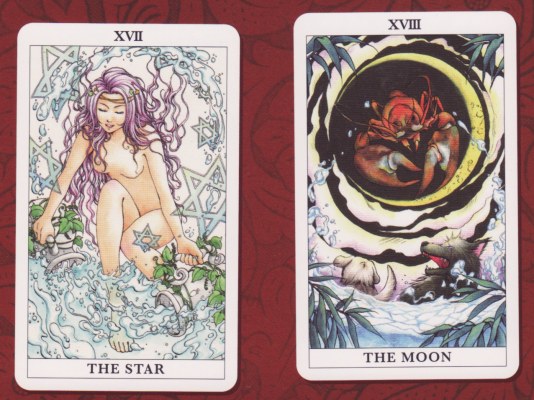 4 Nov 2007 Yesterday the Vanessa Tarot arrived and I found it was in a nice tin box. My mind immediately started churning and asking the question - how many tarots are sold in tin boxes? Well, immediately I thought of the Gummy Bear Tarot also issued by US Games in a tin. Then I remembered the rather fine art tarot by Carlo Pitera with its rather surly human figures, and perhaps equally unknown 13th Oracle Celestial Tarot, which also shows its human figures as somewhat gloomy and self-absorbed, though perhaps not as surly as Pitera liked to picture his figures. Another one I immediately recalled was the Savage Tarot which come in a tin with a glass panelled front. A week or so ago I just bought a second copy of this, as there are very few copies left to sell and this will, I am sure, in time be well sought after. I am sure I have a number of other 'tarots in a tin'.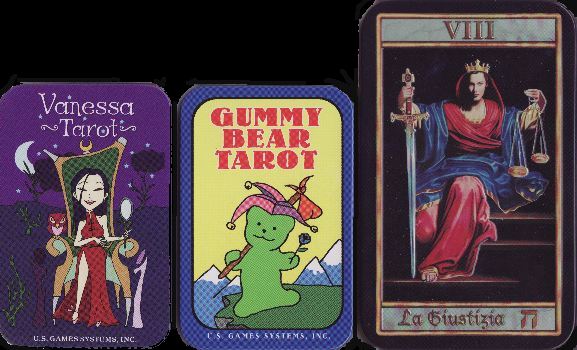 2 Nov 2007 A tarot deck can be inspired by almost anything. This is why I see tarot art as documenting the social history of our age. Yesterday I found one inspired by Hurricane Katrina - not that it consists of images from that disaster, but instead this deck shows us how the elements dance and play with our very fate, and was created by the artist Derek Dyke as a tribute to his friends who lost so much in the hurricane and yet managed to rebuild their lives. The deck is computer manipulated photo collage. Some of the Majors are renamed, and the Minors are based on the Rider-Waite designs, but considerably reworked into the collaged format. The suits of this Enlightenment Tarot are named Wind, Flames, Stones, and Water.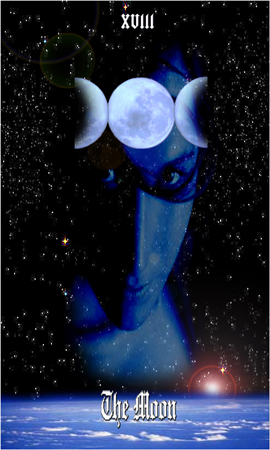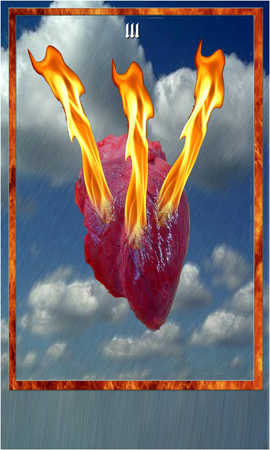 ---