Adam's Tarot Weblog
Archive 2
Entries from from 1st May 2007 to 1st November 2007.
Go to current entries entries, 12th December 2007 to present.
Go to Archive 1 - entries from 21st November 2006 to 30th April 2007.
Go to Archive 3 - entries from 2nd November 2007 to 30th November 2008.
Go to Archive 4 - entries from 12th December 2008 to 29th June 2010.

To contact Adam, email adam@alchemywebsite.com
Click here to join the Art Tarots emailing list. Click here to see the Tarots Collectors Forum.

---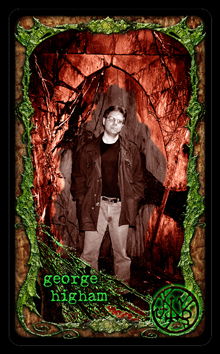 31 Oct 2007 The past few weeks have been rather slow as regards my buying new decks, with only a few purchases. But suddenly, over the last few days I have found myself buying a pile of items. Among these are three newly issued decks from the USA, Wormweird, Pearls of Wisdom, the unusual hexagonal deck the Tarot of the Golden Desert, and six items from the Far East. The Wormweird artwork features the weird horror of absinthe, necromancy, waxworks, automata, steampunk, alchemy, plague and insanity, and based on sculptures by George Higham, who writes: "The Wormweird Tarot is the doorway to a Victorian neverland of dark myths, strange magicks and weird technologies. Herein, you will bear witness to the vengeance of angels, the birth of monsters and the death of man. It is an art gallery, a spook-house, a waxworks, a cabinet of curiosities, yet above all, a Tarot deck. You certainly don't need to know how to read the Tarot to enjoy it, but it was created to conform to the use of divination if you so choose." Well if that doesn't intrigue you, I wonder what will - and he looks such a nice, normal person!

29th Oct 2007 Sometimes I take a chance on buying some tarot deck I have never heard of before and cannot find any information about. Often these turn out to be standard reprints of the Tarot of Marseilles. I found one of these mystery tarots recently called L'Arcane sans nom. On glancing at the rather small image on the online auction it appeared to be a French Jeu de Tarot (for playing the card game), but the images on the Major arcana appeared to have the usual tarot structure, rather than the game trumps. The deck arrived earlier today and it is rather interesting. The arcana without name is, of course, the death card. This deck has a black card for the death card, but all the other 21 Majors have a skeleton as the basis for their imagery. The deck is numbered '28' which suggests a limited edition and is produced by the charming 'Fuck Off' company in Bordeaux.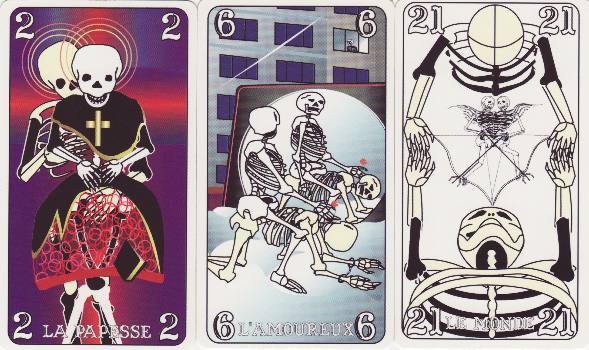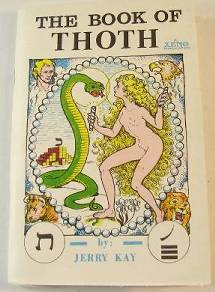 27th Oct 2007 I missed out on a auction on Ebay of a tarot that I have been interested in seeing for some years. This is the Thoth tarot created by Jerry Kay back in the late 60's. The deck went for over $400, which seems quite high. As a number of these were issued, I feel sure that another will turn up eventually, so I resisted the temptation to follow this bidder to over that price. It is a pen drawn back and white deck with 78 cards, based on the Lady Frieda Harris designs for the original Thoth Tarot.

24th Oct 2007 One expects a Tarot of Hekate to be full of witches and cauldrons and strong goddess figures, but the Tarot of Hekate issued as black and white illustrations in the book by the Rev. Don Lewis, 2006, takes us on a different course. His tarot designs were made some twenty years ago when he did pen and ink artwork for a number of metaphysical magazines. When he made his drawings for the tarot he had hoped these would be published as a deck, but that did not work out and so now he decided to publish the designs for his Major Arcana in a little book. His Majors are extended, having 30 cards - the familiar twenty two tarot majors, plus eight extra cards Soul, Mind, Heart, Body, Time, Past, Future, Magic. The card art varies a bit in style but perhaps draws especially on eastern religious philosophies and the metaphysical and new age ideas popular in the 1970's.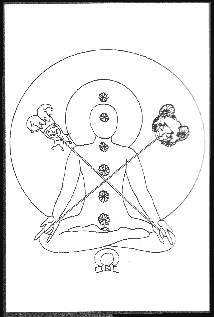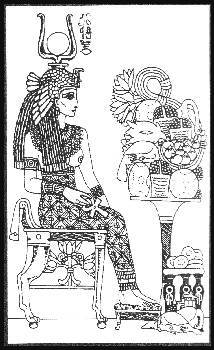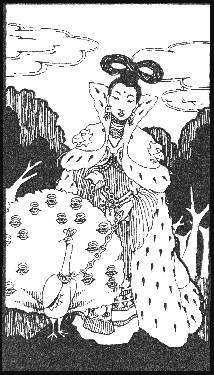 23rd Oct 2007 Tarots often come with strange names, but here is one of the lengthiest and most amusing, The Genius and Very Bright too Also Tarot. It is not just a tarot with a unique name, but also takes the very unusual stance of not depicting a single human figure. There are a few cats, a rabbit, some birds and even a snail, but no human figures. The deck is based on the Rider Waite with the pips being emblematised following the imagery there, but minus the humans. The artwork by Tracy Smith is created using felt tip or coloured marker pens, and is in a naive style, somewhat like Cheryl Carlyle's work. Such items are the often unrecognised treasures of modern tarot.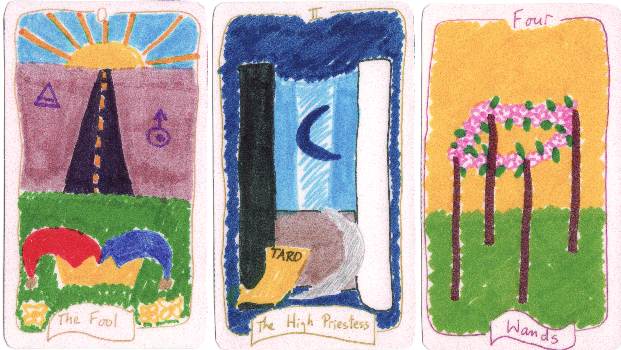 22nd Oct 2007 Lo Scarabeo have just issued a bunch of new decks. The Pictorial Key was very disappointing as the human figures were created using mannikins with a graphics program. This produces terribly static, awkward, expressionless figures. They used this technique earlier with their Tarot of Elves with no success. Their Tarot of Angels is much better as at least the art is created as paintings. Their Tarot of Pirates is in good saturated colours and is a relatively fine themed deck. In my opinion, the best of their recent issues by far is the Circle of Life Tarot. This is yet another round tarot, but this is not what especially distinguished it for me. The artwork is wonderful and coherent. It seems that here the artist Alessandro Starrantino was allowed to let his imagination flow without too much editorial direction. Too often, recent Lo Scarabeo decks seem over-produced and edited into blandness, but with the Circle of Life Tarot we have some real lively creative artwork.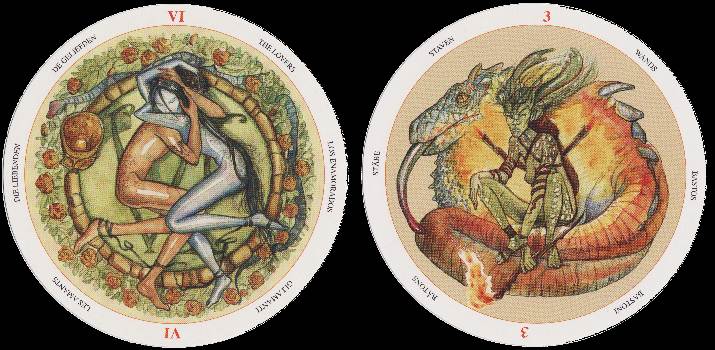 18th Oct 2007 I don't usually collect Jeu de Tarot, those French decks used to play the card game, but every now and again a deck in this style appears which has its twently two trumps reflect the tarot imagery. A deck has recently appeared for the game of Troccas which is apparently still popular in some parts of Switzerland. This game seems to be known in Japan as this deck the Nakayoshi-Mura Tarot is a souvenir of the 1000th meeting in 2006 of the Nakayoshi-Mura Club (in English, "Friendly-Village"), a game-club specializing in traditional games, Tarock, Uno, Chess. etc. I obtained this deck through the good offices of a fellow collector in Japan. The pips and court cards are conventional, but the majors are rather fine. As with all the game decks, the majors or, rather, trumps, are printed with a mirrored image, so that players do not give away to their opponents the fact that they have a trump if they turn it upright.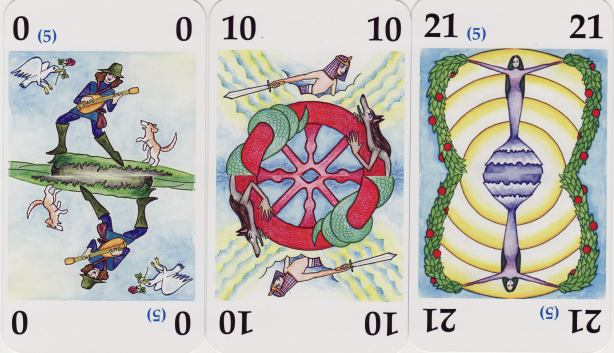 16th Oct 2007 Today a new tarot arrived from Argentina, the Tarot de Marsella. This is a round version of the well known Tarot de Marseilles. The imagery on the cards is not original but entirely derived from this classic deck, and merely adapted to the space. Each image is superimposed upon a background of 16 roundals (which is doubled on the Majors). This backgound is tinted differently on each of the four suits. The deck comes in a neatly crafted round plywood box. It is remarkably inexpensive, and yet another deck to arise from South America in recent years.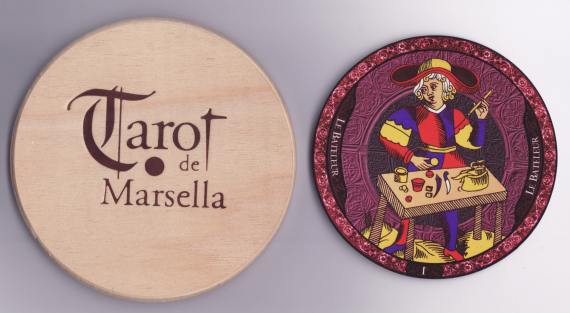 15th Oct 2007 The Halo/Sharp New Energy Tarot Deck is one of those half tarots, with some of the 22 cards (I counted eight) obviously related to the conventional tarot imagery, with the others wandering off into unknown territory. The title Halo/Sharp could seem enigmatic, until one reads the box, which tell us that the artist is Oxo Halo and the writer of the associated book is Dr Michael Sharp. The artwork is computer graphics, collaging photographs and computer generated mannikins, interwoven with Mandelbrot and Julia fractal patterns. Many of the surfaces are rendered with interesting textures, though even with this I found the mannikins rather flat and unconvincing. As to what it has to do with 'New Energy' I am not sure, I suppose that is all explained in the book. The artwork is colourful and highly geometrically structured.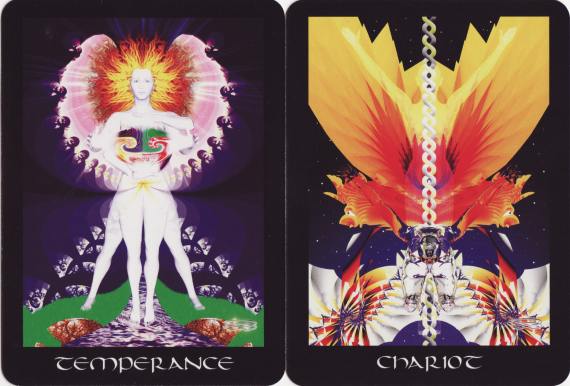 14th Oct 2007 I have been so busy recently with my other publishing activities that I have had little time to add any entries to this weblog. During the last week I have been in touch with some further artists regarding publishing their tarots and our discussions all seemed rather successful so I fully expect these will become part of the Art Tarot series in due course. I am now ready to undertake the final work on a new tarot by a Lebanese artist. This should be ready in November depending on my workload and how quickly I get the custom made boxes from the company that makes them for me. I have a number of tarots I bought over the past weeks a bit delayed in the post, but I expect they will all arrive en masse after the weekend. The Phantomwise Tarot has received a good response. I am so taken with Erin McCauley's art style that I have commissioned her to do a painting for me (not on a tarot theme).

2nd Oct 2007 I don't usually buy card sets that do not have a definite tarot structure, but I was recently tempted by ABC de l'encromancie. Now Encromancy is the telling of fortunes by examining inkblots. The creator of this set of cards Uma Mukanda has taken Rorschach type inkblots (folded paper) using various coloured inks as a starting point and then drawn outlines on the various shapes in order to give them some clear form. This produces an interesting series of images. There are 78 in all, which made me hope they had some tarot structure, but this is not the case.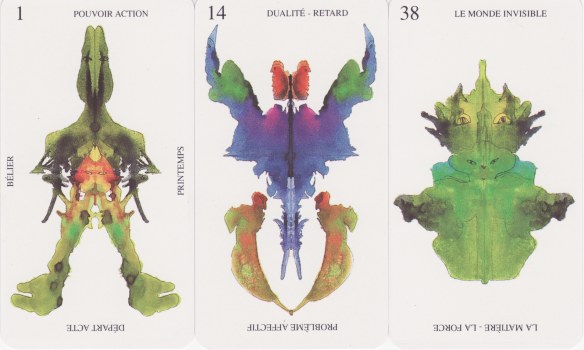 These images remind me of the Astrella Tarot Divinitoire, a set of 61 cards produced by the medium Yves Buquet using paintings by Isebies Chessex. Chessex's work appears to be large watercolours painted very wet so that the washes smear and flow into each other. They create effects similar to marbling.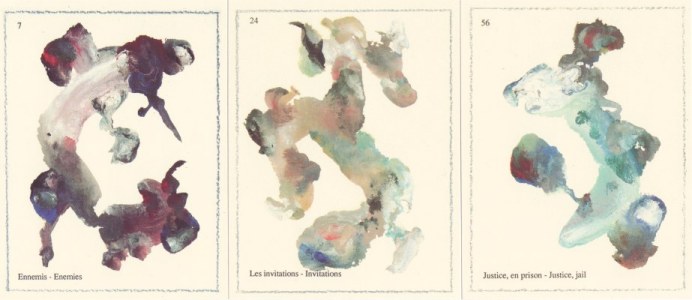 1st Oct 2007 Today one of my correspondents kindly informed me about this rather beautiful Wheel of Fortune from a 15th century German manuscript in the Staatsbibliothek in Munich, CMG 5185. Although not directly connected to the tarot, images such as this were part of the emblematic background out of which the tarot images emerged.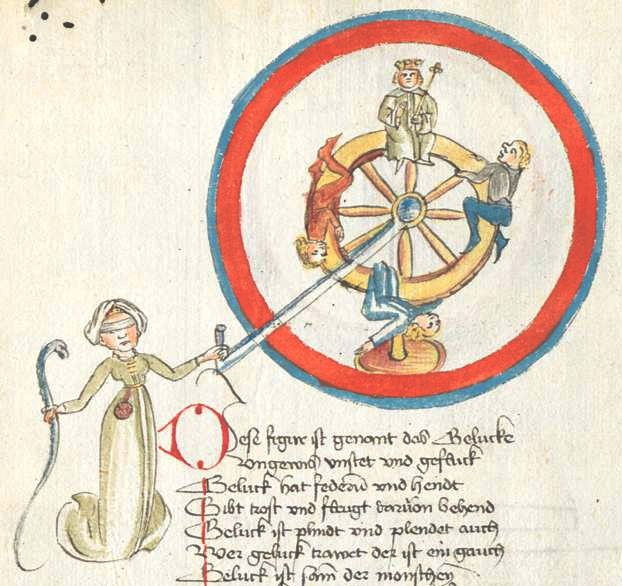 26th Sep 2007 The Maroon Tarot from Poland is now available and I received a copy today. This is based on the wonderfully detailed fantasy art of Tomasz Maronski.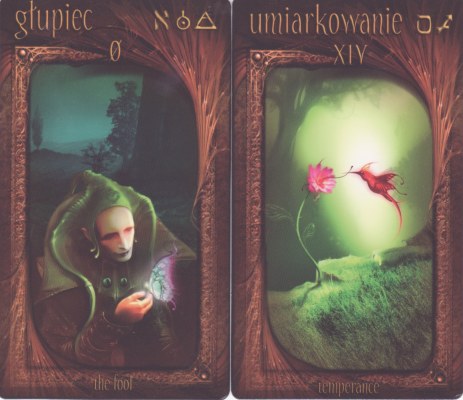 His tarot artwork is rather original. The way his Fool gazes at the luminous butterfly is quite delightful. Another original image is that of Temperance, as here a hummingbird is about to sip nectar from the flower. Sadly, the publisher found many difficulties put in her way by narrow-minded printers in Poland, whose Catholic orthodoxy made them suspicious of tarot as being 'devilish'. Luckily Maia was persistent and eventually found a brave printer, though it did delay publication a month or so. It is a Majors only deck, though they have plans to issue the Minors next year. It is well worth purchasing a copy direct from www.kartytarota.pl.

25th Sep 2007 Raymond Buckland's Romani Tarot was issued by Llewellyn in the USA in 2001. This proved rather popular and sold out its edition in a few years and as there are still many people wanting a copy the secondhand price is now quite high. In 2004 a Turkish edition was issued. This is a clone of the original having the same packaging (though printed in Turkish) as the original and includes the book by Buckland though translated into Turkish. I am not sure if it is an unauthorised copy as the book recognises Llewellyn, Buckland and the illustrator Lissanne Lake as the copyright holders. A few days ago I managed to obtain a copy of this Turkish version. The cards are printed a few percent larger than the original and the quality of the printing is much the same as the Llewellyn though with a more glossy varnish. The cards are, however, less well finished than the original, the corner rounding being badly implemented. The titles on the minors are in Turkish.
I also have a copy of a Russian version of the Romani issued in Moscow in 2005. Here the cards are much smaller, and the images, rather then being borderless, are set within a flowery border, which is the same on all the cards. The titles on the minors are in Russian. This comes with a smaller format book translating Buckland's text into Russian. The cards are well printed, though in higher contrast than the original, by Rei Mundi in Belgium and surprisingly come in a rather oversized box.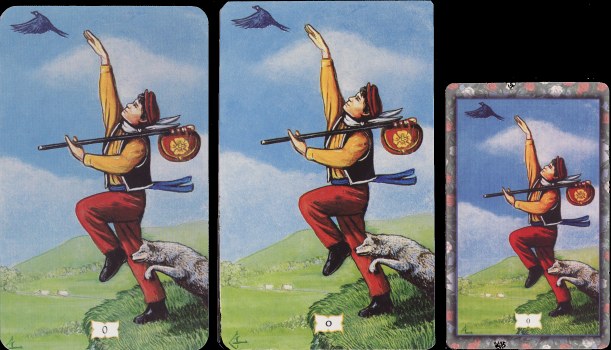 It is rather nice to have a complete set of these publications.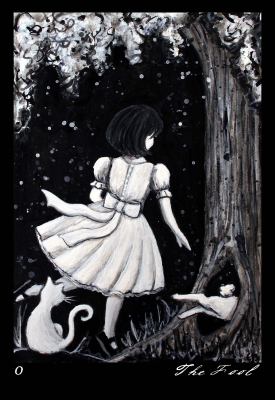 24th Sep 2007 Almost ten days of work, but I have finally been able to produce the latest tarot (number 15) in my Art Tarot Series. This is the wonderfully atmospheric and stylish Phantomwise Tarot by Erin J. McCauley. This morning I set up the website pages about this deck, and later today will post out a notice about this new tarot on my mailing list and hopefully begin to sell a few copies. As always, when one thing is completed, I find myself immediately turning to the next project. That will be a tarot entirely different in subject matter and art genre, but equally delightful and unique.

20th Sep 2007 The amount of time I have to put into printing, laminating and cutting out the cards for the Art Tarot series, has made me think of alternatives. Of course, it would be wonderful to have these done by a commercial printer, but this is economically unviable and just will not work finacially. I am going to experiment over the coming weeks with a new technique for printing cards and send some samples out to my customers for their appraisal. If it is acceptable to my customers, I will use this to produce some decks in future.

17th Sep 2007 This morning The Deirdre of the Sorrows Tarot Deck arrived. This was created by Deirdre O'Donaghue with the illustrator being Wayne McGuire. The artwork is in pencil, with areas being coloured with pencil also. This creates a soft subtle texture to the imagery, which is further emphasied by the card stock being a linen textured card. The deck has emblematic pips and to a great extent follows the Rider-Waite style. It could be seen as a Rider-Waite clone with a Celtic-Irish orientation. It has some nice subtle humourous touches.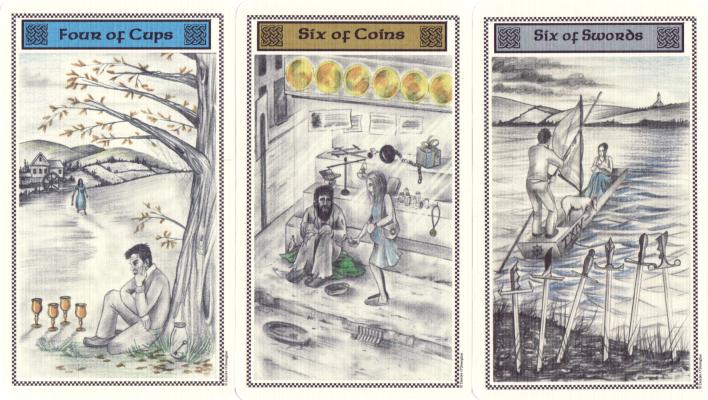 17th Sep 2007 Over the weekend I was able to print out the next tarot in my series. I now hope to begin the lamination today, which should take a few days. Hopefully I should have this ready by next week. It is a beautiful painted tarot. I do especially like tarots based on paintings.
The new Tarot Collectors Forum www.tarotcollectors.com seems to be running well. It was intended to enable informed discussion by collectors about tarot and seems to have achieved this immediately. Through the postings I have learnt a great deal about some tarot decks and been informed of the sources for three tarots which I did not have and was immediately able to add them to my collection.

13th Sep 2007 Sometimes one takes a chance and buys an item on an Ebay auction not particularly well described or with poor quality pictures. After trying to make out whether the cards that came with a book were original or merely prints of a well known deck, I took a chance and have now found that I have a rather nice item in my hands. This is a French book by Marguerite de Surany, and Elisabeth de Ribes - Van der Kemp entitled Le 22 lames de Tarot, published in Paris in 1986. In the back of this book is an envelope containing the 22 major arcana, a version of the Wirth deck by Robert Bletz. It is a rather jolly reworking of the Wirth images, with subtle humourous elements. I particularly like the expressions Bletz has given to the faces of the characters, some scowl, some have quizzical smiles, others pout, and so on. This radical humourous modernising of the Wirth deck was taken even further by Sergio in his 1989 deck Tarocchi Ermetici. Le 22 lames de Tarot is a rather nice find, obscure and forgotten, with no mention in Kaplan.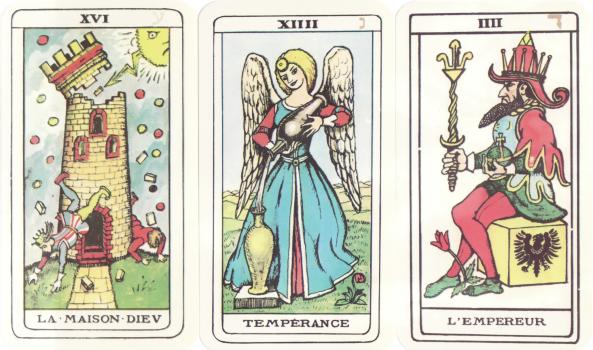 12th Sep 2007 I have decided that I must split this weblog into a current section and an archived section as it was getting far too large. It has been running for ten months and is now over 144K in size. So I have now split off the entries from 21st November 2006 to 30th April 2007 into an archive section. This should make it slightly easier to find things.

10th Sep 2007 I spent all of yesterday and much of the day before cutting the laminated sheets of the next tarot of my series into card form. Today I began making up the decks into their boxes, so I can now announce the publication of Number 14 in the Art Tarot series, The Son Tarot by Chris Butler. This is now available to buy from my Art Tarot page, just click to see the details.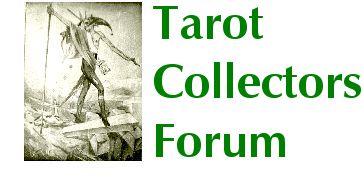 8th Sep 2007 I have decided to set up a specialist discussion group for tarot collectors. This will enable collectors of tarot to exchange information about tarot decks and images. You can find the forum at www.tarotcollectors.com. Membership will be free and as it will be a small group drawn from the specialised circle of people actively collecting tarot I expect there will be little need for moderating the postings, except in the rare case of a vandal or disruptive person joining merely to make mischief. It will take a few weeks to build up momentum, but I will include a note about it in the next mailout of my mailing list which will be sent out next week when I am to announce the publication of the latest deck in my Art Tarot series. I have tested out the forum software and it seems to be running without problems, so if you want to be one of the first to join and post a message, please do. The software allows in-message images, and has all the usual features of a modern bulletin board - avatars, email notification, private messages and so on. I hope this will provide a place where those particularly interested in collecting tarot, can get some help with their collection, and those kindly souls who want to share their enthusiasm about tarot decks and images can find an audience of like minded individuals.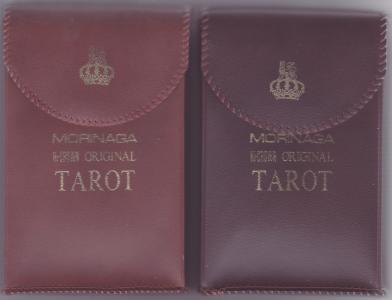 7th Sep 2007 Tarot decks constantly surprise. Even their packaging can be interesting. I recently bought copies of the two Morinaga Hi-Crown tarot decks. These arrived in wonderful little faux leather pouches. These appear to be promotional decks produced by the Japanese Morinaga Hi-Crown Chocolate company, though I am unsure of the dating of these. Morinaga produces expensive quality chocolates, well distributed in the USA, in packaging somewhat like conventional cigarette cartons. I am not sure whether they do milk and plain varieties, but these two decks are issued in a dark and a lighter leather cover, which could be a reference to plain (bitter) and milk (sweet) chocolate. The deck in the dark pouch was created by Riyoko Ikeda, and is very stylish, each image being framed in a carved gilded picture frame. Riyoka Ikeda is a Mangaka, a artist working within the comic book format. She specialises in historical romance comics, rather than the more familiar science fiction manga. Her deck makes many references to Western artworks. The Justice card, for example, is rather fin-de-siècle in style. The second deck is driven more by humour than style. It is by Susumu Matsushita, a comic book artist who now runs a very successful publishing business. His humour is right in your face. I especially like The Fool, who is shown picking his nose and throwing his money away. Some of these images were created as early as 1978 as book illustrations and I found examples in Kaplan's Vol III, however, some of the Morinaga images differs from this earlier version by Matsushita.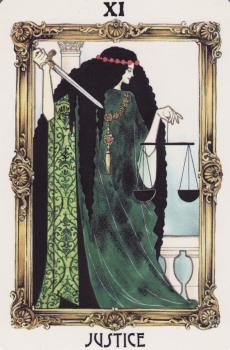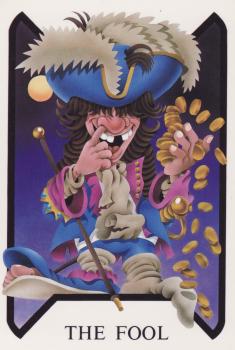 5th Sep 2007 I managed to find time to cut out and make up the final batch of the Alchemical Wedding Tarot. As I had a few advanced orders and reservations, there are now less than forty copies left to sell. The Alchemical Emblems Tarot, the first I produced, currently has only 20 copies left to sell. I will probably increase the price when it gets down to the last ten copies. Hopefully, over the next few days, I will be able to produce the next tarot in my growing series.

31st Aug 2007 The last few days have been spent printing out and laminating the final batch of the Alchemical Wedding Tarot which has been temporaily unavailable for some months. These will need to be cut into cards, however, as I have temporarily damaged my back I don't feel I can use my guillotine for the next week, so instead I have begun printing out and laminating the next two tarots in my series. Hopefully, if my back problem clears up I will then be able to undertake the final stage of the process - cutting the sheets into actual cards - a rather time consuming task.

31st Aug 2007 A few days ago I puzzled over the strange greenish blue tone of the line drawings for the Atus of Thoth. One of my fellow tarot enthusiasts pointed out to me that this could be because blue could not be copied on the sort of duplication machines commonly used in the 1980's.

30th Aug 2007 Luca Vietti, a well known Italian dealer, from whom I have bought many Italian tarots, has now informed me about a wonderful web site WWW.TAROT-AS-TAROCCHI.COM This has a very comprehensive listing of Italian decks with full publication details and images of cards. This is a site one will visit often and use as a source of information on Italian decks. I hardly dare go through the list to see how many I am missing from my collection.

27th Aug 2007 There are a few tarot colouring books, the best known example perhaps is that of Caren Caraway The Tarot Design Coloring Book of 1980. Another similar book, the Stained Glass Astrology and Tarot Card Designs is a rather poor production. Of course, the B.O.T.A issued their black and white tarot deck intending it to be coloured by members of the order. Today I received the Atus of Thoth: A Gnostic Colouring Book by G.C. Gage-Cole, a large format paperbound book published in Canada in 1987. This has tracings by Gage-Cole of the outlines of the Thoth tarot by Lady Freida Harris. These are full page (thus about twice the size of the popular published cards) and are in a strange greenish blue, somewhat turquoise, tone but are rather finely done. A Thelemic Tarot, Baphomet Publishing, had earlier in 1977 been done by Augustus Donelly, though this was Majors only and were Donelly's interpretations and reworkings rather than slavish copies. The Gage-Cole tracings are a good size for colouring and the lines are not too thick. If I had the time I might even be tempted to colour a few of the images. If one worked at the full size and then scanned and reduced the image, one would, I expect, get some really good results.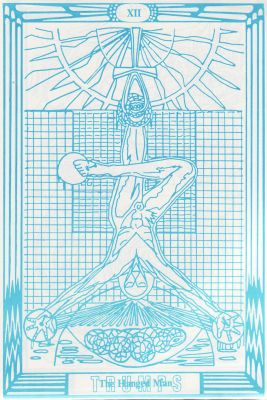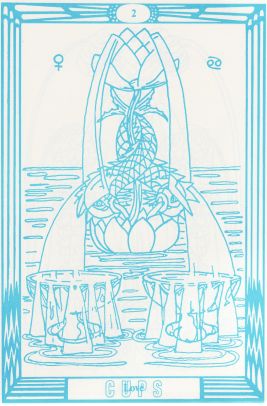 24th Aug 2007 I am always on the look out for tarot artwork produced by established artists. Last weekend, by total accident I found a little catalogue of an exhibition held in 1993, when searching for another item in the inventory of a Paris secondhand bookdealer. The catalogue was entitled 22 Lames du Tarot - not much to go on - but the dealer was kind enough to send me some scans of a couple of pages and I immediately bought the catalogue, which arrived today. This includes photographs of a series of bronze sculptures based on the tarot. These were made by Claude Cehes, a woman artist, born in Algeria in 1949 and now based in France. She has become a well respected sculptress and her works have been bought by major state institutions and numerous French and foreign private collectors. Many of her sculptures are quite small, indeed miniatures, but the items in her tarot series are up to a metre (3ft) tall. These are not figurative sculptures but instead she has isolated and abstracted a feature of the tarot arcana and modelled that in clay which was then cast into bronze. She then patinates the bronzes using only two (sometimes three) colours - a dark conventional bronze patina, an earthy red (like red lead) and a more silvery colour. These colours allow the forms to emerge from the surfaces. Thus for her Magician Le Bateleur she focuses on the form of the pointed magical wand and the cube of the magician's table. La Justice is a tall pillar with a horizontal rod in a state of tense equilibrium. L'Hermite is on a broad four-square base with a central cubical form with a square hole. This suggest a lantern and a series of spike like forms could be read as the light spilling out. I am not sure whether she completed an entire series of tarot sculptures. The catalogue shows eight Major Arcana (Fool, Magician, Emperor, Justice, Hermit, Tower, Judgement, The World) and four Minors (one to four of swords).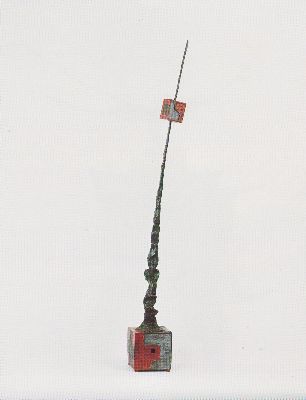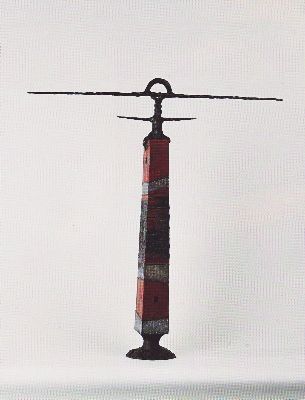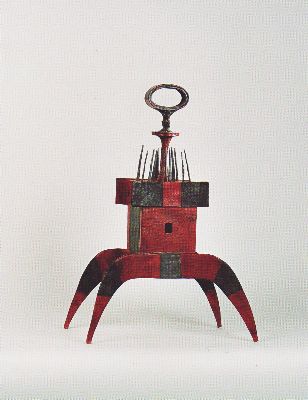 23rd Aug 2007 There seem to be few collectors of Russian tarots. Perhaps some people have the idea that the Russian publishers specialise in rip-off versions of US and European decks, but in this opionion they are far off the mark. There are indeed many exciting and original Russian tarots. Recently I acquired a copy of the Tarot of Magical Symbols issued in 2006 by the publishing house of Veligor in Moscow. The artwork is by E.B. Butina and the deck was conceived by A.V. Sanarov (please excuse my transcription from the Russian should I have made some error). The artwork is coloured pen drawings. The line drawing is very fine, and these have been painted in intense saturated colours. These appear to be some water based pigments, but are very bright and intense. On the Majors, the image does not fill the whole space on the card, but there is a small border above, bearing the Hebrew letters and astrological signs, while below is a larger panel with a Kabbalistic tree of life and the card title. There also appears to be a clear use of magical colour associations in these panels. The imagery of the Majors seems to be drawn from the G.O. Mebes designs, but in no way slavishly follow these. Although the pip cards are not emblematic, the artist has introduced some little unique variations on some of the cards. Each of the Minors is connected with the decanates of the Zodiac and one of those strange 'angelic' names from Hebrew inspired European Renaissance magic. This deck comes with a book, in Russian of course, where the whole complex system is explained.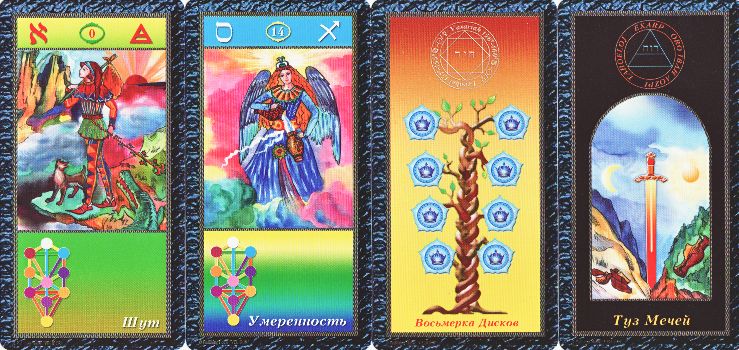 17th Aug 2007 I have now received the Theban Tarot created by Beth Seilonen in the USA. This is one of the ACEO cards (the standard format Art Cards Editions and Originals). Often people seem to start a tarot in this format but never follow through and complete the project. Luckily Beth Seilonen had the creative impulse and will to complete it. Theban, to Beth Seilonen, is the script used by witches. It was popularised as such in Gardnerian witchcraft but comes from Renaissance magic, being found in Agrippa's De Occulta Philosophia. Beth Seilonen's designs draw on this witchcraft theme. The Fool wanders under a horned moon, the Wheel of Fortune is a carousel of animals, while the World has our witch holding the Earth globe. The artwork in watercolour, without the usual pencilled underdrawing showing, is wonderfully evocative.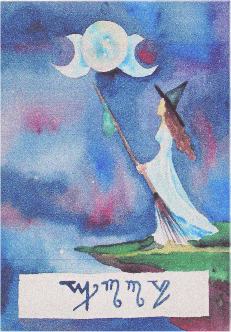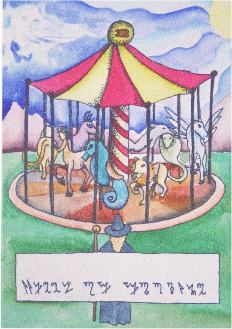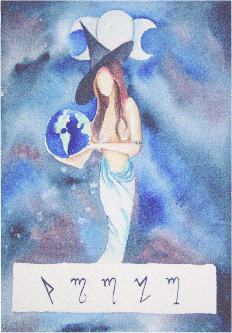 15th Aug 2007 Today, by serendipity, when searching for something on the internet, I discovered an amazing series of tarot paintings by an obscure Italian surrealist artist, Vito Campanella, now living in Argentina. Campanella was born in 1932 in Italy, and was educated at the Academy of Fine Arts in Milan. He studied with Giorgio de Chirico for two years and for eight months with Salvador Dali. His tarot paintings were made around 1981 but I am not sure if he completed the full set of 22 majors. The paintings seem to have been intended to be used as designs for an actual deck as they have the title, number, astrological symbol and Hebrew letter in a panel at the bottom. I have been able to find images of only two of the cards, the Star and the World, but will try and research further into this amazing artist.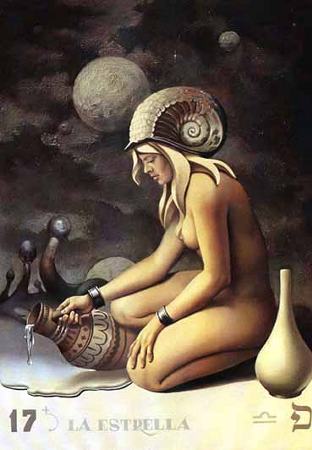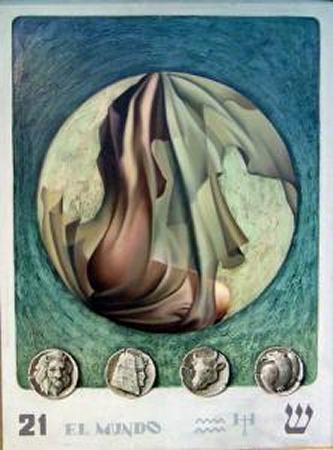 14th Aug 2007 By happenchance another Spanish tarot has arrived, the Tarot Adonay. This is the creation of Rossana Lara, styled 'Profesora Rossana', who is a writer on metaphysical and parascientific subjects. It was produced in 2005 in Barcelona. The artwork, which appears to be oil or acrylic paintings on canvas or canvas textured boards, is by Amparo Capell. This is a Majors only deck and each card bears a Hebrew letter, a planetary or zodiacal symbol, and a tree of life glyph with the path associated with the card being emphasised in red. The imagery is quite straightforward and the artwork style though simple is effective. The artist has opted to outline the forms with a thin black line, something less than common with oil paintings. Some of the images are especially memorable. I did respond to the tower, where the hair of the falling woman figure, seems almost to metamorphose into the waves of the sea below. La Muerte wears a white robe, which perhaps is unusual, and who could find fault with the jolly innocent Fool. This is not a mass market deck, and was probably produced as a publicity item for the Profesora, so buy a copy if you can, as it might not be easy to find in a few years time.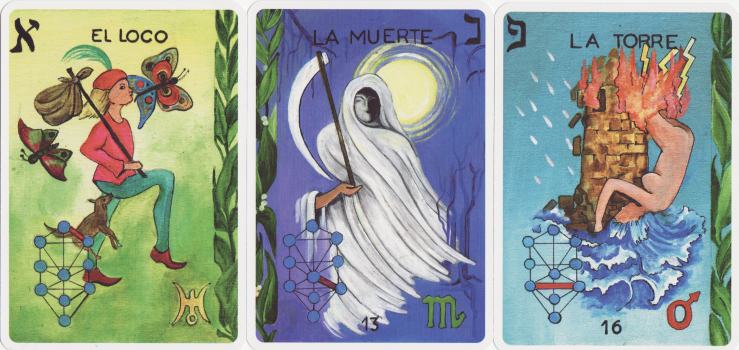 11th Aug 2007 Many of the regular readers on this little weblog, come to expect me to point out some weird and obscure tarot that has somehow found its way into my hands. Today I want to share a rather unexceptional, even ordinary, Spanish tarot, El Tarot Intuitivo by David Miles. I suspect he is the writer of the book and the designs for the cards were made by the illustrator Guillermo Dominguez Elizarraras. This was published by Editorial Siro in Spain in 2006 but it had escaped my notice. The artwork is professional and well finished, but does not give me any new insights into tarot imagery, however it is still a worthy work. 78 card deck, non-emblematic pips, simple courts and conventional majors. It will probably not be distributed outside the Spanish speaking regions so it is well worth buying as an example of a nicely produced, workaday deck.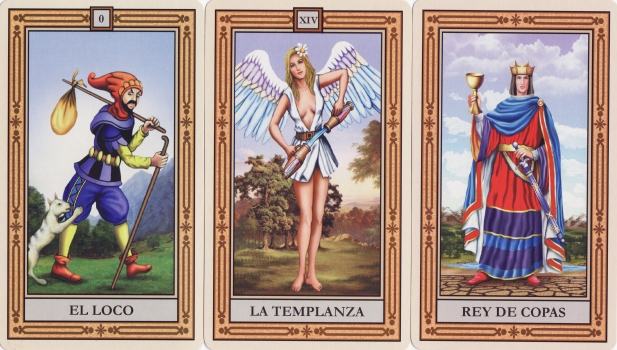 10th Aug 2007 Yesterday and today I have spent some time negotiating with an artist about a really fine deck that they were not able to get published through the usual mass market publishers. This morning I made up some sample cards and sent them off to the artist. Hopefully, we will be able to make an agreement on publishing. It saddens me that so many fine tarot decks have been designed by accomplished artists and yet do not find a publisher. I am happy to publish their work, but my resources are limited and I have to be realistic about prices. Sadly it appears there are no wealthy people willing to sponsor the publication of such wonderful artwork, so it is left to people like myself to make the best of things. I have four decks in active preparation at the moment, which means I will have published 17 tarot decks in about 18th months.
On the negative side, I had a series of emails from a 'gentleman' wanting to buy cheap "seconds" of my tarot decks. I told him I did not issue low quality copies. He then went on to say that he believed that sometimes the "seconds" become collectors items. I must say I got rather annoyed at his attitude - wanting to buy cheap copies in the hope that he would make money from these. It such very hard work producing these tarots, both on the part of the artist and on myself as printer/publisher - so it is rather galling that someone should seek to exploit things in this way. When I pointed out that I valued my work and the work of the artists whose cards I publish, this 'gentleman' got rather abusive saying that I was arrogant and that arrogance was incorporated into my work. I just didn't need that sort of start to my day. People can be so mean.

7th Aug 2007 I spent most of today setting up the artwork for the next two art tarots I am to publish in my series. I printed a copy of these out, and made up some sample cards, which I will send to the artist for their final approval. Hopefully, if nothing gets in the way, I should be able to publish these in September.
Much of the last few months I have spent working on my alchemy exhibition at the Edinburgh Festival. If you want a bit of amusement have a look at this page www.alchemywebsite.com/exhibition2007.html

6th Aug 2007 There have been a quite a few 'dark' magical tarots issued recently - the Sinister, the Abysmal and the Bestian immediately come to mind. Now we have the Luciferian Tarot from the USA. The creator of this deck, Michael W. Ford, seems to hope to sell this widely, as he has chosen to issue a full 78 card deck at a modest price. The artwork was conceived by Ford but painted by Nico Claux, whose previous output seems to be oriented around portraits of serial killers. The Majors are full paintings, as are the Courts, but the Pips are a collage of paintings and sections of woodcuts, magical sigils and related material. Ford presents the deck as exploring the impact of the Adversary (one name of whom will be 'Lucifer') throughout history, and thus the artwork on the majors draws on some medieval paintings and early woodcuts. Thus we have some references to the many woodcuts series of the Apocalypse, images probably from the Visions of Tundal and so on. The artwork is not particularly polished, with the modelling a bit clumsy in places, but one can see this as part of the deck's style. The cards are quite large (5.5 x 3.5 inches - 140 x90 mm) and on a thin stock. At first glance, something seems to have gone wrong with the numbering of the cards 8, 12 and 13, but this may not be a misprint and could well be explained in the book you can buy in conjunction with the deck. It is not one of those excoriating and grim series of images, such as we find in the Savage Tarot, but the imagery is quite approachable and does not repel or offend. No doubt, committed Christians will disagree with me here ! Serpents, dragons, skulls and hellish flames are depicted throughout the deck which, of course, has black borders.




3rd Aug 2007 Few tarot decks seem to have emerged out of Israel. Up till now the only one I have known is the Sakki-Sakki Tarot, but recently a new deck has appeared now called the Tell me tarot though originally published under another name, created by Arik Eyal with the artwork by Nir Kasuto. This, surprisingly, comes packaged in a large diameter cardboard cylinder. The deck is not quite a Rider-Waite clone, but rather it mimics the style, and creates some new envisagings of the cards. The name refers to the fact that each card has a sentence or two interpreting the image. Thus The Fool has the keyword 'Trust' and the text "Trust your inner voice and let yourself go towards the unknown, free of worry and fear".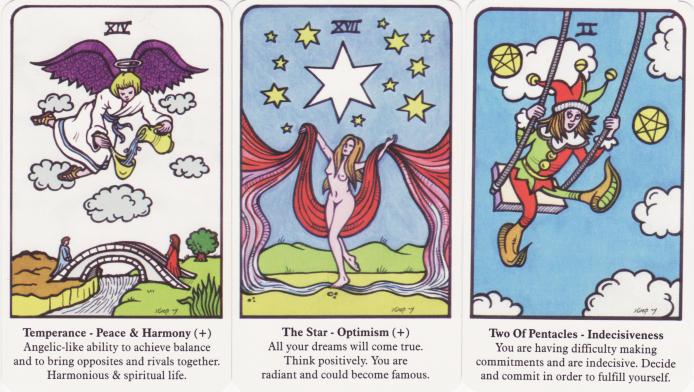 Temperance has the rather fine addition of the bridge over which the male and female figure are seen crossing. The Star nicely merges the red flowing robe with the river on which the figure stands. I show the Two of Pentacles beause it is such a fun image.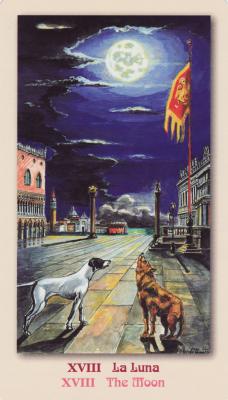 31st July 2007 Venice is popular with tarot artists, because of its cultural elements, such as the Carneval and Masquerades. I have a few Venice related tarots - Folchi's Tarocco del Carnevale di Venezia, Collete Silvestre's l'Oracle de Venise, Ricca's Venetian Historical Tarot, Gianni Predieri's I Tarocchi Veneziani (designs in book) and the Tarots of Casanova. Now I have just received Dal Negro's recent publication the Tarocchi di Venezia by Davide Tonato.
These are quite big cards 160 by 85mm (5.8 by 3.3 inches), so would probably not be very acceptable for readers who seem to prefer standard size decks. They are on a thin stock. As to the artwork, they have well drawn detailed backgrounds often in a muted pallette of the canals and buildings of Venice, with a strongly coloured foreground figure. The emblematic minor cards make reference to the familiar Rider-Waite, though do not slavishly follow that convention.
The well known Venetian masks do appear in some of the imagery, but do not dominate. Instead the City of Venice with its architecture and the culture of canal life is celebrated as the main theme.
The Moon card is wonderfully evocative.


30th July 2007 David Higgins' A Sacred Isle Tarot arrived today. This tarot is a delight, consisting of wonderfully detailed artwork, printed in nicely saturated and vibrant colours, which is offset by the plain black border. The cards are of the standard size (120x65mm) and printed on a thin stock. The imagery is for the most part quite conventional, with a slight departure from the familiar imagery in the Death, The Moon and the Sun cards. The sheer quality of the artwork shines out in this Majors only deck. I understand a full deck is in preparation. My certificate of authenticity has assigned me no 20 of an edition of 1000. David Higgins is certainly an optimist ! I would not expect a self-publisher ever to shift 1000 copies. I hope he has not printed all 1000, as he might be storing a large part of those for some time ahead.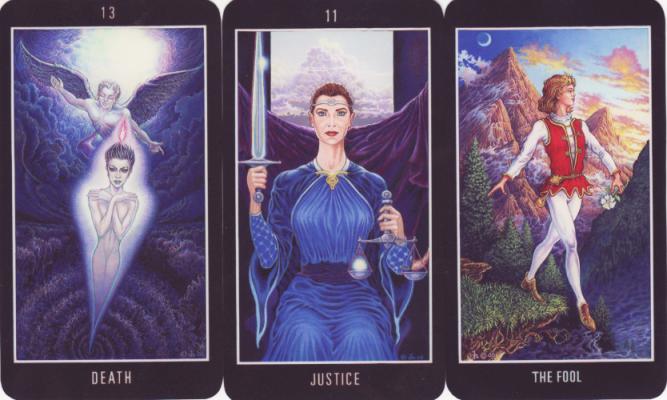 27th July 2007 A few days ago I received a rather remarkable tarot issued with the Sony Playstation computer game Baroque from Japan. This is called the Malkuth Tarot and is a majors only deck. The imagery is complex and inventive. There is a background picture on each card over which the main foreground image is layered. It is difficult to make out these background images but it is a rather good effect. Some cards are quite conventional, the Fool and the World, for example, but others provide powerful and often disturbing images. These may be connected directly to the scenarios in the Playstation game. The Wheel of Fortune is perhaps the most surprising image, showing a strange figure whose neck vertebrae extend out to form a circle. He reaches out to grab his head with his hands. This is, surely, a unique envisaging of the Wheel of Fortune. The Moon is also totally weird, with a central female figure wearing a tall hat, her hair seeming to merge with her coat, and her elongated arms reaching down to the two winged dogs at her feet. Temperance is a strange, seeming sour and distant, older woman, wrapped up in a cloak. She seems to have abandoned the vessels she usually pours into one another, and around her dispassionate form seem to fly parts of the spinal column, in the form of three connected vertebrae. Possible this all makes sense within the context of the computer game, but these images are puzzling and entirely unique. This deck is well worth acquiring for its engaging and enigmatic artwork. My mind enjoys mysterious images!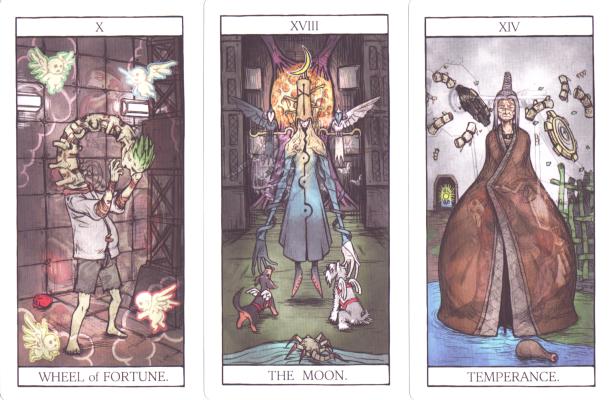 26th July 2007 On the 1st May 2007 I described the Namoo Tarot, also called the Midnight Tarot, as I was surprised that this tarot, published in Korea, apparently had some connection with the Pacific island of Tonga. Today I received the Nunc Dimittis Tarot also published in Korea, though the box states "2003 All rights reserved by Attica http://attica.lil.to", again the connection with Tonga. 'Nunc Dimittis' is the opening words of a Liturgical Canticle or song extracted from the second chapter of the Gospel of Luke which can be translated "Now, Lord, you let your servant go in peace". I am not sure of the context of this deck, whether it is associated with a band or some computer game, but its art is more gothic than Christian, so the 'Nunc Dimittis' reference must be ironic. The backs of the cards are solid black with the sentence in red "In solitude, whatever one has brought into it grows - also the inner beast", which is quoted from Friedrich Nietzsche Also Sprach Zarathustra, 1892, and certainly is a more gothic sentiment. The card designs appear to be in water based acrylic on textured board, with soft washes contrasted with saturated areas of colour. The Fool with one eye blinded and bleeding breaks through a glass wall. Death is also rather orginal with the body of a young woman floating face up drowned in water on which float flowers and petals. One only becomes certain of her immersion in water when one pays attention to the bright red fish swimming above her body and casting its shadow. The image of the Devil as puppetter has been used before, but here it is rather nicely realised as an image. This is a wonderful art tarot of Majors only. I cannot understand why more people are not drawn to collect this amazing artwork.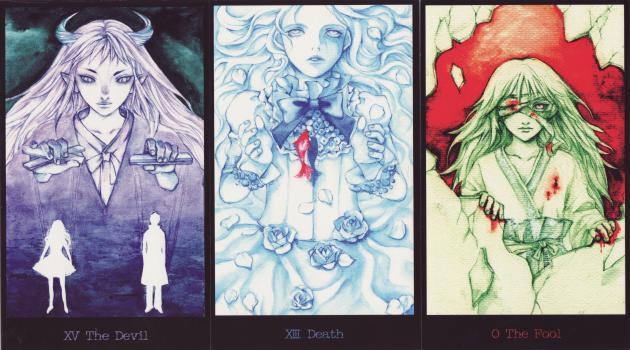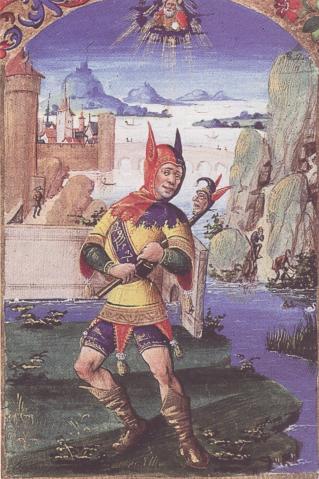 24th July 2007 I have been rather busy recently setting up my art exhibition on alchemy in Edinburgh, but today I found this interesting illustration from a Parisian Breviary from 1470, which is in the Bibliotheque l'Arsenal in Paris (MS. 101). It is a quite wonderful image of a fool. In its conception, of course, it had no connection to the tarot, but it is the kind of image that artists today often draw on for inspiration in creating a tarot deck.

20th July 2007 I sparked off quite a long discussion on the Aeclectic Tarot forum when I posted my criticism of the African American Tarot recently issued by Lo Scarabeo. The responses made me realise just how 'engineered' the tarots produced by mass-market publishers can be, and the ways in which the deck design is essentially contrived, thought-out, scripted and handed to an artist to turn out images in the requisite style. Thus the centre of the creative work on a tarot deck here moves to the commissioning editorial group and far removed from the artist. My own tarot publishing venture works differently. I look at an artist's work, and if I like it I will offer to publish it in deck form. I do not attempt to rework the imagery and will only make suggestions about borders, card backs, titles and so on, but leave the final decisions to the artist. For me the artist is central to the production of a tarot deck and I don't see why I should dictate the agenda. If I like the artwork then I will take the financial risk of publishing it. Some of the tarots I have produced have not sold well, and the project is only now becoming marginally profitable, but it is great fun to be involved in the birth and publication of a new deck. The mass-market publishers often seem to be focussing on creating issue decks aimed at niches in the market, specialist interest groups, etc. They do not seem primarily interested in the artwork in itself. So it is left to people like myself and the many self-publishing tarot artists to keep the wonderful artwork of modern tarot alive.

19th July 2007 The Javanne Tarot from Denmark is a most unusual square tarot which I only recently discovered. (Another square tarot that comes to mind is the Mandala Astrological Tarot of Tadd Mann.) The deck is published by Karen Javanna who worked with the artist Annelie Zofia over many years to create this deck. The imagery is non-standard, and each card of the Major arcana has symbols at each corner as well as the central image which is usually recognisably derived from the conventional tarot arcana image. The book by Karen Javanna that accompanies the cards outlines the complex system that she has devised to read the cards. Each card has four positions, which gives a different reading to the card symbols. This must be one of the more creative and unusual reworking of tarot in recent times.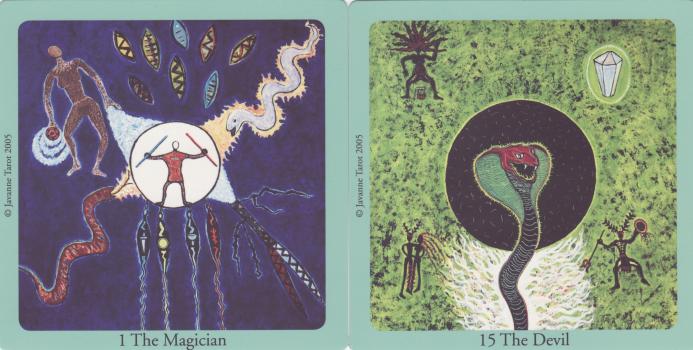 19th July 2007 On 22th May 2007, I had a little rant about the Lo Scarabeo Tarot of the Elves. Usually I buy the Lo Scarabeo decks from Alida as soon as they come out, but I now find myself hesitating. The decks they are now producing seem to me so contrived as to lack integrity. Today the African American Tarot arrived. It seems total nonsense to me. A strange fantastical sweet confection which supposedly celebrates African American culture. What we are given is a Rider Haggard inspired colonial view of tribal African culture. The 'American' component of the art work is seen only on the pip cards as ghostly tableau in the background, picturing the achievements of mostly 19th and early 20th century Americans, to a great extent unknown to me. I wonder how many younger African Americans would know more than a handful of these figures. I am not African American, but UK Scottish, and I found this deck patronising and presenting an entirely unrecognisable view of Afro-American culture. Please, Lo Scarabeo, please do not do a Scottish tarot, as I might collapse under the weight of bagpipes, kilts, tartan, shortbread, spirtles, sgian dubhs, and sporrans. Someone, please tell them to get back to some real honest artwork.

18th July 2007 I just bought the Naruto Doujin Tarot Cards, produced in Canada by the 'Studio in Labour', a doujin (group of enthusiasts) for the popular anime and manga series Naruto created by Masashi Kishimoto. The designs, which I understand were created by four different artist, are very detailed and highly polished. It is a majors only deck. Though being created by four different artists, their artwork entirely coheres, unlike many other collaborative decks where little attempt is made to integrate the artwork styles. You can buy them direct from their website Studio in Labour. The cardboard box in which they are supplied is in brown card with cut out shapes probably created using a laser - a rather fine effect.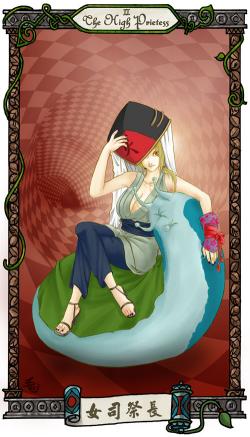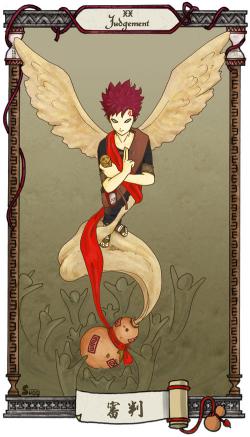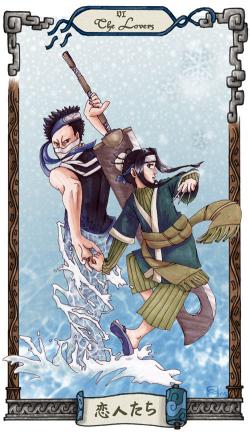 17th July 2007 I have long admired the Daum Tarot, scans of which I found on a Korean web site. Recently, by good fortune one of the tarot dealers who has helped me build up my Far Eastern tarot collection, Chialing, made contact with the owner of that site so that I could explore the possibility of publishing an edition of that deck. Unfortunately, today I received news that this had led to a dead end, as neither the original artist/designer nor the production company holding the rights could be contacted.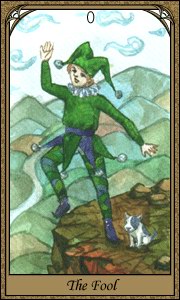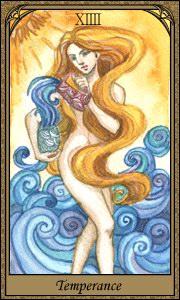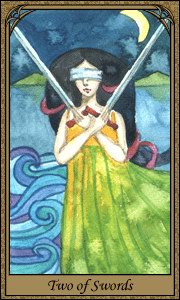 Sadly this happens with many tarots. Even just after a mere handful of years, contact with the artist or original publisher of some interesting deck is lost so there is no chance of being able to publish an edition. There are many interesting tarots existing as artwork designs - just take a short glance through Kaplan Vol III or IV - and yet it is impossible any more to locate the artist or publisher.

16th July 2007 Today the Carot Cards arrived from Japan, thanks to the kindness of a Japanese member of the Aeclectic Tarot Forum. No this is not a carrot tarot! though amazingly there is an unpublished tarot deck, the Uncarrot Tarot, which actually has nothing to do with carrots either ! The Carot Cards are a recreation of the familiar Tarot de Marseilles majors with cats instead of human figures. The artwork is by Yoko Imamura and was published by the Katsumi Art Studio in 2006. I have lost count of the number of cat based tarots that I have in my collection, though it must be at least 20, and I am sure that this is a theme that has not yet exhausted tarot artists. These cards are printed in a muted and restricted colour pallette that is shifted towards greens and blues, a rather unusual but stylish approach, that discriminates them from the usually brightly coloured Marseilles cards.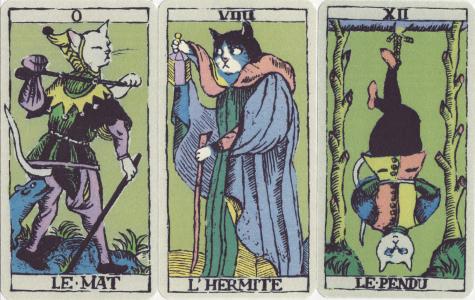 11th July 2007 I am afraid I am a bit of an outsider to the tarot mainstream as I am only interested in tarot as a modern art form. I have absolutely zero interest in reading, and very little in the meaning of the cards, except where this has informed the artistic work. For me, modern tarot artwork reflects and documents aspects of our culture, and this is what enthuses and engages me. I have written a study course on the artwork of modern tarot and am also hoping, in the longer term, to create an exhibition that would reveal tarot as art. I have collected over 1500 tarots, and have hundreds more in the form of scans, and I try to keep up with all the new developments. I suppose one can see me primarily as an art historian, though my colleagues view my interest in tarot as strange and almost perverse. People who view my work always ask me the 'T' question - "Do you Tell fortunes, then!", so I have an uphill struggle trying to get them to view tarot as artwork. Usually half an hour or so sitting at a table and showing them various decks and designs and placing these in some context and I begin to convince them that my strange hobby has some value - at least that is what they say to me! Though when my back is turned they may be a bit less sympathetic. Sadly, modern tarot art is ignored by art historians, galleries and musaeums, but it will eventually become recognised as a part of our cultural heritage - at least that is how I justify to myself spending large sums on particularly rare or important tarots.

10th July 2007 The surrealist artist Victor Brauner, who was born in Romania in 1903 and died in Paris in 1966, was very influenced by the emblematic imagery of alchemy and tarot. Today I found this interesting photograph of Brauner taken in his studio in Paris in 1948, showing him looking at tarot cards, while behind him is seen two of his paintings directly reflecting tarot imagery - on the left L'Surrealiste and in the centre Les Amoureaux, both painted in 1947.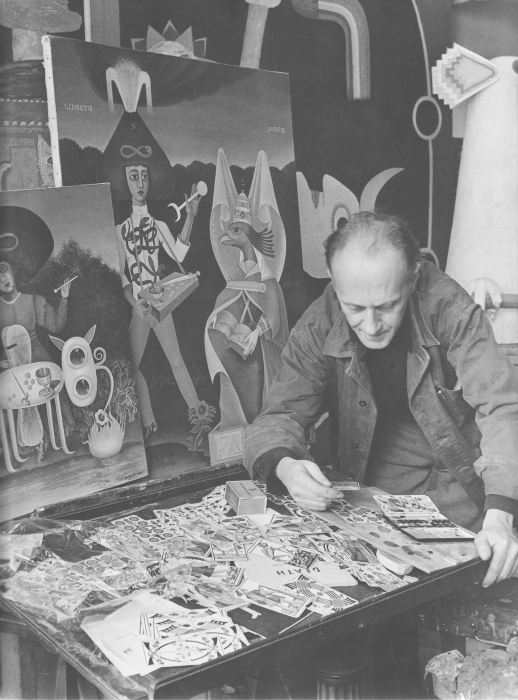 7th July 2007 I few years ago I bought the delightful Stella's Simple Tarot. This was a majors only deck issued in Japan in 2002 and in a Taiwan edition in 2003. The deck is named after Stella Kaoruko, a popular psychic in Japan, though she did not create the artwork. The cards are based on paintings by the Japanese artist and illustrator Takako Hoei, who is a close friend of Stella Kaoruko. Her artwork is unique and immediately recognisable, characterised particularly by her stylised human forms, with small heads perched on elongated necks, small hands set on large, out of proportion, upper arms, the use of lace ruffs, and with the figures set against textured backgrounds. Some of the forms show craqueleur, fine crazed cracks. She seems to have established this style early in her career. I have now been able to buy the full 78 card deck which has now been issued (printed by AG Müller). The cards are printed a little bit larger and the contrast is a bit flatter than the Taiwan edition (which shows more detail). The Minors are fully emblematic and based on the familiar designs of the Rider-Waite, though translated into Takako Hoei's unique forms. This is a deck well worth buying. Who could not be entranced by its artwork?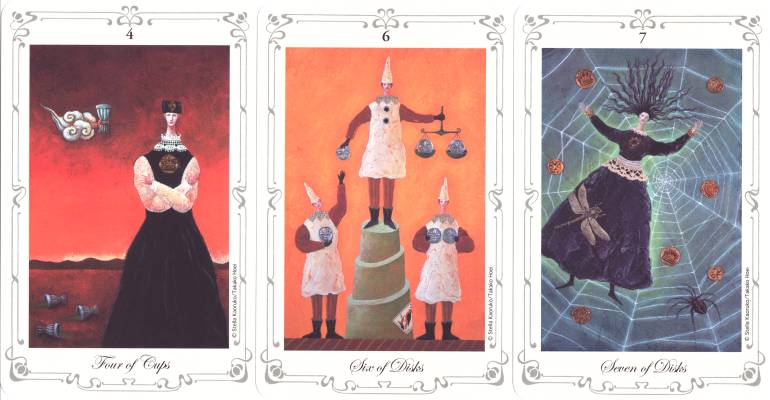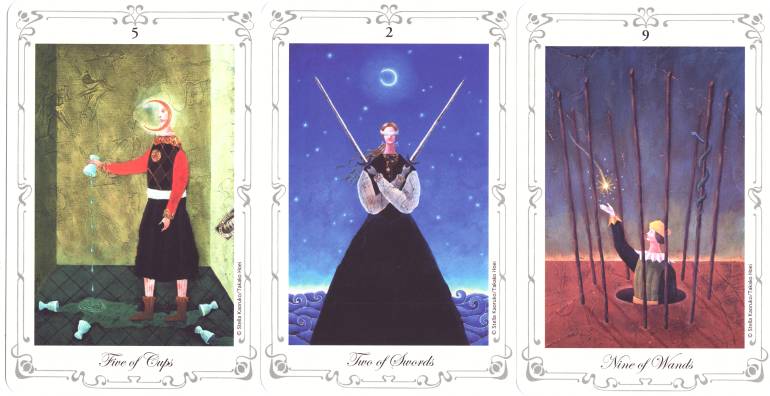 4th July 2007 On my weblog entry for 28th June 2007 I told of a series of drawings of the tarot majors by the Italian artist Nicolo d'Alessandro which were printed in a book Disegnare non stanca. Tarocchi e altre figure Sellerio, 2002. Today I received a copy of this book. The images are incredibly detailed drawings reproduced large size in this 9.5 by 8.5 inch art book. It is well worth buying a copy while it is still available.

3rd July 2007 There are quite a number of tarot decks based on the Kabbalah. This is partly explained by the happy coincidence of there being 22 tarot trumps and 22 paths on the Kabbalistic Tree of Life. I recently acquired, at considerable expense, the remaining prototype of the unpublished Kabbalist's Tarot created in 1999 by the american artist Susan Arnsten-Russell. Using delicate coloured pencil she has created a tarot strongly based on kabbalistic ideas. Each of the 78 cards bears a frame, on the left side of which is a tree of life glyph with the relevant 'path' coloured in gray. The Wheel of Fortune is rather fine, using the image of the spinning wheel.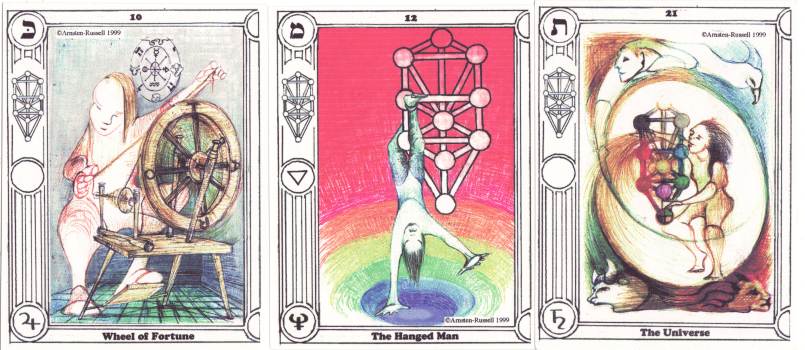 For her minor arcana, she uses the extended Tree of Life as first codified by Warren Kenton (Z'ev ben Shimon Halevi), in the left side of the frame. This codes to the four traditional elements (and thus the tarot suits) with the ten sephiroth (the pip cards) for that respective element and four courts to key sephiroth. It might seem a complex abstract system, but it is at root quite simple. Her designs for the pips are remarkable in that she shows the Tree of life from different perspectives with the image she has created for this card (based on the emblematic imagery used in the Rider-Waite minors) shown on its sephira which is brought to the foreground through the perspective. It is a truly remarkable effect. This is one amazing set of tarot designs.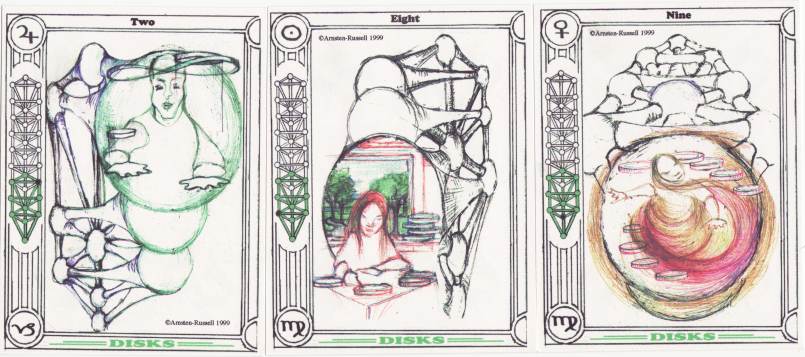 2nd July 2007 I have recently been able to buy a number of Korean tarots. Among these is the Struggling Tarot which was issued with a four volume audio CD compilation of the Korean techno rock musician Shin Hae-Chul. This is an expensive way to buy a tarot deck, but how else is one to acquire an item such as this? Judging by the titles of his songs and albums, Shin Hae-Chul is obviously well read. The cards seem to have been designed by Zun Sang-il who works under the title 'ZSG' but it is undocumented just how much contribution Shin Hae-Chul made to their designs. They incorporate photographs, paintings, parts of prints and computer modified collage. Interestingly, the oblong cards use both landscape and portrait format. The imagery is creative but adheres close to the standard tarot arcana.
The Fool is interesting in that it shows the face of Shin Hae-Chul linked towards four robed figures walking towards the familiar stones of Stonehenge. The Devil provides a powerful image of a face being stretched and distorted into a devilish mask, while the Empress card, in standard portrait format, uses a painting of a female figure with eggshells above and coloured marbles beneath her. Some of these images may originally have been used in other contexts such as CD covers. With the cards, Zun Sang-il provides a short verse, the opening of which I paraphrase:-



These small cards can be anything to you.
Somehow, this hand-mirror reflects not only your face,
but also your unconscious.




28th June 2007 Italians have a long established tradition of art tarocchi. Today I was told of a series of drawings of the tarot majors by the Italian artist Nicolo d'Alessandro which were printed in a book Disegnare non stanca. Tarocchi e altre figure Sellerio, 2002.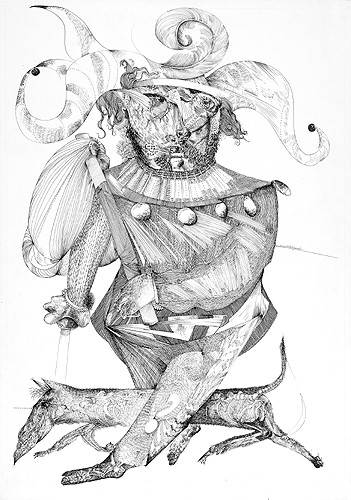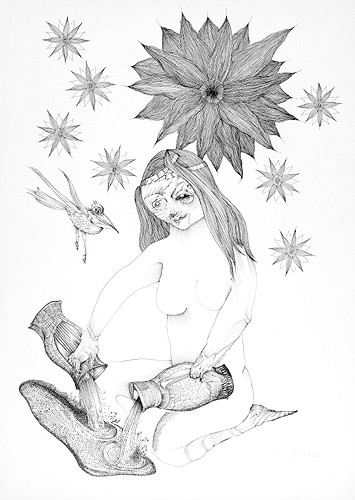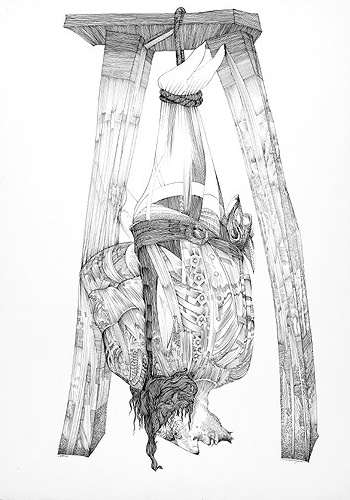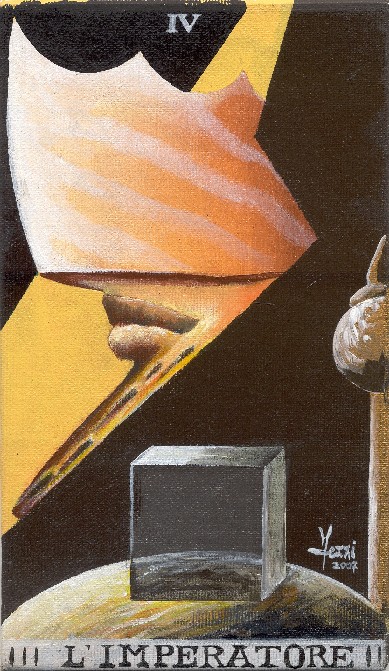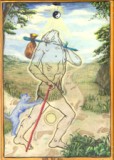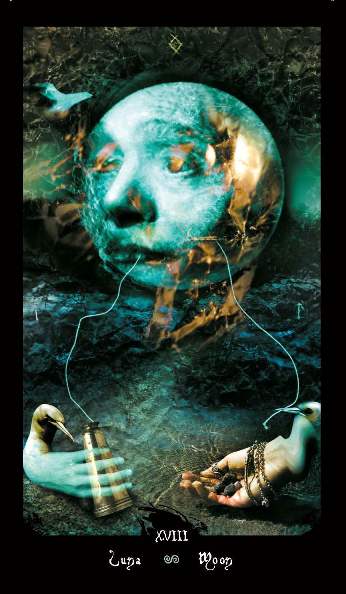 The tarot museum in Riola near Bologna in Italy has in the past few days issued a number of new tarots. One of these is a Tarocchi Alchemici, which is the collective work of 22 individual artists.
Another collaborative work, this time a 46 card deck (majors and court cards), is the InContro Tarocchi.
Also issued at the same time is the Tarocchi di Connessione by the artist Jessica Angiulli. Here we have a majors only deck, where many of the cards are renamed, though the symbolism on the cards is entirely recognisably tarot. Thus The Magician - Creativity, Lovers - Relationship and Judgement - Conscience.

22nd June 2007 I have now received the artwork for the next item in my art tarot series, and also some provisional material for two other tarots. I will be rather busy over the next two months working on the exhibition of my alchemical artwork for the Embassy Gallery during the Edinburgh Festival, but once this is out of the way I should be able to make progress on some further tarots for my series. A number of artists have contacted me recently concerning the possibility of my being able to publish their work and I will do the best I can to make this happen. I have published thirteen decks in just over a year (my first tarots were issued in April 2006) and although the project does not make any money, it seems to be covering the costs, due to the small group of active tarot collectors who are supporting the work by buying copies of each deck. These are necessarily expensive, because of the production costs and the fact that I do give the artist a fair cut of the sales, but these are editions limited to 100 signed and numbered copies and will in time fetch a high price once the editions sell out. I noted an auction on Ebay recently where the value of an out of print deck (produced in an edition larger that 100) was established through the auction at £406 ($810), so it seems likely that the decks I produce will increase in value over the years ahead. On the basis of present sales, I would expect most of my decks to sell out over the period of two to three years. The first deck I produced the Alchemical Emblems Tarot now has only 25 copies left for sale.

16th June 2007 The Tarot Sarry was printed in 1977 at La Coruna in Spain, though the card titles and booklet are in Portuguese. The designs were by Ulises Sarry and are made to look as if they were drawn and coloured in the style of a Marseilles deck. There are 48 cards and only 16 or so directly link with the familiar tarot arcana.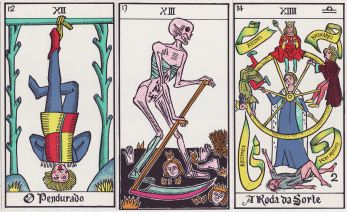 Some obviously follow the standard tarot arcana though they are not all numbered conventionally.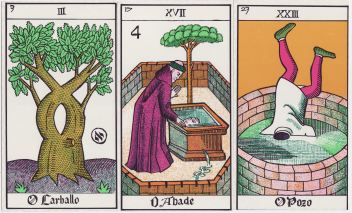 Others are unique to this deck. Here we have cards named O Carballo, O Abade (the Abbot) and O Pozo.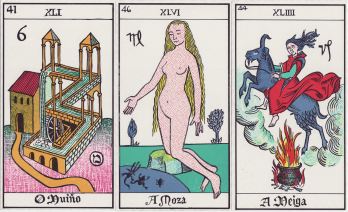 Some cards incorporate visual quotations. O Nuiño quotes the well known paradoxical waterfall from an Escher drawing. A Moza (the maiden) can be easily recognised as the Eve figure from the left panel of Hieronymous Bosch's painting 'The Garden of Earthly Delights' while A Meiga is taken from a 16th century woodcut of a witch on a ram jumping over a fire.

13th June 2007 I bought Le Jeu des Dames de Coeur on much the same basis as I did the Elizabeth deck. It is not a tarot deck as such but a French Tarock deck for playing the card game still popular in France. This means that though there are 22 trumps they do not necessarily incorporate the conventional tarot imagery.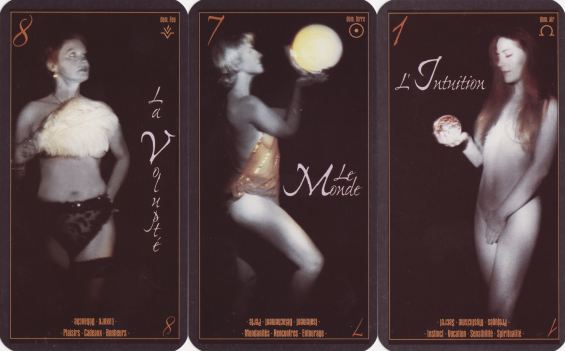 When I first came across this deck a year or so back, I thought it was just a pin-up, semi-erotic tarot, but now I have managed to buy a copy, I found a printed card enclosed which describes the origin of this deck. This game of tarot was produced by an organisation in France called Nord Solidarité. This was set up in 1992 to help the victims of disasters, but it seems to have quickly focused on a single issue, assisting the victims of the Chernobyl nuclear disaster. One of their activities was to give children from the Chernobyl area a summer holiday in France, to bring them out of their contaminated world and to return to them a little of the life that has been stolen from them. A similar Chernobyl Children's Project exists in the UK. The women members on the committee agreed to pose for the creation of these tarot cards in order to raise funds. This reminds me of The Alternative Womans' Institute Calendar of 2000 in which members of the rather staid UK Womans's organisation posed naked for a calendar to raise money for Leukaemia research (the well known Calendar Girls film was loosely based on this). I am unable to find a date for the Dames de Coeur ('ladies of the heart') deck so I do not know if this French group came up with the idea first or if they were following the UK WI.

12th June 2007 Usually I am rather conservative regarding what I consider as a tarot deck. For me it has to have most of the conventional aspects, with the Major Arcana, even though diffently named, to some extent recognisable as tarot images. Just occasionally I find myself tempted by some 'Tarot' and justify buying it (to myself) on the basis that it might have some significance in the social history of modern tarot. Thus I bought the Cher Tarot some years ago and just a few others like that. Last week I found myself tempted by the promo deck for the film Elizabeth. The Elizabeth deck consists of 18 large cards made to look like an old French deck. The artwork consists of stills from the film which have been made to look like paintings, seemingly by using one of those art effect filters found in Photoshop, Paint Shop Pro or some other similar graphics program, and is rather professionally done. The 18 cards are not titled with the tarot attributes but instead bear the names of some characters in the film. In no way is this a tarot but it does mimic or draw on tarot imagery, so it has found its way into a small niche in my collection.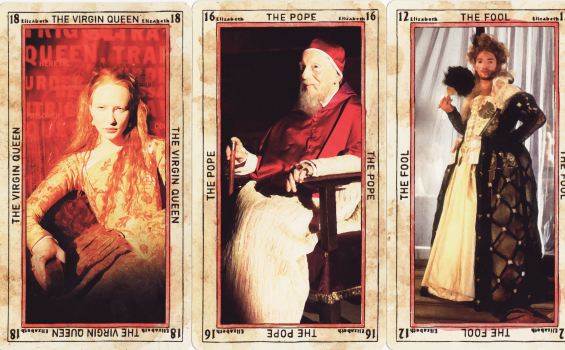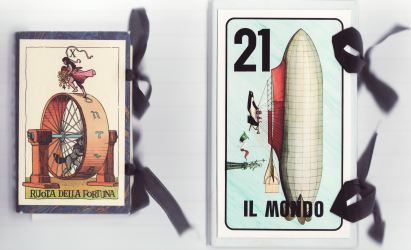 10th June 2007 Those of us who have bought the sometimes weird but usually wonderful tarocchi produced by the Italian company Il Meneghello know well the little book-like packaging boxes tied with bows. The seasoned collector realises that it is folly to untie these bows as you never quite get the tying right again, and in any case the cards actually slip out of the little book form without the need to unknot the bows.
It came, therefore,as a pleasant surprise to see Lillie's Tarot of Aubrey Beardsley came in the same sort of packaging. Lillie chose to use some of the chapter headings from Beardsley's Mort d'Arthur (1894), which she has in places judiciously edited, for her majors only deck. She has certainly done a great job in selecting the illustrations for each tarot card as they all seem to naturally reflect the arcana.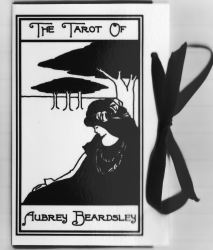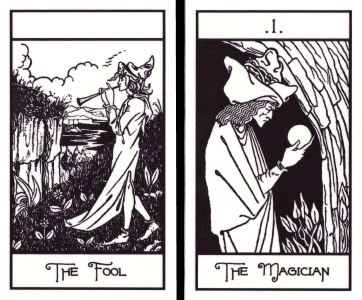 8th June 2007 Today a spirit bird woke me at 8.10. A loud knocking at my door. The postman with a box that had flown all the way from Canada. Inside, in a nest of bubble wrap, were the 22 images of the Spirit Bird Tarot of Linda Corbett. Only 10 of these decks have been printed and I am happy to give one of them a home. The artwork is quite unusual and, though I have not discussed this with the artist, it appears to have been made in a computer graphics program, especially using one of those tools which allow one to push areas of colour around the screen. In most of the card images one sees a bird face with distinctive beak and eyes, though much distorted. The imagery is minimal, but one clearly finds the resonances with the tarot archetypes in the initial six cards, The Fool through to The Lovers. Then the cards often require more contemplation to find the tarot aspect within the swirls of colour - The Tower through to The Sun I found a bit more challenging. This is a very beautiful and creative art deck. The cards are large and printed in intense colours using a glossy resin coated paper. The backing material is rather strange, being somewhat fluffy to the touch and definitely 'non-slip'. A truly amazing example of how a creative mind can still find new things to do with the tarot.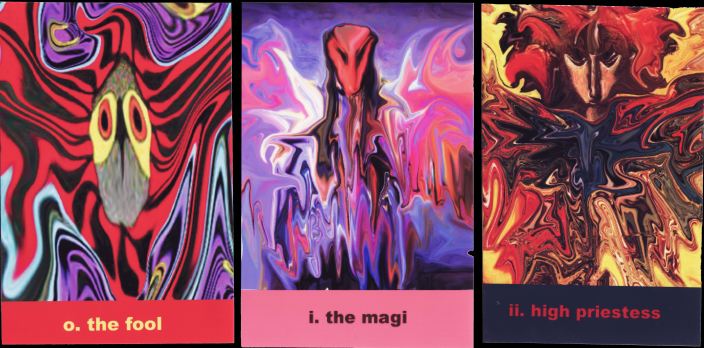 7th June 2007 Over the past few days I have mentioned some real heavyweight art tarot, but tarot art is broad enough to encompass many other facets. So I would just like to show here the Italian Lupo Alberto Tarocchi which I recently obtained. This is based on an Italian cartoon character Lupo Alberto (he is a wolf, though not a particularly convincing one to me as he seems a bit more like a hare or rabbit, but I am told he is a wolf). Apparently it is one of the most beloved and distributed comic strips in Italy. There are a series of stock characters. One of the dynamics of the story is that he always tries to steal a hen named Marta, who is his fiancée but Mosè a watchdog tries to prevent him. The comic strip first appeared in 1974 and this tarot, based on the main characters, is from 1992. Apparently some later versions of the cartoon strip segued into political satire. One of the characters, Henry the Mole, is represented with the attitudes, slogans, and even physical features typical of Silvio Berlusconi. The Tarocchi does not incorporate this satirical aspect but merely presents some of the key characters in the comic strip and attempts to link them to the Major arcana images.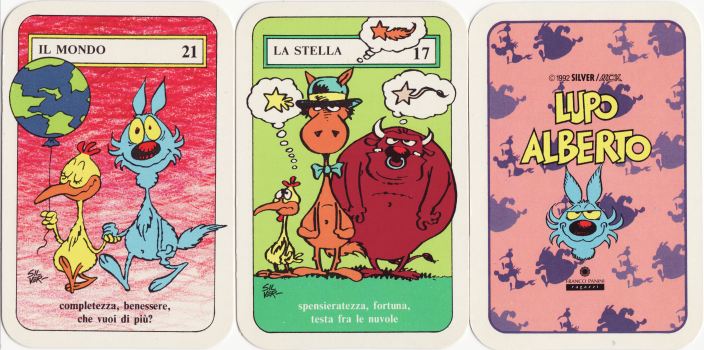 6th June 2007 Le Tarot de Camargue or Lou Tarot de Camargo hails from the South Eastern region of France. It is the work of Jo Demonflin. She has created a full 79 card deck (she includes an extra arcana 23 'The Four Elements'). The outlines of her designs have been drawn in coloured pencil, then brightly coloured and with dense textured backgrounds. In many cases she depicts the faces of the figures without features and having only one eye (usually only the left is shown). The artwork style is a little bit reminiscent of some of Picasso's or Chagall's work, though in no way copied from these. One of the amazing features of this deck is the use of Langue d'Oc (or Occitan) for the titles of the cards. Thus the Magician is 'Lou Mesteirau', the Fool is 'l'irraciounau', the Chariot 'La Tirasso', Death (Metamorphosis) 'Lou Tremudamen', and so on. I have put up her website on my list of other tarot publishers in case you might like to buy a copy from her. It is a rather beautiful and unusual deck. Flamingos and bulls, for which the Carmargue region of France is famous, are both prominent symbols on the cards.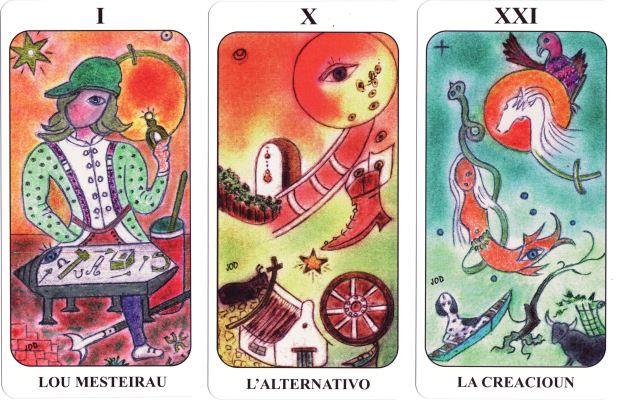 5th June 2007 Creating a tarot deck is quite a task. It is difficult enough to find the time to create the 22 majors but a full 78 card deck can be an enormous investment of ones life energies. Add to that the intention to create this as a series of oil paintings and we are talking years of concerted work. An-Magrith Erlandsen has found a new solution to this problem. She is selling her Tarot of the Pomegranates as an incomplete deck and will send on the remaining cards in batches as she finds the time and inspiration to complete the paintings. Her paintings are wonderfully detailed in saturated colours. She is very creative and comes up with some new ideas for the tarot images. Her Queen of Cups is a powerful engaging image with the head emerging from the waters of a still lake. The Moon card has a astounding picture of a female figure emerging from the dark pool and protecting another figure. The Magician is another amazing image beautifully painted, while her death card depicts a skeleton form, standing between two shrouded human figures, its bones forming a celtic knotwork, a truly original conception. An-Magrith's paintings are very beautiful. I only wish I could afford to buy one. However, I do have the next best thing - a set of her tarot cards. I have put up her website on my list of other tarot publishers in case you might like to buy a copy from her. It is a signed edition of only 200 and I have number 8.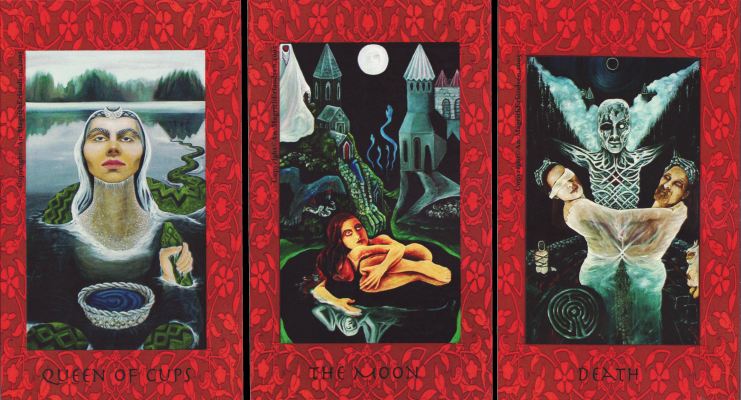 4th June 2007 There has been quite a spate of dark magical tarots produced recently, emerging from magical groups inspired by such as the OTO and other magickal groups. So we have seen a Satanic tarot, the Abysmal Tarot, the Sinister tarot, among others. Now I hear of the immanent publication of a 'luciferian tarot'. Today the Bestian Tarot arrived from Slovakia. It is a full 78 card deck, and each card has a black background with the image set in the central space. The imagery is computer collage based on photographs, images from paintings and engravings, astrological and other sigils, and some forms drawn in a computer graphics program, all melded together and processed though filters to give strong resonant images. Each image seems to act like a nimbus of light illuminating the dark space of the card. This is a rather fine production. It is in a small edition of only 50 copies, so will appeal to collectors and others drawn to this esoteric imagery.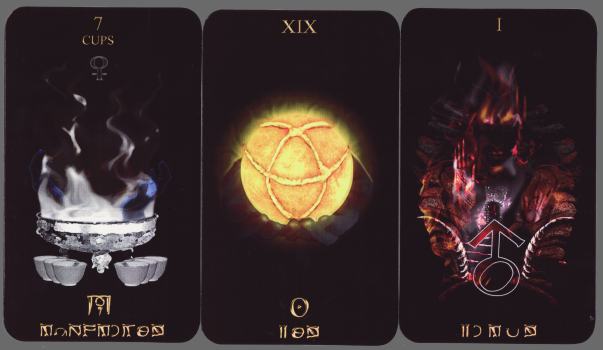 1st June 2007 Today I completed the Fortuna's Wheel Tarot and now have these up for sale as item 13 in my Art Tarots series. My first tarot decks were issued in April 2006, so in just over a year I have produced thirteen decks. I think I may deserve a short rest! I have a number of other marvellous decks in production, though these will probably have to wait till after my Alchemy symbolism art exhibition in Edinburgh in August. Nigel Jackson's new tarot has wonderfully luminous colours, this effect being achieved by the careful choice of colour tones in each of the cards and the clean lines of the drawings. It was quite amazing this afternoon when I was collating the cards into decks. I did this on a large double table which allowed 100 copies of the cards to be dealt out onto piles. 100 cards appearing face up at a time was quite a spectacular show. I wish now I had photographed that.

31st May 2007 Nearly finished the Fortuna's Wheel Tarot. Spend much of the week cutting the sheets into cards and today I made up the boxes, pasting the image on the lids and glueing in the lift tape. Now all I have to do is make up the cards into sets.

28th May 2007 The last three days have been spent laminating the copies of the latest tarot, number thirteen, in my Arts Tarot Series. This is the Fortuna's Wheel Tarot by Nigel Jackson, the well respected creator of the Medieval Enchantment Tarot. For some inexplicable reason Nigel could not find a publisher for a deck, though this was issued in book form as Fortuna's Wheel: The Mysteries of Medieval Tarot. A few months ago I agreed to print up his artwork into deck form in a limited edition of 100 copies. The artwork is in the same style as his earlier Medieval Enchantment Tarot, with finely drawn forms coloured in subtle luminous colours. I still have a few more days work cutting out the cards and making them up into boxes, so I should be announcing this for sale by next weekend. Here are images of two of the cards. I will set up a page on my web site later this week which will give more details.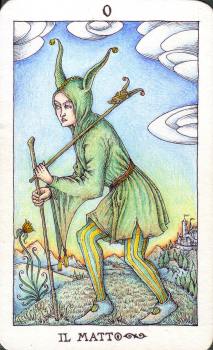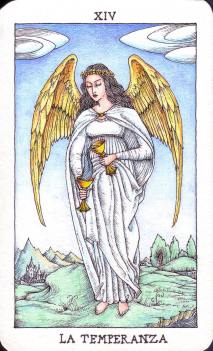 25th May 2007 There are many different kinds of collectors of tarot. Some see oracles and other such decks as part of the tarot phenomenon, while others, like myself, like to see at least some semblance of tarot structure. Some people will only collect full 78 card decks, while others take delight in Majors only decks as well. Some will only collect actual printed decks of cards, while others like to collect tarot designs in other media, such as illustrations printed in books. I am in the 'others' camp, so today I was delighted to receive from my postman a large hardback book, some 12 by 9 inches, with a set of 22 designs for the Majors in full page size. This is Le Tarot d'Amour by Christine Lesueur, published in France in 1985. The artwork closely adheres to the classic Tarot of Marseilles but has a nice upbeat style, with each of the human figures bearing a sort of self-satisfied smile (which one might almost describe as a smug expression). The lines of the drawings were made in a water soluble ink, which when coloured with watercolours have bled and feathered into the paper, which is a rather nice effect as it reduces the contrast of the lines to make smoother transitions, and a softer effect to the imagery. Those who just don't like tarots printed in books are here missing out on some fine art. The figures are all dark skinned.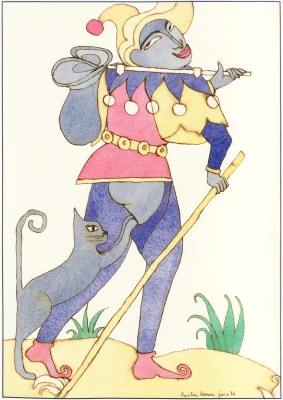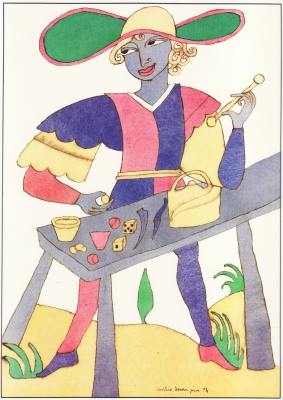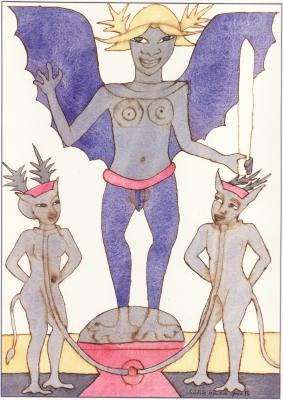 22th May 2007 A week ago I received the recent batch of tarots from Lo Scarabeo. I have almost all their decks including the early Tarocchi d'Arte series begun in the 1980's. They have oriented themselves since the 1990's into producing pastiche and themed decks. Some of these work extremely well, the Bosch, Dante, Durer, Giotto and others in this style are magnificent, as are their suite of Egyptian styled decks. Some of their themed decks also work well, the grim and dark Gothic Tarot of Vampires, the neo art nouveau Universal Fantasy, among many others. Last year I was rather disappointed with their Tattoed Tarot with its rather flat and contrived artwork. One just has to watch a couple of episodes of the TV documentary series Miami Ink to realise the power and originality of modern tattoo artists, and the Lo Scarabeo deck just seems trite compared with real tattoo artwork. One of their recent offerings has also disappointed me - the Tarot of the Elves. It is a great idea to do a tarot on that theme, but surely not with such horribly static artwork. The figures are not painted but created using one of those computer graphic programs. This produces mannikins in rigid poses and blank expressionless faces. The Hierophant is totally unconvincing, and almost like a window display in Debenhams department store. Elves, to my understanding, are mischievous, animated nature spirits, not expressionless dummies. The Seven of Cups and the Two of Wands are just such bad images! One might be excused for taking this as a satire on the modern reinvention of mythological figures, but sadly I suspect Lo Scarabeo designers were being serious and not tongue in cheek. With all the amazing tarots they have created over the years they can be excused a sour lemon or two, but how on earth did they let a massive turkey like this slip through! I may have to put this one in my 'humorous tarots' section.

15th May 2007 Yesterday I received two French tarots which are totally different in form and style. Firstly, the rare Le Tarot de Saint-Jacques, created by France Poëhr apparently in the 1990's and issued in a signed and numbered edition of 100 copies. The Saint Jacques would appear to be St James of Compostela, as his symbol of the shell appears on the backs of the cards. This shell was the symbol for the famous mediaeval pilgrimage to the Cathedral of Santiago de Compostela in Galicia in northwestern Spain, where the remains of the apostle, Saint James the Great were laid. Poëhr, the creator of this deck, must have had this in mind when he constructed the images, however, there is no straightforward connection between the stages of the Pilgrimage and this tarot. Interestingly, in 2004 Juan Martinez Casasus created a deck, El Tarot de la Y directly reflecting this Pilgrimage. Poëhr is more obscure, instead collaging complex images for his major arcana. These appear to be paper, scissors and glue collage rather than made using graphic software, though they are extremely skilfully done, with none of the clumsy cut edges which can make some stick-on components in collage stand out. Here the images blend together seamlessly. One has to see the cards to appreciate this as scans for the computer do not do them justice. The images are wonderfully complex and balanced and cannot be grasped in a quick glance. The symbolism is mysterious and engaging.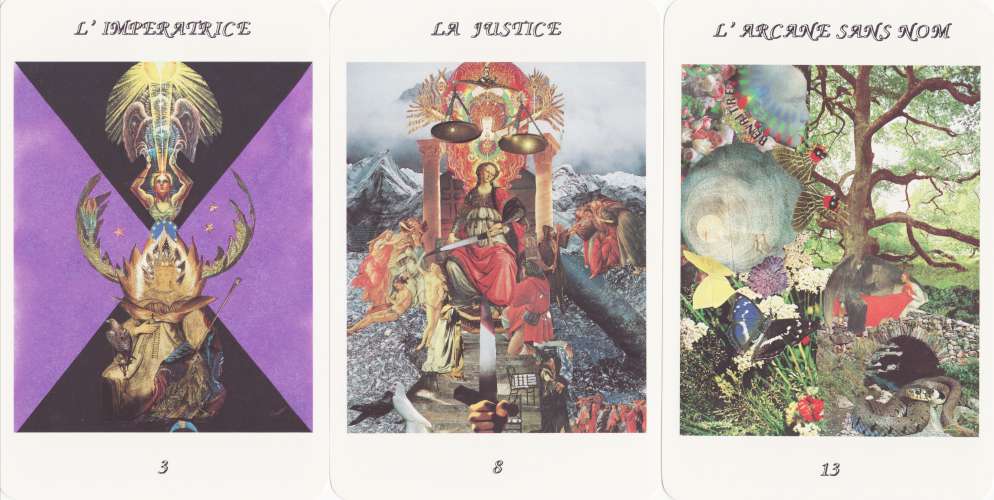 The very same day I received a Tarot, which was just completed a week or so ago. This watercoloured deck was made by Ricardo P. and uses a single colour, an earthy reddish brown, close to a burnt umber. He uses this in three strengths, a saturated colour to draw the lines of the forms, a dilute wash to fill in the forms and an intermediate strength to give some modelling. This restraint and restriction of pallete does produce a unique style. The images are completely conventional with little departure from traditional forms. One appreciates this hand-made deck for the medium it is executed in, rather than any creative reworking of tarot imagery. I find it rather special, and a complete antithesis to the intricacies and detailed obscurities of Poëhr's collages. Tarot is a broad church indeed.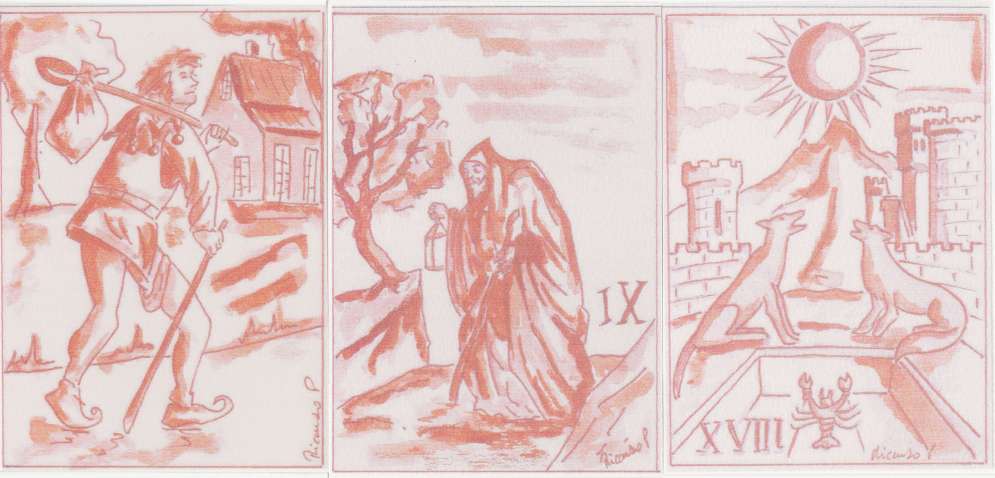 13th May 2007 I have just received a rather fine Italian art tarot produced in 1998 in a limited edition, which seems to be completely unknown outside Italy. This Tarocchi d'Arte Il Sole Inchiostro is a majors only black and white deck, made in indian ink applied by pen and brush. The artwork is a delight with its flowing forms and its creative realisation of many of the arcana. The Tower is often difficult to rework, but here the artist Linda Zanier has found a new image, which still retains the classical idea of the tower.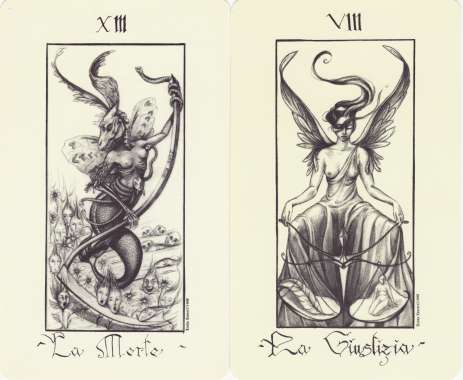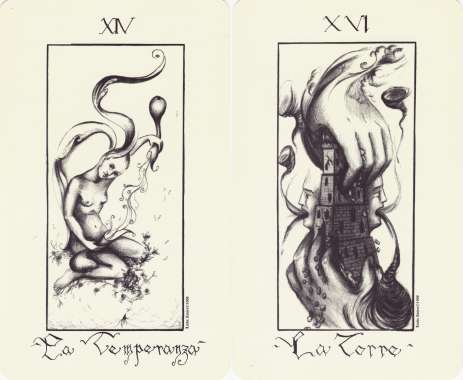 I am so impressed by this deck that I have decided to buy some of the few remaining copies and sell these on to fellow collectors on my mailing list. It is rather wonderful to discover such a fine art tarot.

11th May 2007 A few days ago I bought one of those mystery tarot decks that I did not immediately recognise and was incompletely described, but I bought on spec. It arrived today and is quite intriguing. It is a majors only deck with French titles on the Arthurian theme. The cards are for the most part renamed yet the imagery of the arcana remains clear. Thus the Magician is 'Merlin', The Priestess is 'La Dame du Lac', The Empress 'Guenievre', The Emperor 'Arthur' and so on. There are 23 cards in all with an additional card numbered '22' being named 'L'Ego'. It is possibly one of those decks given away free in a magazine. I would like to be able to identify it, so I will post a note onto the Aeclectic Forum. No doubt someone there will have seen it.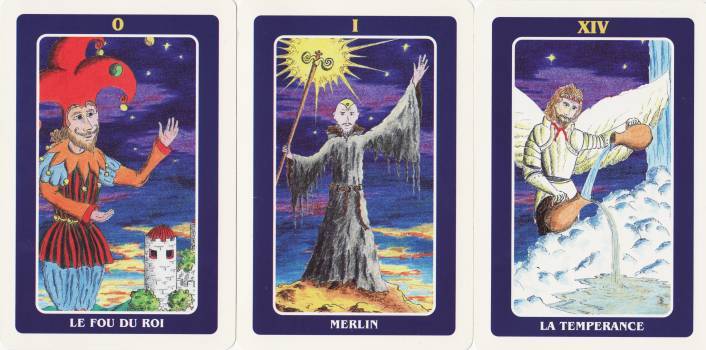 7th May 2007 A few days ago I received a copy of a tarot I had been trying to find for a number of years - the Entropy Tarot by Shigeki Gomi. This always intrigued me since seeing it in Kaplan's Vol III. I always wanted to have a deck so that I could try and see what these weird card designs were about. The illustrations in Kaplan are too small to see the detail, as are the few scans shown on the internet. 'Entropy' is a rather misunderstood concept that lies at the basis of thermodynamics, though Gomi uses it in a more general sense. The cards themselves are in a monotone bluish-purple and have diffuse forms which seem to be created using an airbrush. Many of the backgrounds depict stellar or galactic dust clouds while the foreground forms are, for the most part, abstract and geometrical, though there are figurative images on some cards. I cannot immediately grasp the meaning of each of the images, though I find references to Feyman diagrams (from Quantum physics), and form and order set against diffusion and chaos. It is Gomi's idea in 1983 that the world was degenerating into disorderly chaos through the increase in entropy but that if we meditated upon and worked with these ideas we could hold back this disorder in all spheres of human life and society. A grand idea, if somewhat elevated and impractical, but it has created a rather challenging tarot deck, that will puzzle us all for years to come.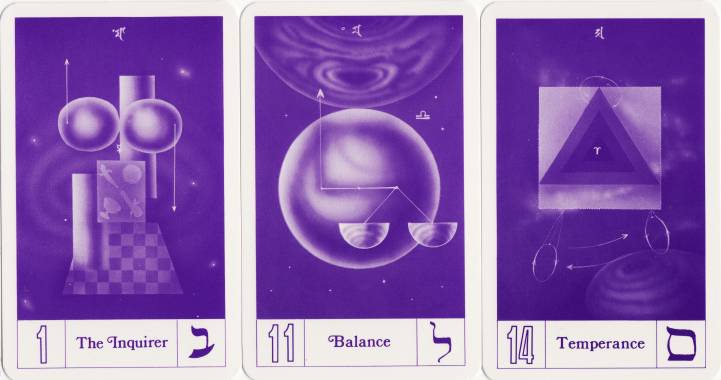 Synchonicitously, the day after I received this deck, I was in Edinburgh and was drawn to a fantasy art bookshop. There, amongst a multiplicity of dragons, fairies, dark gothic, and the sofly erotic artwork of Royo and Vallejo, I found Dave McKean's book of Minor Arcana of his Particle Tarot. I had not even realised that this had been published. I have the first book of the Major Arcana, which is a series of powerful modified photographs reflecting the Major Arcana within a framework of the idea of the fundamental particles of modern physics, quarks, muons, electrons, etc. Of course I have just published the Quantum Tarot majors which also deals with these ideas. All this immersion in modern physics made me wonder just how many tarot decks there are which are inspired by the theme of modern physics, or even science in general. We immediately recall that Ernesto Solari made the Le Macchine di Leonardo and Il Caduceo di Alessandro Volta tarots on historical science themes, but there will be more that come to mind given a little thought.

3rd May 2007 I have decided to make a start to listing my collection of tarot cards under their country of publication. Somehow this seems important to me. It will take a few weeks to complete this as though most can be done from memory there are quite a few I need to look up. I think it is quite useful to see the decks in this way.

3rd May 2007 Over the past few months I have been lucky to acquire a number of Korean tarots. Some of these were designed for young children, but among these are some rather more interesting items. One of these is the majors only tarot included with the computer game Tempest produced by the company Soft-max. This went on sale in Korea in December 1998, but in 2000 was revamped for the Taiwanese and Japanese market. The original version came on four CD-Roms with a booklet (in Korean) and the set of tarot cards. Tarots associated with computer games are sometimes difficult to acquire as there are many collectors of computer games and consequently the price can be rather higher than one would wish, but that is because of the fact that there are many people chasing a few items. Often these tarots reflect too much the imagery of the game and have almost no tarot content, but the Korean Tempest tarot is very much a tarot deck. The imagery is set, rather attractively, within a muted brown border with cloud like forms, in which is a complex linear structure framing the images of the cards. The Fool is conventional, tripping along with his dog and his bundle. The Lovers are placed facing in opposite directions with their backs to a central tree. Death is a rather severe skeleton in a dark robe. The packaging contains a rather evocative quotation from Shakespeare's Romeo and Juliet



Eyes, look your last!

Arms, take your last embrace! and, lips, O you

The doors of breath, seal with a righteous kiss

A dateless bargain to engrossing death!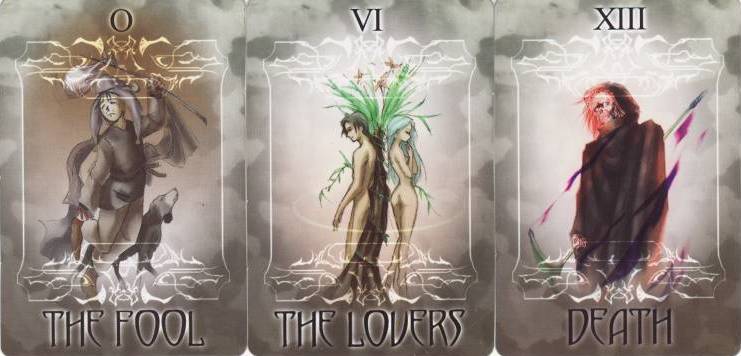 2nd May 2007 The Museo dei Tarocchi (Museum of Tarot) in Riola (near Bologna in Italy) is celebrating its public inaugeration in June with a festival conference over the weekend of June 22 - 24th on the theme of the Art and Science of Alchemy. Robert Place will be one of the presenters. There will be some lectures, visual presentations, music and even some puppetry.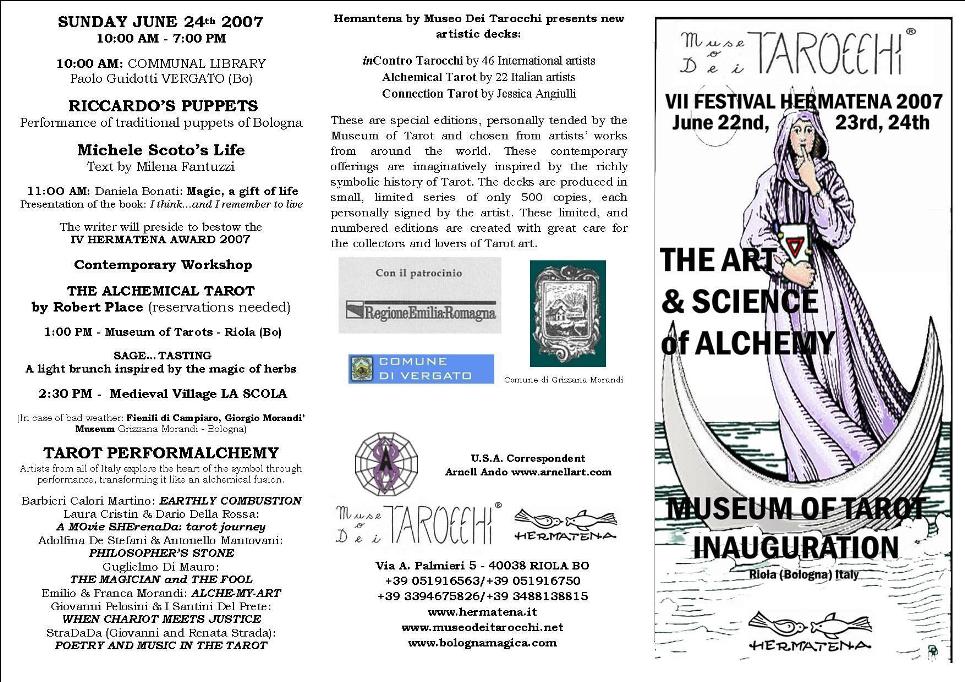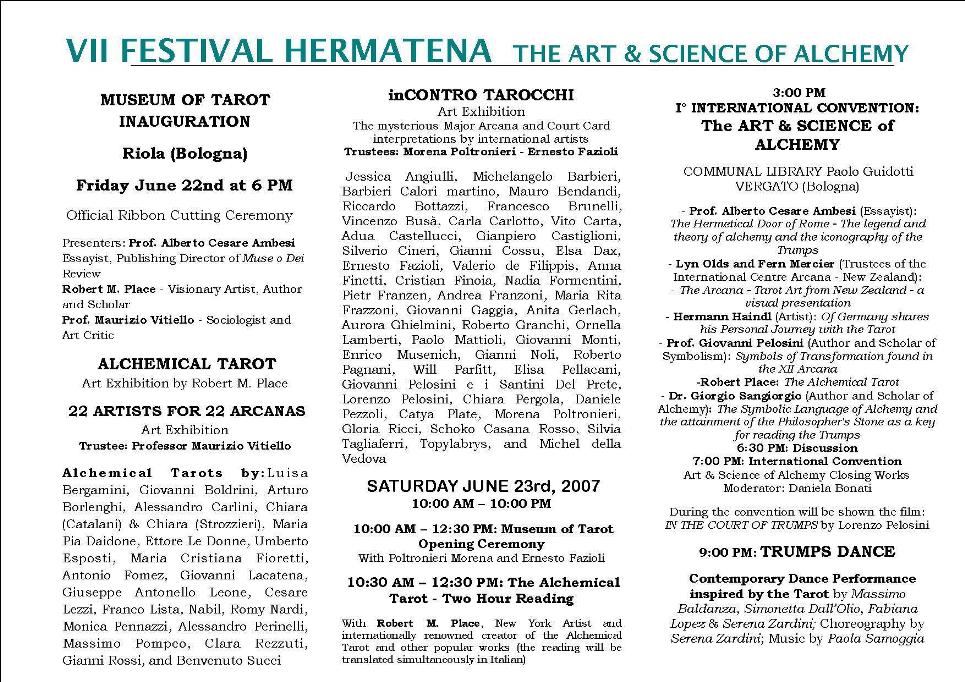 At this event the prizes for the IV HERMATENA AWARD 2007 on the theme of 'IN THE COURT OF THE TRIUMPHS: TAROTS THROUGH POETRY, FICTION, ESSAY, GRAFIC AND PHOTOGRAPHY' will be awarded. The first prize will be a rather generous 1000 Euros.

2nd May 2007 I have been waiting a long time for Robyn Tisch Hollister's Tarot of the Midnight Masquerade and it has just arrived today. I immediately realised why I had had to wait so long. This deck is hand made and comes with an amazing wooden box which has hand painted images on it. The box calls to mind Arnell Ando's individual collaged boxes, or those of Anissa Morello's Medieval Tarot, or Kimberly Fordham's Toscano. I can see how much work has gone into making the Tarot of the Midnight Masquerade deck and box so it is not surprising that it takes so long for Robyn Tisch Hollister to make up these hand crafted items.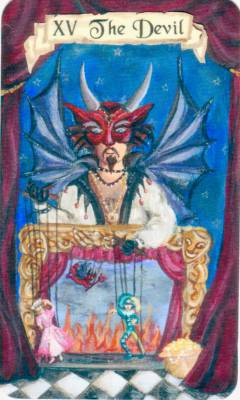 The images, originally painted in acrylics, are a delight. The theme of the deck is a visit to a masked Grand Ball in 18th century Venetian style, and all the tarot characters reflect this back to us. The images have a underlying subtle humour, with some references to puppetry and the Commedia dell'arte characters. The devil is particularly engaging.

1st May 2007 As a collector of tarots I always get rather excited by something unusual. Today the Namoo Tarot, also called the Midnight Tarot, arrived. It is a rather fine manga tarot in Japanese style produced in Korea in 2006 by silverforest, but what is rather intriguing is the fact that the homepage for the deck is in Tonga. The little white book is written in Korean so I am unable to make anything of it, but could it be that this deck was created on the Pacific archipelago of Tonga? Perhaps the artist lives there. It seems that the deck has been issued under other names, so it may be that this has nothing to do with Tonga, but it is intriguing.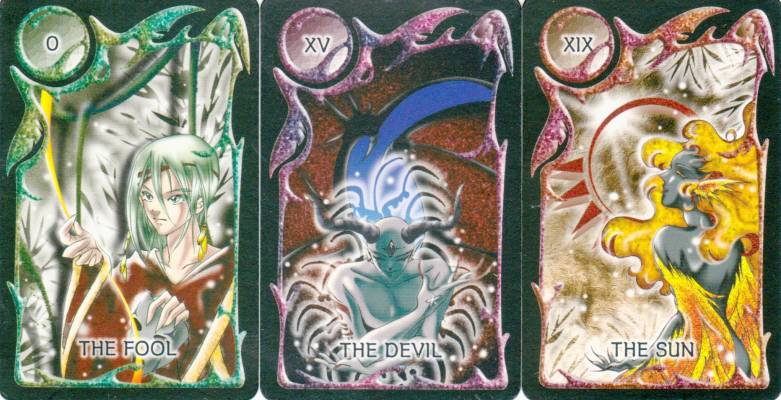 ---