Alchemy Web bookshop
Credit card payments

---
Up till October 2009 I used a secure credit card payment provider based in the UK for card verification/processing.
As this was proving far too expensive for small valued transactions I decided instead to adopt credit card clearance using the Paypal system.
This can be used by anyone with a credit card, and the customer does not have to have an existing Paypal account in order to do this, but can merely use this for a one-off transaction.
When you click on the relevant payment button you will see this screen: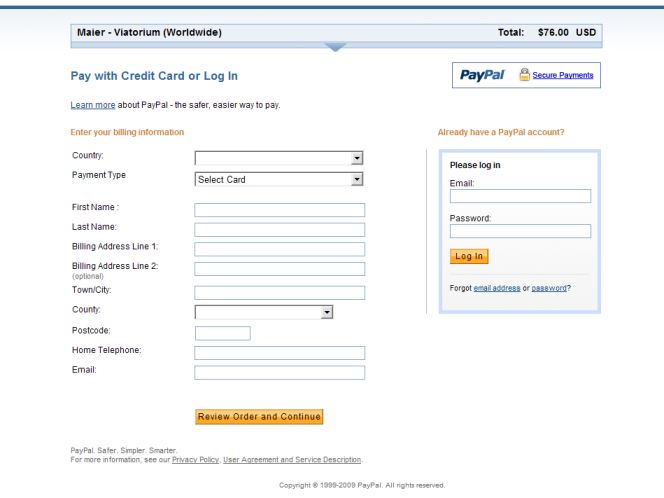 Just enter your details in the panel on the left and you will be led through the credit card payment system.

If you already have a Paypal account you can log in using the panel on the right.

This system entirely protects the customer as the credit card details are not passed on to individual traders like myself and thus not recorded on any insecure system. You can feel entirely safe with this industry approved system. This means I do not receive your credit card details and do not hold these on file. Your transaction is directly with my Paypal account. For this reason I cannot process a subsequent transaction for you as I do not have your credit card details.

I have opted not to implement a shopping basket on my web site, as this software is expensive and not always easy to use. This means you will have to go to each item and pay for them separately. This is the simplest system and has the advantage of being entirely foolproof - you always know exactly what you are purchasing. It is not any more expensive than consolidating items.

I hope this explains the system that I use, and the ways in which it protects you, the customer, and myself, the trader, against fraudulent or erroneous transactions. You can be, as I am, entirely confident of this trading credit card system, and sure that your card details are not stored on any insecure system. I have traded on the internet using secure credit card transactions for over 15 years with no problems. All the orders receive my personal attention as I cannot afford to employ a secretary. So please email, write or phone me if you have any problems.



Adam McLean
15 Keir Street, Flat 2/1
Glasgow
G41 2NP
U.K.

0141 429 5614

adam@alchemywebsite.com