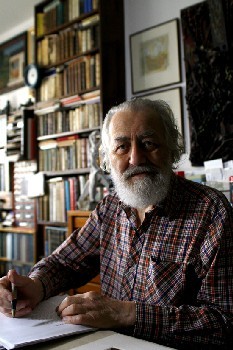 Vladislav Zadrobílek 1932 - 2010
The Czech alchemical and hermetic writer Vladislav Zadrobílek died on the 11th December 2010 aged 78. He was well known as sustaining and encouraging interest in alchemy through his publishing of alchemical texts in samizdat format during the 1970s and 80s. Later, after the creation of the Czech Republic, he founded Trigon publishing and was then able to publish many titles. He was also an accomplished Czech poet, and in 2005 was nominated for the Czech National Prize for Literature. He wrote biographies including that of Gustav Meyrink.
He is perhaps best known outside the Czech Republic for his substantial contribution towards the 1997 conference Prague, Alchemy, and the Hermetic Tradition in collaboration with the New York Open Center in association with Gnosis Magazine, Esotera (Germany) and Universalia (Prague). For this he produced a beautifully illustrated book of essays on alchemy and related themes Opus Magnum, Trigon, 1997 and a large scale exhibition of alchemical material, books, manuscript and artefacts at House of the Stone Bell in Prague's Old Town Square.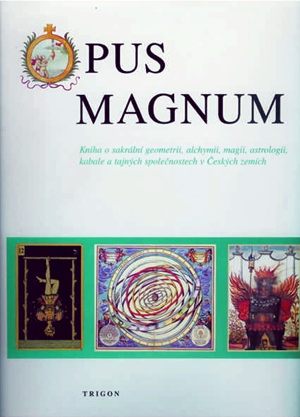 He had a wide interest in esotericism, embracing Freemasonry, mysticism, sacred architecture following the writings of Fulcanelli (which he published in Czech translation). He was deeply grounded in alchemy and greatly drawn to the imagery in alchemical books and manuscripts. He often wrote under pseudonym D. Ž. Bor.
At one time he served as the President of Universalia. This was a hermetic organisation founded in the 1920s, which survived both the Nazi occupation and the Communist period, and secretly fostered interest in hermetic philosophy.
During the 1970s and 80s he kept interest alive in hermetic matters though his small scale samizdat books. These were printed on a Gestetner type duplicator and perfect bound. In these he would publish alchemical texts translated into Czech with many illustrations from woodcuts and engravings. After I met him at the conference in Prague, I asked him if he could sell me a set of some of these publications. With typical modesty he was surprised that I would want these books as I could not read Czech. I told him that they were of such historical importance that I would want some examples for my library. He was much amused, but eventually managed to locate a set for me.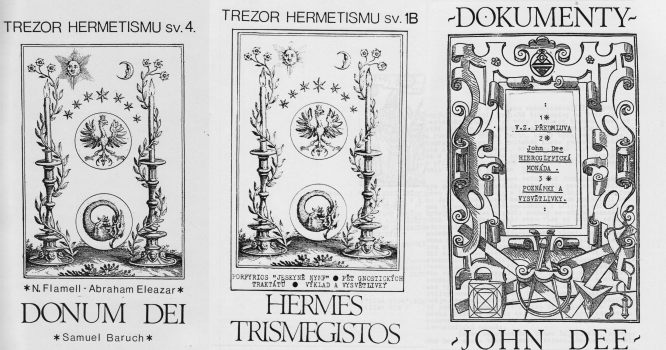 ---



Tribute from Stanislas Klossowski de Rola



In 1998, I made my second trip to Bohemia following the great gathering and events at Prague the previous year. I responded to Michal Pober's invitation to conduct an intimate group on a pilgrimage to select sites in both the Czech Republic and Slovakia. On September 4, accompanied by Michal Pober, I went to visit Vadislav Zadrobílek at his home, responding to his very flattering offer to interview me for his magazine Logos. His apartment was a treasure trove of antiquarian books including a vast collection of rare alchemical tomes. Although we had briefly met the previous year, the privilege of being able to delve at leisure in his vast library transported us both on a plane of utterly positive energy which allowed us to turn the interview into one of the most fascinating and memorable exchange of hermetic ideas.
As Michal Pober had to go the airport to pick up Art Kompolt, Vadlislav and I were left to our own devices and we managed to have a prolonged and deep conversation of a very high and rarely obtained quality, despite the language barrier that separated us. I shall forever remember the pleasant hours that ensued. At the end of my stay he presented me with a dedicated copy of his magnificent Opus Magnum.
All hail Vladislav Zadrobílek, O Noble Soul May your périple Beyond be a Felicitous one!


---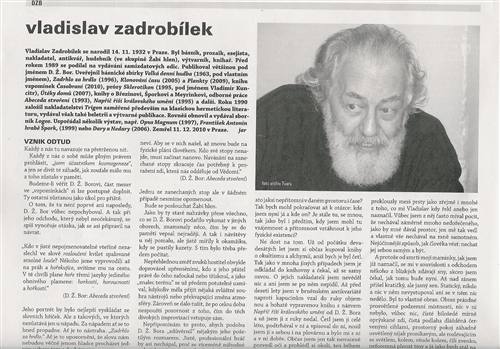 The January 2011 issue of the Czech literary magazine Tvar provides a section commemorating the life and work of Vladislav Zadrobílek, Founder of Trigon, through photographs and memories of friends and work It is possible to buy a copy from the Trigon shop or at selected bookstores.
---
Joseph Caezza conducted an interview with Vladislav Zadrobilek in 1997 and let me place this onto the alchemy website.