Samuel Norton - The Key of Alchemy
Preliminary material
This transcription was originally made by W.A. Ayton in the latter decades of the 19th century, from the original manuscript in the Bodleian Library, Ashmole 1421. Samuel Norton was the great-grandson of the famous 15th century English alchemist Thomas Norton, author of the Ordinall of alchemy.
Back to Key of Alchemy page . Back to transcriptions page .

---

These, which your highness here doth see,
Are leaves of Hermes' secret tree:
Thro' wisdom's love warelie brought to pass
By sowing seed in wombs of glass:
And given they are let you know
The garden where such fruit doth grow:
Elixers three so called of old
For health of man, Sun, Moon, Silver, Gold,
This soil is dewed by Impe of Saturn's race
Whose sire dame Maya did embrace
The crooked god, whom loving dame did wed
With heat doth cause our tree to spread.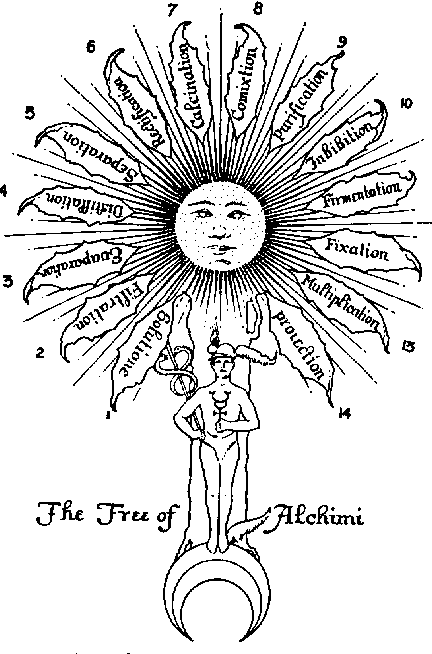 The Petition of the Author to Alchemy

Alchemy noble Muse, of all most worthy praise
Which bring'st Dame Nature's secret laws to light
In Sphaere of princely mind again thyself upraise
From whence at first thou chose to shine with open light.
If love of lore allured thee to lodge in Hermes' breast,
Then fasten foot and stay thy steps; here is the place of rest.
If care of Patron's mighty hand may thee inflame
Or if thou hast regard of Pallas' gift for witt,
Or seekest anew from princes sent to fetch thy name
Alchemies greater here in regal chair doth sit:
If Calid's virtues were the marke whereat thou didst shoot
Draw up thy bow: hit right: our tree doth yield a greater fruit.
If Sicill isle, like center set in waves wide,
Or view of comlie port in Robert's kingly mind
Did thee provoke, in this our Isle, oh Muse abide,
Where equal soile, but Prince unmatched shall ye speed,
As Pallas did forthwith the rout of Greekish dames excel
So thee among European States for wisdom bears the bell:
The person apt, place fit, good Muse go joyne there with the best,
Sith fate doth thee assign in peerless Queen to rest.