John French - The Art of Distillation - Book III
Back to Art of Distillation .

---
BOOK III
OF MINERALS
SPIRIT OF SALT IS MADE THUS
Take of the best bay salt as much as you please. Let it be dissolved in spring water and filtered. Mix this with brine in a copper vessel, of the powder of bricks or tiles, twice or thrice as much as the salt before its dissolution was in weight; let the water vapor away over the fire (continually stirring of it) until it be dry. Then put this powder into a glass retort well luted, or an earthen retort, and put it into a furnace (a large receiver joined to it according to art). Then give fire to it by degrees until it will bear an open fire, for the space of 12 hours. You shall have a very acid oil or spirit in the receiver. That liquor, being put into a little retort in sand, may be rectified by the vaporing away of the phlegm. Then keep it for use in a glass very well stopped that no air goes in.
Spirit of salt is very good in fevers putrid, as in hydropical diseases.

A retort and its receiver before they be set on work.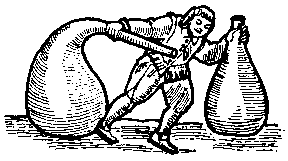 A retort with its receiver set on work.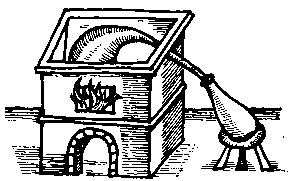 OIL OR SPIRIT OF SALT MAY ALSO BE MADE AFTER THIS MANNER
Take one part of salt and three parts of powder of bricks or tiles, mix them together, and put them into a retort either of glass or earth, to which put fire as before.
After this manner you may make oil or spirit of nitre, salt gem, alum.
Note that these salts must first be calcined which is done by exhaling their phlegm.

TO TURN SALTPETRE INTO A WATER BY A MERE DIGESTION
Take of saltpetre powdered very small and with it fill the fourth part of a bolt head. Close it well and let it stand in the heat of ashes or sand the space of six weeks, and you shall see a good part of it turned into water. Continue it in the said heat until it be all dissolved.
This is of incomparable use in fevers and against worms or any putrefaction in the body, and is indeed a most rare secret.

SPIRIT OF SALT ARMONIAC
Dissolve sal ammoniac in distilled spirit of urine over a moderate heat. In this spirit let bricks beaten into small pieces and made red hot be quenched until they have imbibed all the water. Then make distillation in a retort in sand or in a naked fire.
This spirit is of greater strength than that of other salts.

OIL OR SPIRIT OF VITRIOL IS MADE THUS
Take of hungarian, or the best english vitriol, as much as you please. Let it be melted in an earthen vessel glazed, with a soft fire, that all the moisture may exhale, continually stirring of it, until it be brought into a yellow powder which must be put into a glass retort well luted or an earthen retort that will endure the fire. Fit a large receiver to the retort and close the joints well together. Then give it fire by degrees until the second day. Then make the strongest heat you can until the receiver which before was dark with fumes be clear again. Let the liquor that is distilled off be put into a little retort, and the phlegm be drawn off in sand. So will the oil be rectified which is most strong and ponderous, and must be kept by itself.
Many call that phlegm which is drawn off in rectifying, the spirit of vitriol.
This oil or spirit is very excellent in putrid fevers, resisting putrefaction. Also, it opens all obstructions and is very diuretical.

A RED AND HEAVY OIL OF VITRIOL
Take of calcined vitriol one part, flints grossly powdered, two parts. Of these with spirit of wine make a paste. Distill it in a retort and there will come forth a red heavy oil.
This is to be used rather about metals than in the body. Only if the scurfe on the head be anointed therewith two or three times in a week, it will fall off and the head be cured.

TO DULCIFY THE SPIRIT OF VITRIOL AND OF SALT
Take the spirit of vitriol, or of salt, and the best spirit of wine, of each half a pound. Distill them in a retort together three or four-times, and they will be united inseparably and become sweet.
Some put eight eight ounces of the best sugar candy to these spirits before they be thus distilled.
Ten or twenty drops of this compound spirit being taken in any appropriate liquor is very good in any putrid or epidemical disease.

GILLA THEOPHRASTI OR A MOST DELICATE VOMITING LIQUOR MADE OF VITRIOL
Take of crystals made out of copper or iron. Dissolve them in the acid phlegm that first comes forth in the distilling of common vitriol. Circulate them eight days.
This liquor must be taken in wine. It causes vomiting instantly, and is most excellent to cleanse and strengthen the stomach and to cure all such distempers that arise from thence, as salt defluxions, fevers, worms, headache, vertigo, the hysterical passion, and such like.
The dose is from a scruple to two scruples.

OIL OF SULPHUR PER CAMPANUM
Take a large iron vessel like a platter. Over it hang a glass bell that has a nose like the head of a cold still. Fill the lower vessel, being narrower than the compass of the bell or head, with brimstone or sulphur. Inflame it, so will the fume which arises from thence be condensed in the bell into a liquor which will drop down through the nose into the receiver.
Note that the bell must hang at such a distance from the other vessel that the flame of the sulphur touches it not, according to this following example.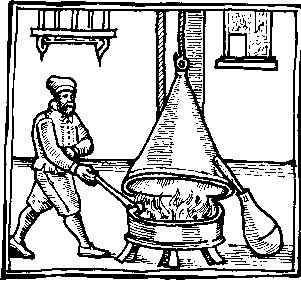 If instead of this broad vessel, you take a large crucible and melt in it saltpetre and cast sulphur upon it thus melted, you shall make a great deal quicker dispatch.
This spirit is of the same nature, and has the same operations, as oil of vitriol.

THE OIL OF SULPHUR IS MADE AFTER A MORE PHILOSOPHICAL MANNER THUS
Take of crude sulphur as much as you please. Put it into a melting vessel to be dissolved over the fire. Being dissolved, pour it forth into seething hot water (this do ten or more times, remembering that the water must be always seething hot) and you shall see that the sulphur will be like butter. Then put it into a retort, pouring on it the best spirit of wine. Distill it with a soft fire, and there will come forth an oil of a golden color, of a good taste and smell which is the true balsam of sulphur. The oil that swims on the spirit must be separated.
This oil for the cure of all distempers of the lungs, for all fevers whether putrid or pentilential, and the cure of wounds and ulcers, is scarce to be equalled.

THE ESSENCE OF SULPHUR
Take of sulphur vivum as much as you please. Dissolve it as well as you can in aqua fortis (made of vitriol and saltpetre). Then evaporate the aqua fortis, and then reverberate the matter until it becomes very red. Extract the tincture with spirit of wine, and then digest them until the essence be separated from the spirit like an oil and sink to the bottom.
This essence also is of wonderful virtue against all putrefaction both inward and outward, a great preservative against the plague, and is wonderful balsamical, and cures all sores both old and new, even to admiration.

THE OIL OF ARSENIC IS MADE THUS
Take of crystalline arsenic (being first sublimed with colcothar alone) as much as you please. Mix it with an equal weight of the salt of tartar, and saltpetre. Let them be between two little pots or crucibles (whereof the upper has a hole) calcined until no fume ascends. The matter being thus calcined dissolve in warm water that you may draw a salt from thence. The powder which falls to the bottom imbibe with the liquor of tartar, and dry it by the fire. This you must do three times. Then dissolve the matter in warm water that you may draw out the salt thereof, and there will remain a most white powder, and fixed, which in a moist place will be dissolved into a liquid matter like oil or butter.

AQUA FORTIS OR A STRONG SPIRIT (THAT WILL DISSOLVE SILVER AND BASER METALS) IS MADE THUS
Take of vitriol calcined two parts and of nitre one part. Grind and mix them well together and put them into a glass retort coated or earthen retort that will endure the fire. Set them into the furnace in an open fire and then, having fitted a large receiver, distill it by degrees the space of 24 hours. Then rectify the water or spirit in sand.

AQUA REGIA OR STYGIA OR A STRONG SPIRIT THAT WILL DISSOLVE GOLD IS MADE THUS
Take of nitre two parts, salt armoniac one part, and the powder of flints three parts. Put them into a glass retort coated or earthen retort that will endure the fire. Distill them by degrees over a naked fire for the space of 24 hours. Take it out and rectify it. This water will dissolve gold.

ANOTHER AQUA REGIA IS MADE THUS
Take of spirit of nitre as much as you please. Put a dram of crude nitre to every ounce of it, and it will be as strong as any aqua regia.
This water will dissolve gold.

TO MAKE A MOST STRONG AND VEHEMENT AQUA FORTIS
Take of the strongest aqua fortis that you can get and well rectified a pound, of mercury sublimed four ounces, and sal ammoniac two ounces. Mix all these together.

OIL OR BUTTER OF ANTIMONY IS MADE THUS
Take of crude antimony as much as you please and of sublimed mercury a like quantity. Make them both into a very fine powder and mix them and put them into a glass retort, the neck whereof must be large. Give fire by degrees in a close reverberatory, or let the distillation be made in sand. There will distill into the receiver a fatness; part whereof, sticking to the neck of the retort, will melt by a light fire being put to it. That fatness may be rectified in a retort and either be kept by itself as it is, or set in a cellar or moist place and be resolved into a liquor.
This oil must be washed in good store of water, and then there will settle to the bottom a white powder which, being washed often in fair water until all the sharpness is gone, is then called mercurius vitae, six or seven grains whereof is an excellent vomiting medicine.

A furnace for a close reverberation furnished with its retort and receiver.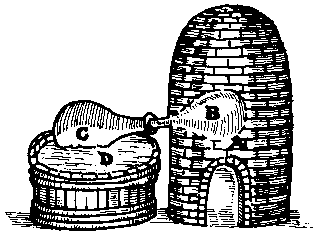 A. Shows the furnace.
B. The retort.
C. The receiver.
D. The vessel filled with cold water.

HOW TO MAKE A WATER OUT OF ANTIMONY WHEREOF A FEW DROPS SHALL PURGE OR SWEAT AND WHICH HAS NEITHER SMELL OR SCARCE ANY TASTE
Take flowers of antimony and sublime them with sal ammoniac six or seven times. Then wash away the salt with warm water and dry the powder, which then lay thin on a marble in a cellar until it be dissolved (which will be in six weeks time). This water, if it be taken to the quantity of twenty drops, will purge. If in a lesser quantity, it will sweat.

TO MAKE AN OIL OR QUINTESSENCE OF METALS
Dissolve what metal or mineral you please in a strong spirit of salt (except silver which must be dissolved in aqua fortis). Draw off the phlegm in balneum, pour on rectified spirit of wine, and digest them so long until a red oil swims above which is the quintessence of metals and minerals, and is a very great secret.

THE TRUE SPIRIT OF ANTIMONY IS MADE THUS
Take of the subtle powder of the regulus of antimony as much as you please. Sublime it of itself until it will sublime no more (still putting what is sublimed to that which remains at the bottom) or with sal ammoniac six or seven times (remembering that then you must dulcify it with warm water by dissolving therewith the salt, and dry the precipitate afterwards). Set this fixed powder in a cellar, laying it very thin upon a marble stone, and in about six weeks or two months it will all be dissolved into water which must be filtered. Then evaporate part of this water, and let it stand two or three days in the cellar to crystallize. These crystals purify and dry. Mix them with three times the quantity of the gross powder of tiles, distill them in a retort, and there will come forth first a white spirit, and then a red, which you may rectify in balneum.

THE TRUE OIL OR ESSENCE OF ANTIMONY IS MADE THUS
Take of the foresaid crystals. Dissolve them in good rectified spirit of wine. Digest them two months in balneum or horse dung. Then evaporate the spirit of wine and there will remain in the bottom the true oil or essence of antimony.
Then take new crystals of antimony and let them imbibe either this oil or the foresaid spirit until they will imbibe no more. Then digest them two months in sand, and they will become a flowing fixed salt, and of excellent virtue.
The aforesaid spirit, this oil, and essence of antimony may be equalized to aurum potabile to all intents and purposes, according to a medicinal use, especially the fixed essence. The dose is five or six grains.

A BURNING SPIRIT MADE OUT OF LEAD MOST FRAGRANT AND BALSAMICAL
Take the calx of saturn, or else minium, and pour upon it so much spirit of vinegar that may cover it four fingers breadth. Digest them in a warm place the space of 24 hours, often stirring them that the matter settle not too thick in the bottom. Then decant the menstruum and pour on more. Digest it as before and this do so often until all the saltness be extracted. Filter and clarify all the menstruum being put together. Then evaporate it half away and set the other part in a cold place until it crystallizes. These crystals dissolve again in fresh spirit of vinegar. Filter and coagulate the liquor again into crystals, and this do often until they be sufficiently impregnated with the sal ammoniac of the vinegar as their proper ferment. Digest them in a temperate balneum that they may be resolved into a liquor like oil. Then distill this liquor in sand in a retort with a large receiver annexed to it, and well closed that no spirits evaporate, together with the observation of the degrees of the fire. Then there will distill forth a spirit of such a fragrant smell that the fragrancy of all flowers and compounded perfumes are not to be compared to it. After distillation when all things are cold, take out and cast away the black feces which is of no use. Then separate the yellow oil which swims on the top of the spirit and the blood red oil which sinks to the bottom of it. Separate the phlegm from the spirit in balneum. You shall by this means have a most fragrant spirit that even ravishes the senses, and so balsamical that it cures all old and new sores inward and outward, and so cordial that the dying are with admiration revived with it.
They that have this medicine need scarce use any other either for inward or outward griefs.

HOW TO TURN QUICKSILVER INTO A WATER WITHOUT MIXING ANYTHING WITH IT AND TO MAKE THEREOF A GOOD PURGATIVE AND DIAPHORETIC MEDICINE
Take an ounce of quicksilver, not purified. Put it into a bolt head of glass which you must nip up. Set it over a strong fire in sand for the space of two months, and the quicksilver will be turned into a red sparkling precipitate. Take this powder and lay it thin on a marble in a cellar for the space of two months, and it will be turned into a water which may be safely taken inwardly. It will work a little upward and downward, but chiefly by sweat.
Note that you may set diverse glasses with the same matter in the same furnace, so that you may make the greater quantity at the time.
I suppose it is the sulphur which is in the quicksilver, and makes it so black, that being stirred up by the heat of the fire fixes the mercury.

A FRAGRANT OIL OF MERCURY
Take of mercury seven times sublimed, and as often revived with unslaked lime, as much as you please. Dissolve it in spirit of nitre in a moderate heat. Then abstract the spirit of salt and edulcorate it very well by boiling it in spirit of vinegar. Then abstract the spirit of vinegar, and wash it again with distilled rain water. Dry it and digest it two months in a like quantity of the best rectified spirit of wine you can get.
Distill them by retort, making your fire moderate at the beginning, and afterwards increasing it. Then evaporate the spirit of wine in balneum, and there will remain in the bottom a most fragrant oil of mercury.
This oil so purifies the blood by sweat and urine that it cures all distempers that arise from the impurity thereof, as the venereal disease, etc.
The truth is, they that have this medicine well made need but few other medicines. The dose is four or five drops.

TO TURN MERCURY INTO A WATER BY ITSELF
Set this following vessel being made of iron into a furnace so that the three bowls thereof be within the furnace, and the pipe and receiver be without. Make your furnace so as that there be a great hole left open at the top where you must put in your coals, shutting it afterwards with a cover of stone made fit "hereunto. On top also must be holes to let in air.
The vessel for this operation.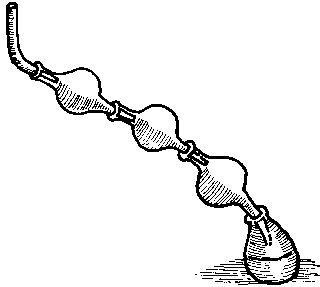 First make your iron vessel as red hot as possibly it can be made (or else you do nothing) having first annexed an earthen well glazed receiver to the bottom of it. Then put half an ounce of quicksilver at a time in at the top (which presently stop with clay) and presently the mercury will come over, part in a sharp liquor and part as crude a mercury as before, which you may put in again until it be all turned to water.
Note that unless the quicksilver gives a great crack presently after it is put in, it is a sign that the vessel is not hot enough.
This operation being well prosecuted may produce a medicine with which none under the Philosophers Elixir may compare.
How to distill spirits and oils out of minerals, vegetables, bones, horns and faster and in a greater quantity in one hour than in the common way in twenty-four.

This must be done in such a furnace as this.




A. Signifies the furnace with its iron or earthen distilling vessel walled in, to which a very large recipient is joined.
B. The distiller who with his left hand takes off the cover and with his right casts in his prepared matter with an iron ladel.
C. The form of the distilling vessel.
D. The same as it appears inward.
E. The form of the vessel not walled in but standing on the coals for other uses.


This furnace must be twice so high, as wide, and the pipe must be a foot long out of the furnace.
The vessel walled in must be of earth for the distilling of antimony, sulphur, and such things as will corrode iron; but for other things, iron is most convenient.
Before you make any distillation, let the vessel which is walled in be red hot. Then little by little cast in your matter which must be cut or powdered small, and clap down the cover into the false bottom above which is full of molten lead and, therefore, suffers no fume to go forth.
When you see the fumes in the receiver (which must be of glass) to cease and condensed into a liquor, then put in more matter.
By this way you may make a far greater dispatch and distill a greater quantity out of the same proportion of matter than by the common way.
By this way there is no danger of breaking your receiver, and you may end and begin when you please, and try diverse experiments in one hour. You cannot make the fire too strong, and may make the spirits of such things as can hardly or not so well be made by a retort, as the spirits of salt, of tartar, harts horn, antimony, etc., etc.
Salt and such things as will flow must have bole or powder of brick mixed with them before they be cast into the vessel. Or, if you please, you may first dissolve what salt you please and with red hot gross powder of brick, imbibe the water. Then cast in this powder by little and little into the distilling vessel, and the salt by this means will yield its spirit quickly and in abundance. By either of these two ways you may make a pound of the spirit of nitre in an hour, and of salt in two hours.
Now, whereas some things yield a spirit and a thick and heavy oil, they may be rectified thus: viz., by putting them into a retort and distilling them in sand or ashes with a gradual heat. There will come forth the phlegm of some liquors first and then the spirit, and of other some the spirit, and then the phlegm, but of all these the heavy thick oil at last which, by distilling off, becomes far clearer than before. This may again be rectified by spirit of salt as I have showed before and, therefore, need not here repeat it.

TO MAKE AN OIL OF LAPIS CALAMINARIS
Take of lapis calaminaris powdered as much as you please. Pour on it five or six times as much of rectified spirit of salt. Shake them together continually or else it will be congealed into a hard mass which can hardly be mollified again. When no more will dissolve in frigido, put it in warm sand so long until the spirit of salt be of a high yellow colon Then pour it off and put on more until all be dissolved that will. Cast away the feces, put the solution into a glass body, and distill it in sand. About the third part of the spirit of salt comes over as insipid as common water, though the spirit were well rectified before, for the dryness of the lapis calaminaris (which is the driest of all minerals and metals except zinc) retains the spirit. After the phlegm is come over, let the glass cool, and you shall find at the bottom a thick red oil, very fat, even as olive oil, and not very corrosive. Keep it from the air, or else it turns into water.
It is of wonderful virtue for inward and outward griefs, for it has in it a pure golden sulphur.
Common sulphur mixed with this oil, and melted in a strong fire, swims like water above and is transparent.
This oil distilled in a retort with pure sand in a strong fire, yields a spirit like fire scarce to be contained in any vessel and dissolves all metals except silver, and reduces pure spirit of wine into an oil within a few days.

TO MAKE OIL OF TALC
Take of the best talc reduced into very thin flakes. Make them red hot and then quench them in the strongest lixivium that soap boilers use. Do this fifteen times and it will become as white as snow. Then powder it very small and calcine it by fumigation, by the fume of some very sharp spirit as of aqua fortis or the like. When it has been calcined for the space of a fortnight, it will become somewhat mucilaginous. Then set it in any heat of putrefaction as it is (for it has imbibed enough of the sharp spirit to moisten and ferment it) for the space of two months in a bolt head nipped up. Then evaporate the acid spirit and dulcify it with distilled rain water. After this extract what you can out of it with the best rectified spirit of wine. Pour off the solution and evaporate the spirit of wine, and at the bottom will be a most beautiful oil.
The oil is the most glorious fucus or paint in the world.

TO MAKE OIL OF TALC ANOTHER WAY
Take of the foresaid powder of talc after it has been putrified and again dulcified as much as you please. Put four times as much of the best circulated oil of camphor to it. Digest them in horse dung until all the powder be dissolved, and the oil becomes mucilaginous which will be with in two months.
This is for the same use as the former.
There is required a great deal of pains, and care, and no small cost in the preparation of these oils.

OIL IS MADE OF BOLE AMMONIAC TERRA SIGILLATA AND SUCH KIND OF CLAY EARTHS THUS
Take of either of those earths as much as you please. Break it into small pieces and put it into a retort over a naked fire for the space of 12 hours, and there will distill into the receiver (which must be large) the phlegm, then white spirits in a little quantity, yet of a grateful taste and smell.

OIL OUT OF THESE KINDS OF EARTH IIS MADE BETTER THUS
Take of either of these earths which you please, as much as you will. Pour upon it distilled rain water. Set it in some warm place for a month or more and the oiliness will separate from its body of its own accord and swim upon the water. Separate the water by a tunnel, and distill the oil with five parts of the spirit of wine well rectified. There will come forth an oil of a golden color, swimming on the spirit, which is a most excellent balsam.

SPIRIT OF UNSLAKED LIME IS MADE THUS
Take of unslaked lime as much as you please. Reduce it into a subtle powder. Imbibe it with spirit of wine most highly rectified (which must be pure from all its phlegm, or else you labor in vain) as much as it can imbibe. Draw off the spirit of wine with a gentle heat, cohobate it eight or ten times, so will the fiery virtue of the lime be fortified. Take of this levigated lime ten ounces, pure salt of tartar one ounce, the feces of tartar after the salt is extracted eleven ounces. Mix these well together and put them into a glass retort coated. See that two parts of three be empty, distill them into two receivers, the phlegm into one, the spirit into the other which must have a little of rectified spirit of wine in it to receive the spirit.
If you will separate the spirit of wine, then put fire to it, and the spirit of wine will burn away, and the spirit of the lime stay behind which is a kind of a fixed spirit.
This is a very secret for the consuming of the stone in the bladder and the curing of the gout.

OIL MADE OUT OF TILE STONES CALLED THE OIL OF PHILOSOPHERS
Take of bricks or tiles as many as you please. Break them into small pieces, make them red fire hot, and then quench them in pure old oil of olive (in which let them lie until they be cold). Then take them out and grind them very small. Let the powder be put into a glass retort, coated, a fit receiver being put thereto, and distill off the oil in a naked fire by degrees which, being distilled off, keep in a vial, close stopped.
This oil is wonderful penetrating and is good against all cold distempers whatsoever.

THE LIQUOR OR WATER OF CORAL IS MADE THUS
Take sal ammoniac well purified by sublimation, of red coral finely powdered, of each a like quantity. Sublime them so often until the coral will no more rise up. Then take the calx of coral that remains in the bottom of the sublimatory, and put it on a marble or glass in the cellar to be dissolved. That which will not be dissolved, sublime again, and do as before until all be dissolved. So you have the liquor of coral.
Note that if you will have the true tincture of coral, evaporate the humidity of the foresaid liquor. Then extract the tincture out of the powder with spirit of wine, which spirit evaporate to the consistency of honey. And you have a most rare medicine.
This medicine strengthens all the parts in the body and cures all distempers that arise from the weakness thereof.

TO MAKE A WATER OUT OF LAPIS ARMENUS THAT SHALL HAVE NEITHER TASTE NOR SMELL A FEW DROPS WHEREOF SHALL PURGE
Take of lapis armenus powdered small and calcined as much as you please. Sublime it with sal ammoniac until it will sublime no more, but remain in the bottom of the sublimatory. Then take it out and lay it very thin upon a marble in a cellar, and there let it lay two months, and it will be almost all dissolved into a liquor.
Or thus:- Take of lapis armenus powdered small and calcined as much as you please. Pour upon it of distilled vinegar as much as will cover it four fingers breadth. Then set it over a gentle heat, stirring of it two or three times in an hour, for the space of six hours or thereabouts. Then the spirit being tinged very blue with the powder, filter off from the feces. Then pour more spirit of vinegar on the feces and do as before until the spirit be tinged no more. Then take all the blue spirit and vapor it away, and at the bottom you shall have a salt which you must put into a calcining pot and calcine so long in the fire until no more vapor will arise and it becomes a dark red powder. Then put it upon a marble in the cellar for the space of two months and it will be dissolved into a liquor, a few drops whereof put into a glass of beer will purge delicately.

HOW TO MAKE A FURNACE THAT SHALL OF ITSELF WITHOUT ANY VESSELS WHICH SHOULD CONTAIN THE MATTER BEING PUT INTO IT SUBLIME MINERALS AND DISTILL ALL MANNER OF OILS AND SPIRITS OUT OF MINERALS, VEGETABLES, AND ANIMALS AND THAT IN A VERY GREAT QUANTITY IN A VERY SHORT TIME AND WITH SMALL COST
The furnace is made as follows. It may be made of one piece by a potter or of brick, round or four-square, greater or lesser as you please. If the inside be one span broad in the middle, it must be high, one for the ash hole, another above the grate to the middle coal hole and two above the pipe. This pipe, being made of earth or iron, must be a span long between the furnace and the receiver, and a third part as wide as the furnace within.
The recipients must be made of glass or very good earth well luted together, the greater the better.


The First Figure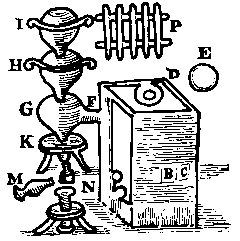 The Second Figure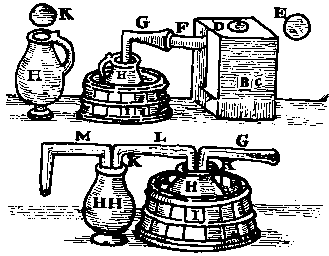 A. Signifies the ash hole which must be as wide as the furnace and always open that the fire may burn the stronger.
B The middle hole of the furnace for the putting in of coals.
C. The stopple made of stone.
D. The upper hole of the furnace with a false bottom wherein sand lies which is there lain that the cover may lie the closer and keep in the fumes the better.
E. The cover which must be presently clapped on as soon as the matter to be distilled is put in.
F. The pipe which goes out of the furnace and to which the receiver is fitted.
G. The first recipient for flowers.
H. The second.
I. The third.
K. A stool whereon the first recipient rests, in the midst whereof is a hole, through which goes the neck of the recipient to which another glass is fitted.
L. The glass fitted to the recipient for the uniting the spirits that drop down.
M. Another recipient united to the former glass and into which the united spirits do run.
N. A stool through the middle of which goes a screw for the raising of that glass, which is set under the first recipient, higher or lower.
P. The grate with two thick iron bars which lie fast, upon which four or five thinner are laid which may be stirred when the furnace is made clean.

Thus far the first of the figures is explained, by which you may see how sublimation and distillation are made at one time, viz., of those things which will yield both flowers and spirits (the flowers sticking in the three upper recipients and the spirits dropping down into the lower).
Now follows the explanations of the second figure which is the same with the former in respect to the furnace itself, but differing in respect of the recipients which serve for the receiving of the spirits and oils of such things as yield no flowers. Therefore I shall begin with the explanation of the receivers.

G. The first crooked pipe as it is fitted to the pipe that comes out of the furnace.
H. The recipient with its cover in which is one hole for one crooked pipe to go through, as you may see in the first H, and two holes for two pipes to go through, as you may see in the second H, and in HH.
Note that these pipes may either be fastened to the cover, being all of one piece, or they must be well luted, that no vapors may pass through. Now you must conceive that in the lower receivers the vapor that goes out of the first pipe goes first into the receiver, then out of that into the next pipe and so forward until it comes into the last receiver, by which means it is much cooled (for indeed such vapors that come out of the furnace, especially when some materials are distilled, if there were not some such art to cool them would break all recipients).
I. A tub of water wherein the recipient stands to cool the vapors and condense them.
K. The first crooked pipe as it goes into the recipient.L. The second crooked pipe, whereof one end goes into one receiver, and another end into another.
M. The last crooked pipe to which you must annex a receiver.

Now the manner of distilling is thus. Let the furnace be full of coals well kindled, then cast on your matter, and stop your furnace close. This furnace needs no retort or other vessels to be set into it. Neither can you do any hurt by too much or too little fire, and you may finish your operation when you please and in one hour try diverse experiments. It saves very much time and cost, and in one hour will do as much as can be done in another furnace in twenty-four. In one hour you may make a pound of spirit of salt with four or five pounds of coals, and as much flowers of antimony in a like space of time, and with as few coals.
If your materials be vegetables, or horn, or bones, cut them small. If hard minerals, let them be powdered very small. If salts, let them be first dissolved in water, which water must be imbibed with red hot coals until all the liquor be imbibed. Then cast in those coals into the furnace.
If you would by this means procure the spirit of hard minerals, as of antimony, and you must take them as they come from the mine, before they have passed the fire.
By this furnace you may make the spirits of such things which will not yield them in any other way.
Note that such oils and spirits as are drawn by this furnace must be rectified in spirit of salt, as I have shown.

ROS VITRIOLI IS MADE THUS
Take of the best Dansick vitriol, as much as you please, uncalcined. Put it into a glass gourd and distill it in the sand, and there will come over a water somewhat sharpish.
This water, or ros, is of greater use than the spirit or oil thereof.
It helps all inward inflammations, as of the liver, kidneys, stomach, helps the ebullition of blood, and all distempers that come from thence.
This is that phlegm which most vapor away, but it is because they know not the virtues thereof.

A SWEET GREEN OIL OF VITRIOL IS MADE THUS
Take as many copporas stones as you please. Beat them small and lay them in a cool cellar. In twenty or thirty days they will attract the air and look black, and after fourteen days become whitish and sweetish. Then dissolve them in distilled rain water, then filter and evaporate the water, and they will shoot into green crystals which you may dissolve in a cellar per deliquium, being first beaten small and lain on a marble stone.
This liquor is that famous medicine of Paracelsus for the falling sickness, a few drops thereof being taken in any appropriate liquor.
Take heed that it comes at no strong fire, for then, says Paracelsus, it loses its greeness and, as much as it loses of that, so much also of its virtue.
A spirit may be drawn from hence by an ingenious artist that will smell like musk or amber.

THE SULPHUR OF VITRIOL MAY WITH SPIRIT OF WINE BE EXTRACTED THUS
Take of the best Dansick vitriol half a pound and dry it by a gentle fire until it be whitish. Then pour on it of the best rectified spirit of wine thirty ounces (note that there must come to it no other moisture than the spirit of wine, and the glass also must be very dry, else you labor in vain). Then digest it in horse dung the space of a month. Then decant from the feces the spirit of wine without any troubling of it. Then in balneum evaporate the spirit, and at the bottom you will have a yellow liquor of a most wonderful slipticity.
This liquor is a famous anodynum, suppressing all noxious vapors whatsoever and causing rest.
A few drops thereof may be taken in any specifical liquor.

A SUDORIFIC WATER TO BE USED OUTWARDLY
Take of sublimed mercury very finely powdered an ounce and a half, of euphorbium powdered a scruple, spirit of wine well rectified, and rose water, of each a pound. Digest them two or three hours in a gentle balneum, the neck of the vessel which must be very long being well stopped. Then let them boil a quarter of an hour. When the liquor is cold, pour it from the feces and keep it in a glass.
If the backbone be bathed with the water, or the wrist of those that be weak, it causes sweat presently, if it be done in the bed. By which means diseases that require sweat may be cured. Also, any pained place by being bathed with this water is in a little time eased.
Note that you must not bathe any place above three or four times with it, for by being too often used it contracts the skin.

HOW TO RECTIFY OILS AND SPIRITS OF MINERALS
Put the liquor that is distilled from minerals into the retort to which give fire by degrees. The spirit will rise up into the upper receiver and the heavy oil will go into the middle receiver which is the biggest of all. Into the little receiver, annexed to the end of the middle, will pass some of the spirit which, though it passes into the middle receiver, will not stay there, but goes beyond it because it finds vent.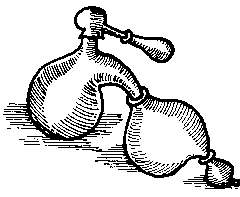 ---
If you have problems understanding these alchemical texts, Adam McLean now provides a study course entitled How to read alchemical texts : a guide for the perplexed.
---