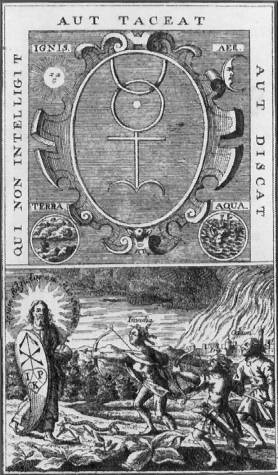 Frontispiece from Johann Schütze Tractätlein von dem Gebenedeyten Stein,1682
Divided into two sections. The upper section has Dee's hieroglyphic monad symbol in an egg shaped space. The four elements are at the corners "Qui non intelligit. Aut taceat. Aut discat". In the lower section we see Jesus being attacked by Invidia, Ira and Odium, while in the background a city burns.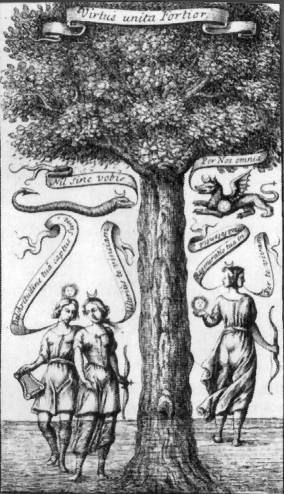 Frontispiece from the 'Aphorisms of Urbigerus', 1690.
A tree labelled "Virtus unita Fortior" grows out of a river. Underneath its branches on the left is a serpent with a crescent Moon on its head, while on the right is a winged dragon with a crescent Moon on its head, a Sun on its belly and a cross at the end of its tail. Below on the left, Apollo and Diana, with Sun and Moon on their respective heads. On the right, these have fused together into a hermaphrodite with a double-head, who holds Diana's bow in one hand and Apollo's Sun in the other.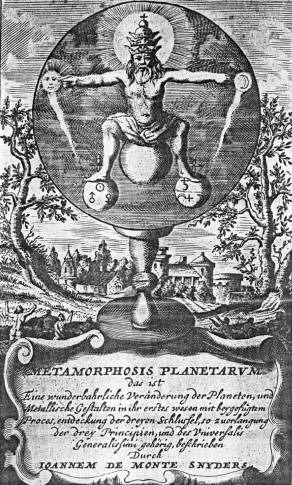 Frontispiece from Monte-Snyders Metamorpohosis planetarum, 1663
This shows a round mirror set upon a pedestal in a landscape. A God-like figure (possibly here representing Mercury) sits upon a globe, his right foot rests upon a globe containing the symbols of Sun, Mars and Venus, while his left rest upon a globe with the Moon, Jupiter and Saturn. This echoes the ideas in ther text, which is an ellaborate allegory of alchemical transmutation.