Tarot mosaics in the Chateau de Avenieres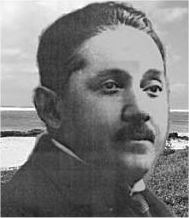 In 1917, Assan Farid Dina (1871-1928), an enthusiast for all things esoteric, commissioned a series of tarot mosaics in the Chateau de Avenieres at Cruseilles in France. He was an engineer and introduced hydroelectric power to France. In 1914 he married the wealthy American heiress, Mary Shillito. In 1913 she had completed the construction of her neo-gothic "castle" at Avenieres as a monument to her sister who had died a few years earlier.
In 1917, Dina completed construction of the castle by the creation of a power plant. He added a chapel to the castle, whose walls bear the inscription "The universe is an egg, the egg is a Universe" and are covered with mosaics representing the Tarot cards following the style of Oswald Wirth with the symbolism shifted towards Egyptian imagery. The castle became the meeting place for Parisian high society, who come to discuss philosophy, esotericism and Egyptology.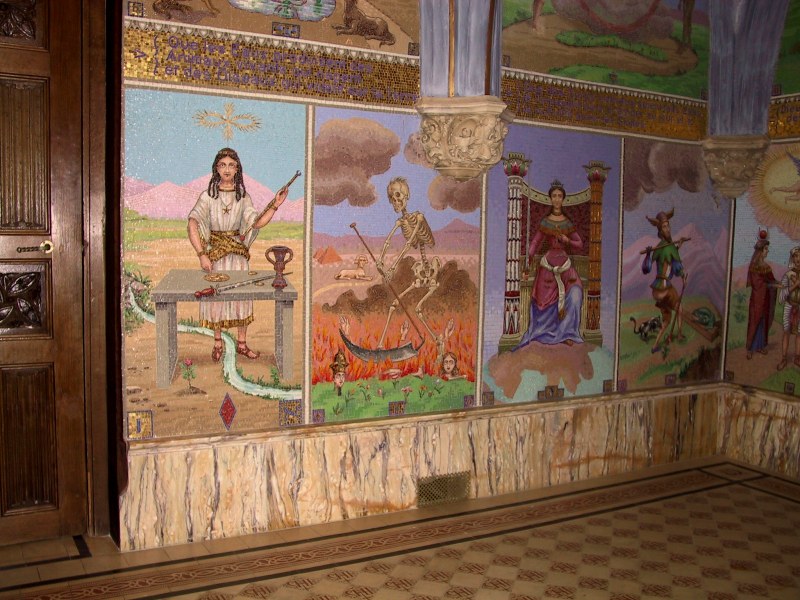 | | | | |
| --- | --- | --- | --- |
| 1 - The Magician | 2 - The High Priestess | 3 - The Empress | 4 - The Emperor |
| 5 - The Hierophant | 6 - The Lovers | 7 - The Chariot | 8 - Justice |
| 9 - The Hermit | 10 - The Wheel of Fortune | 12 - The Hanged man | 13 - Death |
| 14 - Temperance | 15 - The Devil | 16 - The Tower | 17 - The Star |
| 18 - The Moon | 19 - The Sun | 20 - Judgement | 21 - The Fool |
| | |
| --- | --- |
| 11 - Strength | 22 - The World |
Tarot exhibitions.
The Masjutin Tarot - probably the first art tarot.
The Mebes (1937) Tarot.
The Kashmir Tarot.
The Chapel at Avenieres.



Projects in progress


Descriptive Database of published tarots. This is initially based on my own collection. About 1100 items have been entered into the database to date, and I have appointed an art history student to work with me over the coming months to complete the listing. So expect further updates over the next few months.

Descriptive Database of unpublished tarots. In parallel with the descriptive catalogue of published tarots I have been able to find a colleague, Stacy Flinn, here in Scotland, willing to help build a catalogue of unpublished tarot designs. I myself have gathered some hundreds of these over the last years and as some of these are astounding, it would be good to have these in a catalogue which I could eventually place on this website. I will report on progress with this later and post the database onto the web site. I have called on members of the Tarot Collectors Forum to help by sharing information about such unpublished tarots.

Funding through series of private auctions. In order to raise some funding for projects, I am planning a series of auctions of duplicates from my tarot collection. These will be private auctions only open to those who have registered in advance by emailing bookshop@alchemywebsite.com