The Hermetic Research Series
In general this series includes essays and new research on hermetic subjects with transcriptions and translations of hermetic texts. This series was originally issued in paperback format in order to produce lower priced books to complement the hardcover Magnum Opus series.
This was not a successful strategy as sales were very low so I have now issued eleven of the recent books on a CD-Rom. Future titles will be issued in hardbound copies only and eventually placed onto a supplementary CD-Rom.

Back to Hermetic Research Series page. Back to main sales page.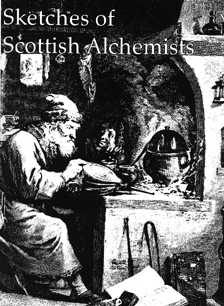 No. 7. Sketches of Scottish Alchemists
Edited by Adam McLean
These biographical sketches of Scottish alchemists were originally written in 1875 by John Small. He describes in turn:-
Michael Scot;
King James IV's court alchemist who in addition to his alchemical experiments attempted to fly with artificial wings from the ramparts of Stirling Castle;
Sir George Erskine, privy counsellor to King James VI, who made a extensive collection of alchemical texts;
John Napier, 'miraculous Merchiston', inventor of logarithms and the computing device 'Napier's bones', who also actively sought the philosophers' stone;
Sir David Lindsay, who had a great interest in alchemy and Rosicrucianism;
Alexander Seton, the Scot who performed a number of transmutations in the opening years of the 17th century;
Patrick Ruthven, one of the alchemists imprisoned in the Tower of London during the Jacobean age;
Patrick Scot, writer of the Tillage of Light.

57 pages. 3 Illustrations. A5 format.

---
The Hermetic Research Series of books is now available in a hardbound copy uniform with the books in the Magnum Opus and Hermetic Studies series. I can make up a copy in this format to order. There will be a delay of up to two weeks while I find time to bind up a copy for you.

---

Currency convertor