The Hermetic Research Series
In general this series includes essays and new research on hermetic subjects with transcriptions and translations of hermetic texts. This series was originally issued in paperback format in order to produce lower priced books to complement the hardcover Magnum Opus series.
This was not a successful strategy as sales were very low so I have now issued eleven of the recent books on a CD-Rom. Future titles will be issued in hardbound copies only and eventually placed onto a supplementary CD-Rom.

Back to Hermetic Research Series page. Back to main sales page.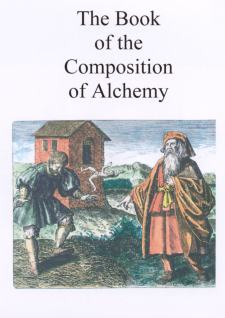 No. 10. The book of the Composition of Alchemy
Transcribed with an introduction by Adam McLean

The Liber de compositione alchimiae is reputed the first text on alchemy to have been translated from Arabic sources into Latin. It is dated 1144 and thus it marks the beginning of the European concern with alchemy that has endured for nearly 900 years.
The translator was Robertus Castrensis, Robert of Chester, an English monastic scholar who based himself in Spain, and occupied himself in translating key works from Arabic to Latin, thus making them available to European culture. He is best known perhaps for his translation of the Koran and the Algebra of al-Kwarizimi.
It tells the story of the seventh century Morienus, and how he came to discover the secrets of alchemy through meeting an old adept called Adfar. It then tells how Morienus travelled to the court of King Khalid, a real Umayyad king, (died 704) who is said to be the person who introduced alchemy into Islam. A later section records a dialogue between Morienus and Khalid in which the secrets of the Magistery or work of alchemy are revealed.


38 pages. A5 format.

---
The Hermetic Research Series of books is now available in a hardbound copy uniform with the books in the Magnum Opus and Hermetic Studies series. I can make up a copy in this format to order. There will be a delay of up to two weeks while I find time to bind up a copy for you.

---

Currency convertor