Database of alchemical Iconography






2 Stanislaus Reinhard ACXTELMEIER.
Des Natur-Lichts weit eröffneter Pallast, worinnen vielfaltige rare naturund kunst-wercke, seltsame wunder und geschichte, von berg-wesen, schatz-graben, schlangenbannen... von aberglaubischen sachen und zaubereyen, statts-reflexionen... verhandelt werden, nebst Anhang einer herzlichen kellerordnung
4° Schwobach: gedruckt bey M. Hagen, zu finden bey D. Walder 1706

---
4 illustrations - 1 symbolic - 3 equipment
---

1. Inserted before page 1. Engraving. 153x129mm. "Des Natur Liechts Eröffneter Palast". An alchemist performs an experiment in a tent, while two men lie as if dead on the ground. In the background two men prospect for minerals, and beside them three men dig the ground. In the foreground three men perform a conjuration in a magical circle, and on the opposite bank of a river a woman holds up a herb she has gathered.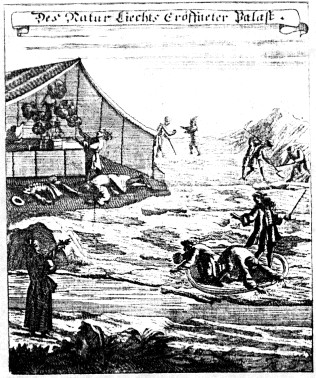 2. Inserted after page 70. Engraving. 150x131mm. An alchemist carries coals to a furnace upon which is set a large distillation apparatus.
3. Inserted before page 235. Engraving. 150x127mm. An alchemist tends his distillation apparatus.
4. Inserted before page 164. Engraving. 150x127mm. An alchemist turns a barrel set on a spit over a small fire.