HTML Scrolling Menu Css3Menu.com
My coloured alchemical and other emblems

---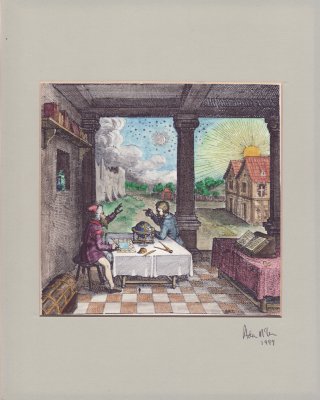 With the establishment of my own art gallery in Kilbirnie, I am holding a series of exhibitions on various themes using the many emblems I have coloured over the last thirty years. I am thus beginning to sell some of the original artwork through my Weekend Gallery.
I am selling the original artwork in a standard sized mitred mount which I have signed. These are 9 x 7, 10 by 8 inches and a few A4 size. Thus, if the mount is 9 by 7 inches, you need only buy a standard sized frame of your choice and fit the mount straight in - no need for expensive framers.

I send the mounted artwork in a standard book pack with a strong stiffening board so it arrives in perfect condition.

I will sell these 70 UK pounds ($100) including postage, with the exception of a few which have required many hours of work and will require a higher price.


---
Please view the galleries and if you want to buy a particular item please email me the reference number and I will let you know if it is still available. Adam@alchemywebsite.com If you wish to go ahead I will send you a Paypal invoice for the amount.

View galleries of 300 alchemical emblems
View thirty six series of alchemical emblems
View over 90 astronomical/astrological themed images
View over 60 emblematic images
View over 50 images of witches

---